UFC 142 Results: What Chad Mendes Did Wrong Against Jose Aldo
Use your ← → (arrow) keys to browse more stories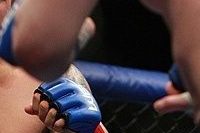 Just as Anderson Silva laid the ground work last August, Jose Aldo has now picked up where "The Spider" left off.
Last night at the HSBC Arena in Rio de Janiero, Brazil, Aldo deftly defended his title when he knocked out Chad Mendes inside of the first round.
The Team Alpha Male stud, leading into the fight, was undefeated and considered the consensus No. 2 fighter in the world just behind the Brazilian, who has been regarded as a pound-for-pound great to boot.
Mendes was believed on paper to be the biggest threat of Aldo's career; a collegiate wrestler with unwavering cardio and just enough boxing prowess to remain competitive.
However, Mendes too became victim of the Aldo knee, which met the chin of the Californian who immediately fell to the canvas, where ground and pound blows expounded the emphatic ending.
From the jump, Mendes appeared content to wade just outside of range, gunning for his shot from a distance, where Aldo was able to adequately parry and evade most of the clinches. Once Mendes did find himself in advantageous positions, he failed to pull the trigger and Aldo managed to maneuver out of each and every precarious situation.
At one point, however, Mendes managed to finally drag the wily Aldo to the ground momentarily, though he climbed back to all fours, wall-walking against the cage which set up the unprecedented knockout finish.
Mendes' worst problem has become his predictable style of fighting. If all you have to offer is minimal boxing skills and strong double legs, there's always more left to be wanting.
What Mendes can take solace in, however, is the fact that he nearly reached the pinnacle of a talent-laden division in just three years time. The climb back up won't be as easy, though Mendes has shown that he has the kind of drive and fortitude to make it back up there.