5 Things I Learned from Yesterday's NFL Playoff Games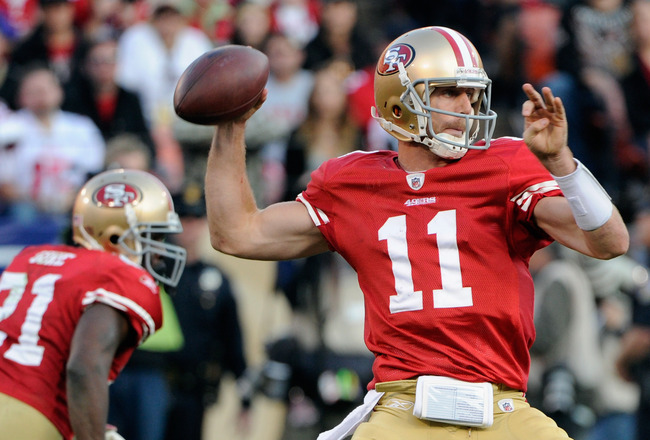 Thearon W. Henderson/Getty Images
In yesterday's NFL playoff games, we continued to see the home team winning. In the 4:30 game, the San Francisco 49ers beat the favored New Orleans Saints in a 36-32 thriller, and in the late game, Tom Brady and the Patriots destroyed Tim Tim Tebow and the Broncos 45-10
Throughout last night, we learned a lot about the teams and the players on those teams.
Here are five things that stood out to me.
Expect the Unexpected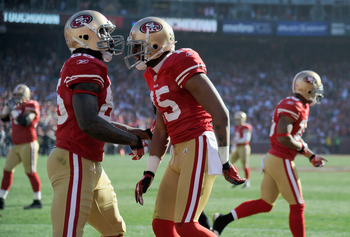 Thearon W. Henderson/Getty Images
All week, many people looked past this game and assumed the Saints would win. This did not make any sense to me.
Not only were the Saints playing on the road (we'll get to that later), but since when is football played on paper? There have been many greater upsets than this in NFL history.
Any one team team can beat another team at any point. That was on display last night.
The Saints Aren't as Good Away from the Superdome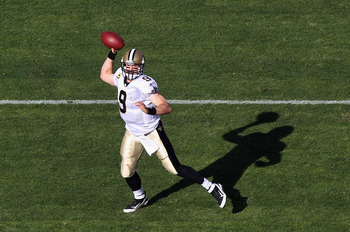 Jed Jacobsohn/Getty Images
This one is very obvious, but extremely important.
The Saints were 8-0 at the Superdome this year, but 5-4 away from it.
The Saints looked very uncomfortable in the beginning of this game, and although they looked great towards the end, their early deficit was too much for them to overcome.
If the Saints were home, the early-game jitters would probably have not been present, and it would be a whole different game.
The worst part is that all the Saints needed to be at home for this game was a win at either 2-14 St. Louis or at 4-12 Tampa Bay. That hurts.
Alex Smith and Vernon Davis Can Be Stars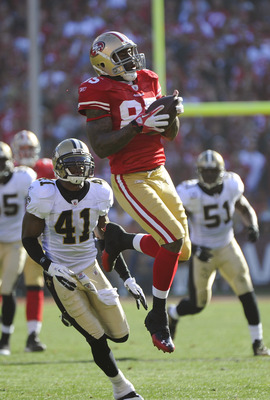 Thearon W. Henderson/Getty Images
A few years ago, former 49ers coach Mike Singletary said that could not play, coach or win with Vernon Davis. Alex Smith, the No. 1 pick in the 2005 NFL draft, has never made the playoffs before this season, and has been written off as a bust.
Both came up big on Saturday, silencing all critics.
Smith had 299 passing yards, three touchdowns, zero interceptions and a rushing touchdown. Davis had 180 yards receiving and two touchdowns, the second one being the game-winner.
Although the defense played a critical role in the victory, Smith and Davis certainly did enough to silence critics.
The Tight End Position Is More Important Than Ever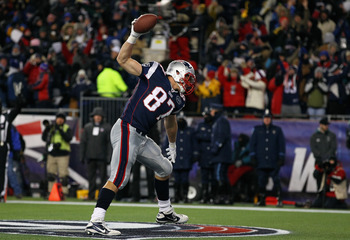 Al Bello/Getty Images
Patriots tight end Rob Gronkowski has had a season for the ages. This season, Gronk had 90 catches for 1,327 yards, and 17 receiving touchdowns, the latter two are all-time highs for tight ends. Gronkowski followed up his incredible season with a superb game last night against the Broncos with 10 receptions for 145 yards, and three scores.
But Gronkowski was not the only tight end who impressed on Saturday night.
In the first game of the night, 49ers TE Vernon Davis had 180 yards and two scores (as mentioned earlier), and Saints TE Jimmy Graham had a 66-yard touchdown catch himself.
The NFL is a much more pass-happy league, and the tight ends are the main beneficiaries of this revolution (after the QB of course).
Lots of Intriguing Super Bowl Matchups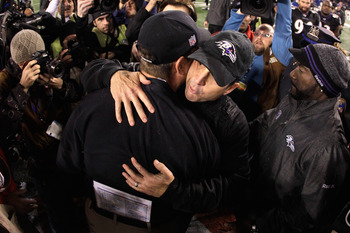 Rob Carr/Getty Images
Even after the Giants' upset win over the Packers, and the Ravens' win over the Texans, there are still many intriguing Super Bowl matchups possible. In fact, every single Super Bowl scenario left should be a good game.
Giants vs. Patriots
This matchup doesn't need an introduction. The Giants ruined the Patriots quest for perfection four years ago and defeated the Pats in Tom Brady's backyard (Gilette Stadium, where Brady has been virtually unbeatable) earlier this season. This matchup will bring lots of excitement based on the teams' history, as well as a scorching hot Patriots offense matching up against an equally hot Giants defense.
Giants vs. Ravens
A rematch of Super Bowl XXXV. Ray Lewis will get a chance to win a ring against the team he had to beat to get his last one. Ed Reed will be going for his first ring. Also a chance to see if Rice, who grew up outside of New York City, can run against the stingy Giants defense.
49ers vs. Ravens
Harbaugh versus Harbaugh. The media would love it, and you will see every sports site comparing Jim and John in every way possible.
49ers vs. Patriots
This will show America what a team needs in order to win the Super Bowl. The adage is that defense wins championships. Is that true, or will the Patriots show the world that in this day and age, it is the offense that wins Super Bowls? This game would answer the question (for now).
Have a good week, and enjoy the championship games next Sunday.
Keep Reading