One Player from Each NBA Team Who Must Step Up His Game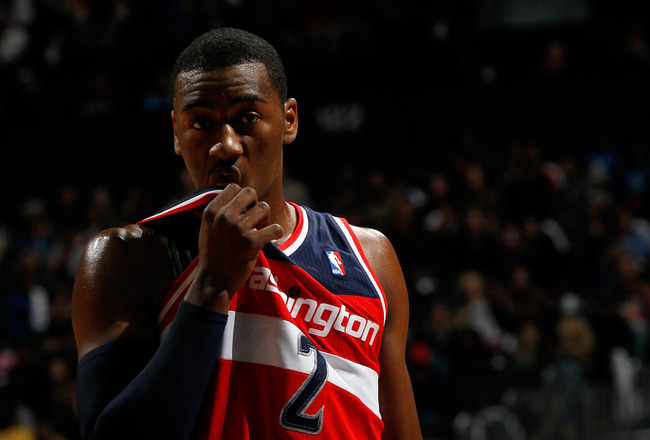 John Wall
Kevin C. Cox/Getty Images
After a lockout threatened to take away the whole 2011-2012 season, the NBA is finally underway and we have witnessed some fantastic basketball.
Not only has the NBA been home to extraordinary play, but many new storylines have also come to fruition this year.
From the rise of the Indiana Pacers and the rapid decline of the veteran-filled Dallas Mavericks to the breakout of Andrew Bynum and the discontent of Dwight Howard in Orlando, the start of this truncated season has been nothing short of exciting.
But with all the new stories and rumors flying around in the NBA, there has been one ugly theme that definitely has reappeared this season: underachieving players.
Whether it was from the extended downtime this offseason, injuries or age, the players in the next few slides have definitely not produced the way they were expected to.
So here is my list that includes one player from each NBA team who needs to step up his game.
Atlanta Hawks: Jeff Teague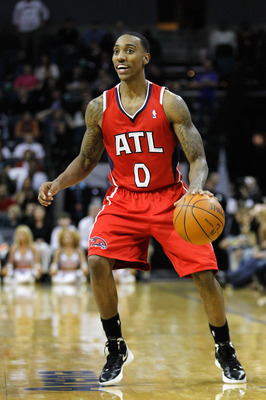 Jeff Teague
Streeter Lecka/Getty Images
Last season, the Atlanta Hawks were on the verge of eliminating the Orlando Magic, a division rival, in Game 6 of the first round when veteran Kirk Hinrich went down with a hamstring injury.
They ended up defeating the Magic nonetheless, but without their starting point guard, the Hawks' chances did not look too bright going forward. Their next matchup was against the powerhouse Chicago Bulls, and with nowhere else to turn the Hawks moved the inexperienced Jeff Teague into the lineup.
Despite the fact that the Bulls destroyed the Hawks in the playoff series, Teague played extremely admirably and solidified his spot as the Hawks' point guard of the future.
However, this season, Teague has not taken that next step to dominance. Even though the young guard is playing about 35 minutes per game, he is only scoring 12 points to go along with fewer than six assists per contest.
Boston Celtics: Jermaine O'Neal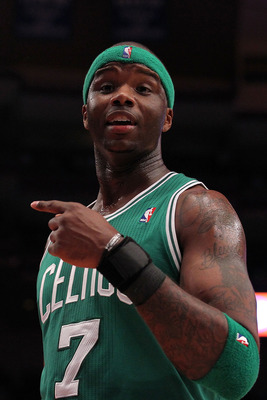 Jermaine O'Neal
Nick Laham/Getty Images
Five years ago, Jermaine O'Neal was a force to be reckoned with. The former Indiana Pacer was a perennial All-Star due to his fantastic post game, punishing mid-range jumper and knack for rebounding.
Now, O'Neal is a shell of his former self. He looks out of shape, hasn't found the flow of the offense and is an injury waiting to happen.
Even though the Big Three are having terrible seasons as well, this infamous award has to go to Boston's starting center, as he is averaging a measly five points and five rebounds per contest.
If the Celtics want to keep their championship hopes alive, Doc Rivers will definitely need more production from O'Neal.
Charlotte Bobcats: Boris Diaw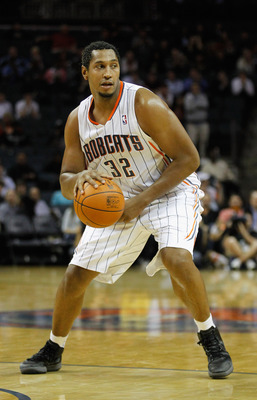 Boris Diaw
Streeter Lecka/Getty Images
It seems like an eternity ago when Boris Diaw was a promising, young talent on the Phoenix Suns. He was lean, athletic and extremely versatile since he could play a variety of roles and positions.
However, Diaw never utilized that potential, and his career in the NBA has never really picked up.
These past few seasons, Diaw has been rotting away on bad Charlotte Bobcats squads. This year, however, he has played extremely poorly and it seems as if he is already on the downside of his career.
Diaw is averaging over 30 minutes per game, but is only scoring eight points and bringing down nine rebounds per contest.
Sure, the Bobcats are only playing for kicks and giggles right now, as the team is in the middle of a serious rebuilding mode. But the organization probably thought they would receive more production from the veteran this season.
Chicago Bulls: Carlos Boozer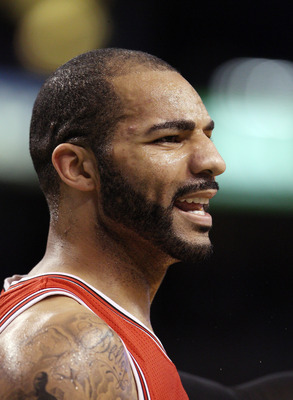 Carlos Boozer
Elsa/Getty Images
The Chicago Bulls are arguably the most dominant team in the NBA right now.
But for such a powerhouse team, they do possess their fair share of question marks—none bigger than the rapid decline of Carlos Boozer.
During his tenure with the Utah Jazz, Boozer was an absolute force in the paint. He could score in a multitude of ways; he was as comfortable knocking down the 15-footer as he was taking an opponent inside.
Plus, Boozer was a fantastic rebounder despite being under-sized.
Since joining the Bulls last offseason, however, Boozer has lost many of the aforementioned qualities that made him so dominant.
There is no question that Boozer is on the downside of his career, but the Bulls are definitely going to need more than 14 points per contest from the veteran if they want to compete for a title come the postseason.
Cleveland Cavaliers: Omri Casspi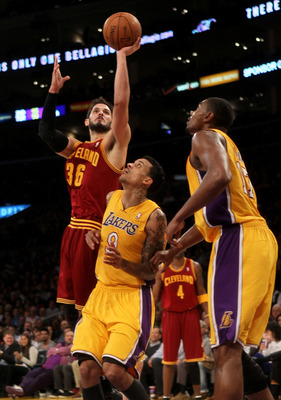 Omri Casspi
Stephen Dunn/Getty Images
Coming into the season, many believed Omri Casspi was going to have a breakout season starting for the Cleveland Cavaliers.
After being buried on the bench in Sacramento, the young small forward was going to receive an opportunity to show what he is capable of.
However, Casspi has been less than stellar in the early part of the season; he is averaging a lousy six points per game.
Sure, the Cavs are playing for absolutely nothing, as they are rebuilding their team for the future on the backs of Kyrie Irving and Tristan Thompson, but they must be disappointed in their small forward's play.
Dallas Mavericks: Lamar Odom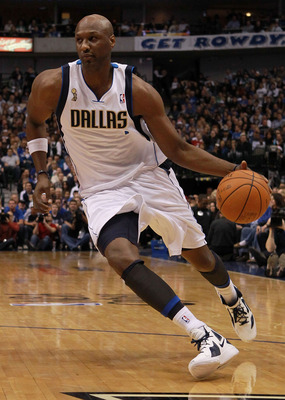 Lamar Odom
Ronald Martinez/Getty Images
The Lamar Odom tale is actually quite depressing.
After winning the NBA Sixth Man of the Year Award last season, the Los Angeles Lakers decided to ship Odom to New Orleans in the infamous three-way trade that would net them perennial All-Star Chris Paul.
As we all know, the deal was shot down by commissioner David Stern, but the Los Angeles drama did not stop there.
Lamar Odom was so hurt that the Lakers almost traded him that he asked to be shipped from the organization. A deal did come to fruition a few days later when the Lakers unloaded him onto the reigning champions, the Dallas Mavericks, and received essentially nothing.
Since teaming up with Dirk Nowitzki and the rest of the Mavs, Odom has underperformed immensely.
Not only is he averaging a measly seven points and five rebounds per game, but he has not shown the intangibles that made him such a valuable asset just a year ago.
Denver Nuggets: Timofey Mozgov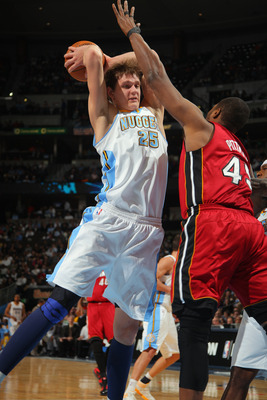 Timofey Mozgov
Doug Pensinger/Getty Images
After losing Carmelo Anthony just one year ago, the Denver Nuggets have rallied back into contention and look like a premier team in the Western Conference.
Not only are they one of the deepest teams in the NBA, but they are extremely athletic and explosive.
After all, they just pulled an upset victory over the superb Miami Heat.
However, if the Nuggets want to take that next step and become dominant, they need to receive more production from their starting center Timofey Mozgov.

The 25-year-old center is averaging 4.7 points with four rebounds per night. Ick.
Detroit Pistons: Tayshaun Prince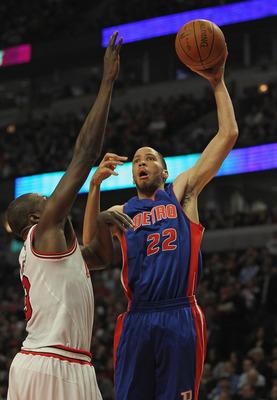 Tayshaun Prince
Jonathan Daniel/Getty Images
In my opinion, the Detroit Pistons are the worst organization in the NBA due to their unwillingness to rebuild and their terrible spending habits.
Despite being completely out of contention for the Larry O'Brien Trophy, the Pistons keep acquiring expensive veteran players. This does not bode well for the future.
Plus, many of these elder statesman are already on the downside of their careers. Just look at newly re-signed Tayshaun Prince.
Even though he is playing over 30 minutes per game, he is only producing a little over eight points per contest.
Golden State Warriors: Dorell Wright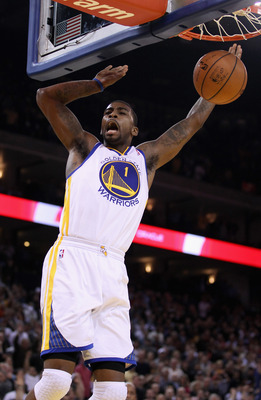 Dorell Wright
Ezra Shaw/Getty Images
After breaking out last season in his first season with the Golden State Warriors to the tune of 16.4 points per game, Dorell Wright has reverted back to his old ways this season, and is an absolute non-factor for his squad.
He is averaging a dismal 7.8 points per contest, while looking lost on the court.
Plus, Wright is nailing only 28 percent of his three-point attempts, which is completely unacceptable for the talented marksman.
If the Warriors want to reach the playoffs in their first season with Mark Jackson as coach, they absolutely need more contributions from the young forward.
Houston Rockets: Luis Scola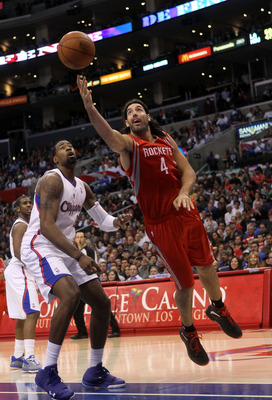 Luis Scola
Stephen Dunn/Getty Images
What a career for Luis Scola!
After being a star in the Euroleague with the ACB's Saski Baskonia, Scola finally made his NBA debut with the Houston Rockets in 2007.
From the beginning, Scola possessed a fantastic work ethic and developed into one of the premier power forwards in the NBA. He was a constant double-double threat and could knock down the mid-range jumper with ease.
This season, however, Scola has taken a huge step back in production. After averaging 18 points per game last season, the Argentinean star is only producing 15 points per contest this season.
This may not be anything to fret about, as the season is still very young, but this could be the start of the downside of Scola's play.
Indiana Pacers: Danny Granger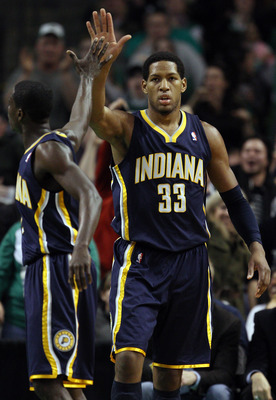 Danny Granger
Elsa/Getty Images
The Indiana Pacers are finally relevant again. After years of mediocrity following the infamous Malice at the Palace brawl, the Pacers definitely look like Eastern Conference contenders.
So how good is this new-and-improved team?
Well, they have seven players averaging over double figures in scoring.
If that isn't a testament to how deep their roster is, then I don't know what is.
However, if the Pacers want to become a powerhouse like the Chicago Bulls or Miami Heat, they'll need to receive more scoring by their leader, Danny Granger.
Granger is arguably a top-three small forward in the conference, behind superstars Carmelo Anthony and LeBron James, since he can completely fill up the stat sheet.
After battling injuries for most of his career, Granger was finally healthy in last year's campaign and looked fantastic. This season, the veteran forward has taken more of a backseat in the offense, as there are a plethora of players around him who can put the ball in the hoop.
Nonetheless, Granger needs to become a dominant force if the team wants a chance to compete for the Larry O'Brien Trophy.
Los Angeles Clippers: DeAndre Jordan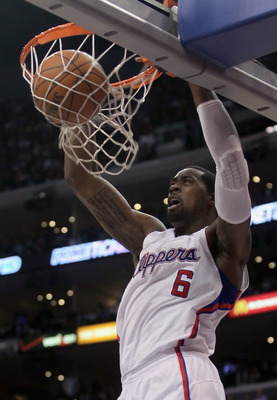 DeAndre Jordan
Jeff Gross/Getty Images
What an offseason for the Los Angeles Clippers!
After years of poor play, the Los Angeles Clippers not only added veterans Chauncey Billups and Caron Butler to the mix, but they won the Chris Paul sweepstakes.
It may be too early to tell, but all indications show that they are the No. 1 team in Hollywood.
However, they still have numerous glaring issues despite their fantastic 6-3 start, none bigger than DeAndre Jordan's lack of production.
After re-signing Jordan to a massive contract, the Clippers were expecting the talented center to have a breakout campaign. This has not been the case, as he is only averaging seven points and seven rebounds per game.
If LAC wants to make a splash this postseason, they need this young center to step up in a colossal way.
Los Angeles Lakers: Derek Fisher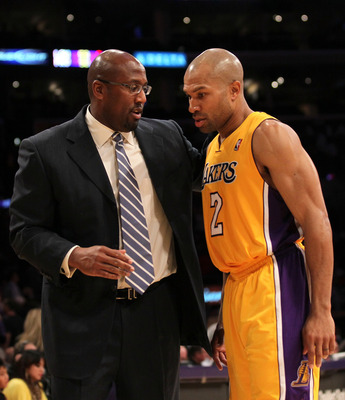 Derek Fisher
Stephen Dunn/Getty Images
Changes absolutely need to be made to the Los Angeles Lakers' starting lineup.
Kobe Bryant had his fourth consecutive 40-point game Saturday against the city rival Los Angeles Clippers.
Yet the Lakers ended up losing the exhibition match due to the inability of Kobe's supporting cast to produce, a theme that is becoming more and more common.
However, if there has been one player who has underperformed immensely for the Lakers, it is the veteran point guard Derek Fisher.
Fisher's play the last few years has been painful to watch. There are few point guards that he can match up with one-on-one on defense; most can blow by him with ease.
Plus, his role as a facilitator has diminished. With coach Mike Brown's new offense, Bryant has the ball constantly, which makes him the primary floor general. After all, Bryant leads the team in assists per game.
The Lakers need to find a replacement for Fisher fast if they want to compete for a title come summer.
Memphis Grizzlies: O.J. Mayo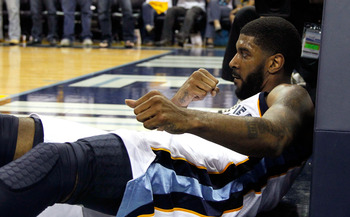 O.J. Mayo
Kevin C. Cox/Getty Images
If O.J. Mayo's career were made into a movie, it would be the The Curious Case of Benjamin Button.
Since being selected in the 2007 NBA Draft, O.J. Mayo has seen a steady decline in production. When most players improve from year to year in the early part of their careers, Mayo has done the exact opposite.
In The Curious Case of Benjamin Button, the protagonist has a disease whereby he was born old and becomes younger over time—much like the path of Mayo's scoring average.
In the end, nobody thought Mayo's career would peak in his rookie season, but he is averaging a career-low 10.7 points per game.
Miami Heat: Shane Battier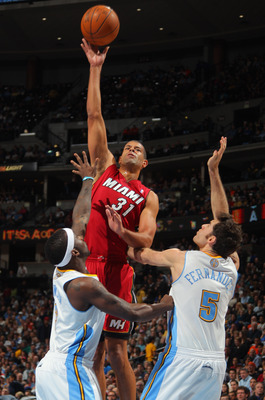 Shane Battier
Doug Pensinger/Getty Images
It was an extremely difficult task trying to find a player who needs to improve for the Miami Heat, since they have been so dominant.
But if there had to be one, Shane Battier would probably be my pick. His scoring is a little low; he is only averaging 3.7 points per game.
However, Battier was never brought in to fill up the stat sheet. The addition of the former Memphis Grizzlies star was purely due to the Miami Heat's need to obtain a defensive stopper and leader.
Milwaukee Bucks: Larry Sanders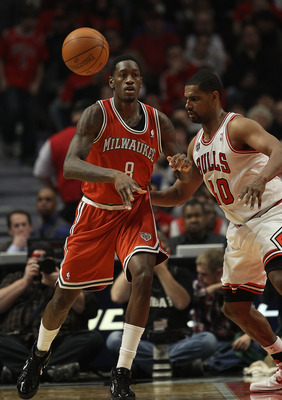 Larry Sanders
Jonathan Daniel/Getty Images
The Milwaukee Bucks are off to another bad start in this condensed season, as they have a record of 4-7.
Sure, that may not be the end of the world for their playoff hopes, but coach Scott Skiles probably thought his improved team would come out with more fire to start the year off.
One of the main problems I see with Milwaukee's game plan is their reluctance to play their young talent. With the team in the midst of another rebuilding year, it makes absolutely no sense to not play the likes of Larry Sanders, Darington Hobson and Jon Leuer.
But out of these three young talents, Sanders is the most inexcusable absence from the rotation. Sure, he has not played fantastically in his limited playing time, but wasting a first-round pick on a player you refuse to play is ridiculous.
Minnesota Timberwolves: Michael Beasley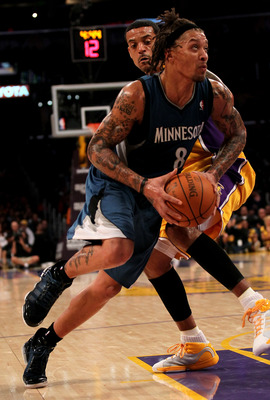 Michael Beasley
Stephen Dunn/Getty Images
After struggling with the Miami Heat since being drafted with the second overall pick in the 2008 NBA draft, Michael Beasley was shipped last offseason to the Minnesota Timberwolves.
With the move, Beasley blossomed into a fantastic starter for the organization. The combo forward was an efficient rebounder, a fantastic threat from deep and averaged nearly 20 points per game. Plus, he found a consistency to his game that he never possessed in his time in Miami.
This season, however, the level of his play has slipped. Despite playing for a breakout team, Beasley's production has dropped in almost every major statistical category.
Nonetheless, the future looks very bright for Beasley and the TImberwolves, but Minnesota needs more production from this former Kansas State star if they want to obtain a playoff berth.
New Jersey Nets: The Whole Roster Except Deron Williams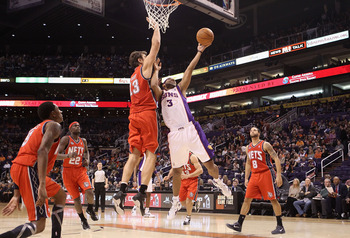 The New Jersey Nets
Christian Petersen/Getty Images
With each passing day, the odds look more and more likely that not only will the New Jersey Nets lose the Dwight Howard sweepstakes, but also their own superstar Deron Williams.
The New Jersey Nets are just plain bad. They have no depth, no leadership and, besides the duo of Brook Lopez and MarShon Brooks, no prospects. This does not bode well for them in their attempts to create a "Big Three" of their own.
If the Nets want to create a championship-caliber roster, they need to prove to Deron Williams that they are fully committed to winning a title.
New Orleans Hornets: Al-Farouq Aminu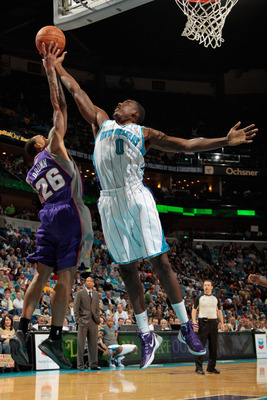 Al-Farouq Aminu
Chris Graythen/Getty Images
When the Los Angeles Clippers selected Al-Farouq Aminu with the eighth overall pick in the 2010 NBA draft, the organization believed they had acquired a permanent small forward solution for the future.
Despite having a rough rookie season, this young small forward did make huge strides in his game by the end of the year.
However, when the Clippers traded for Chris Paul, Aminu was shipped along with Eric Gordon to the New Orleans Hornets.
Since joining the Hornets, Aminu has not found the same success he found at the end of the 2010-2011 season. He has not found a permanent role in the rotation and looks somewhat lost on offense, as his 4.6 points per game attest to.
The Hornets can sneak into the playoffs this season, but Aminu is definitely going to have to improve if they want to accomplish this goal.
New York Knicks: Amare Stoudemire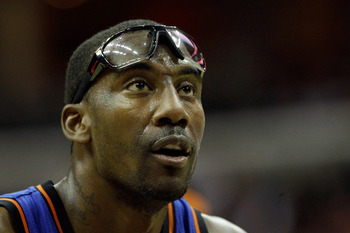 Amare Stoudemire
Rob Carr/Getty Images
Coming into this truncated season, many believed the New York Knicks were going to be a premier team in the Eastern Conference.
This has not been the case.
They have started the season 6-6 with two ridiculous losses to the Charlotte Bobcats and Toronto Raptors.
There are many glaring issues for the New York Knicks. However, the most pressing is the obvious fact that Amare Stoudemire has not been as effective with the presence of Carmelo Anthony.
At the beginning of last season, Stoudemire was an absolute force, as he was healthy and explosive. Once the Knicks traded for Anthony, though, Stoudemire saw a slight decline in his statistics.
This season, Stoudemire has not found his groove in the offense. "STAT" has taken tons of ill-advised shots, while not being as aggressive. He is scoring only 18.9 points per game.
New York needs Stoudemire to coexist successfully with Anthony to go forward into the playoffs.
Oklahoma City Thunder: Serge Ibaka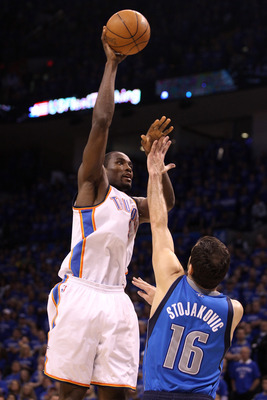 Serge Ibaka
Christian Petersen/Getty Images
The Oklahoma City Thunder are dominant.
They have a young core, two superstars and a fantastic supporting cast. Not only are they the undisputed best team in the Western Conference, but one could make the case that they are the premier team in the NBA.
However, the Thunder do have one glaring weakness. I am, of course, referring to their lack of a quality post-up player.
Coming into the season, Serge Ibaka was expected to assume that role. However, he has seen limited scoring opportunities.
Ibaka is OKC's best defender,but the talented young forward is very rarely relied on to score.
In fact, Ibaka's scoring this season has actually gone down; he is averaging under seven points per match.
Orlando Magic: Jameer Nelson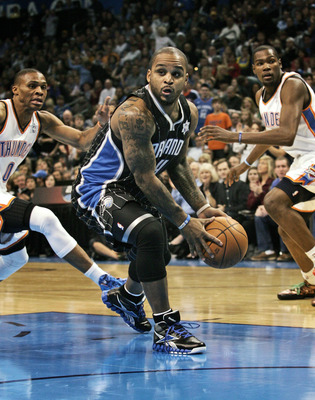 Jameer Nelson
Brett Deering/Getty Images
The inevitable is coming for the Orlando Magic.
Whether O-Town likes it or not, it is becoming more and more likely that Dwight Howard will either be traded before the deadline or sign somewhere else.
Despite starting this season with an impressive 8-3 record, it is quite obvious that the Magic have not put enough of a supporting cast around Dwight Howard to make a run at a championship.Most of the role players on the Magic are veterans who are on the downside of their careers.
One of these veterans is the former All-Star Jameer Nelson.
This year we have seen a huge decline in the quality of play from the former St. Joseph's point guard. Nelson is averaging an inefficient eight points per game to go along with a little more than five assists.
Nelson's porous play does not help the Magic's quest of bringing Howard back with a long-term contract.
Philadelphia 76ers: Jrue Holiday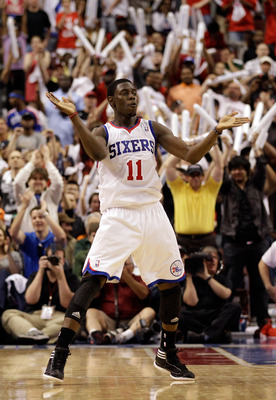 Jrue Holiday
Rob Carr/Getty Images
The Philadelphia 76ers are on the rise. They have a nice blend of youth and veteran leadership, and look like a formidable playoff team.
However, if Doug Collins and the 76ers want to take the next step and become a force in the Eastern Conference, Philadelphia needs to develop Jrue Holiday into more of a facilitator.
Holiday can obviously score the ball, as he is averaging a respectable 14 points per game, but the young point guard has not shown the ability to run his offense with precision.
He turns the ball over a little more than he should and is averaging only four assists per contest.
Nonetheless Holiday has been a pleasant surprise for the 76ers, as he was relatively overlooked in the point guard-filled 2009 NBA draft.
Phoenix Suns: Shannon Brown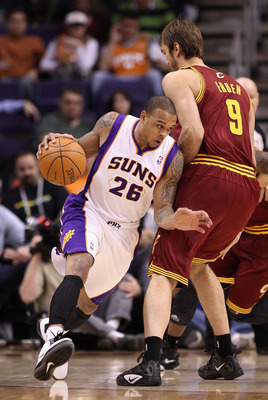 Shannon Brown
Christian Petersen/Getty Images
What are the Phoenix Suns trying to accomplish?
Despite missing out on the playoffs last season, the Phoenix Suns are reluctant to start rebuilding and insist on keeping their veterans.
This strategy does not bode well for the future and it may be years before the Suns are back in contention. They have very few prospect players for the future.
However, Shannon Brown is a very interesting player, and he can develop into the future face of Phoenix's organization. Brown definitely needs to improve his game, though, if he wants to assume that role.
Portland Trail Blazers: Nicolas Batum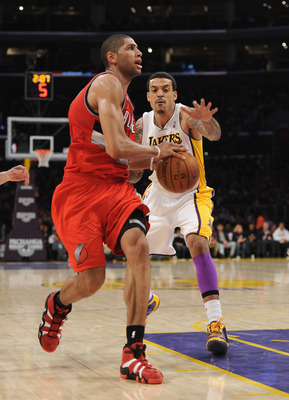 Nicolas Batum
Harry How/Getty Images
The Portland Trail Blazers are looking like a threat to take home the Western Conference crown.
Despite losing both Greg Oden and Brandon Roy to injuries, the team has fantastic chemistry, great depth and can put up points in a hurry. Both Raymond Felton and Jamal Crawford look like quality additions.
However, if the Trail Blazers want to be in the upper echelon of the conference, they have to receive more production from sixth man Nicolas Batum.
Batum's struggles are duly noted. After being a starter for most of his career, teammate Gerald Wallace has taken on more of a reserve role.
Plus, contract extension talks are probably weighing heavily on his mind, as this will be the first big payday in his career.
As of Sunday, Batum is averaging a respectable 12 points per game on 42 percent shooting.
Sacramento Kings: Tyreke Evans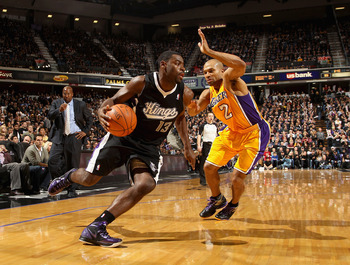 Tyreke Evans
Ezra Shaw/Getty Images
What a rookie season Tyreke Evans had!
He became the fourth player in NBA history to average 20 points, five rebounds and five assists in his rookie season. The other three were LeBron James, Michael Jordan and Oscar Robertson.
Pretty good company if you ask me.
However, his sophomore season was a bit of a disappointment. He battled injuries and never built on his impressive rookie campaign.
This season, Evans' statistics are still down from his rookie year.
However, if Tyreke Evans can find the spark that made him the NBA Rookie of the Year over two years ago, then the future looks extremely bright for the Sacramento Kings.
San Antonio Spurs: Tim Duncan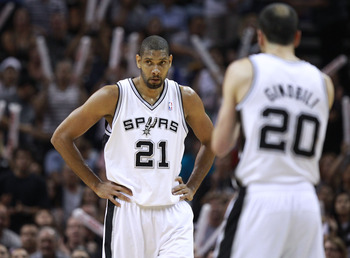 Tim Duncan
Jed Jacobsohn/Getty Images
For the first time in a decade, the East is the more talented conference. After years of dominance, the tides have turned due to players like Deron Williams, Carmelo Anthony and Amare Stoudemire switching from the Pacific to the Atlantic Ocean.
Anybody can make the Western Conference playoffs, and the San Antonio Spurs are no exception.
However, with the loss of Manu Ginobili for a few weeks because of a serious hand injury, somebody needs to step up and replace his production.
Why not Tim Duncan?
"The Big Fundamental" may be the most boring NBA player in history, but there is no question he is the best power forward of all time.
Over the last few seasons we have seen a sharp decline in Duncan's play, but we all know he is capable of coming up big when the Spurs are in trouble.
Toronto Raptors: DeMar DeRozan
DeMar DeRozan
Ezra Shaw/Getty Images
The Raptors are obviously not too worried about this year's outcome.
Next year the Raptors organization is going to make a push to become relevant again, as they have a ridiculous amount of cap space to go along with the rookie debut of fifth overall pick Jonas Valanciunas.
However, it would be helpful for the Raptors organization if DeMar DeRozan becomes a premier shooting guard in the Eastern Conference.
He has the potential, the tools and the athleticism to succeed, but it depends on how well the Raptors groom him.
Utah Jazz: Devin Harris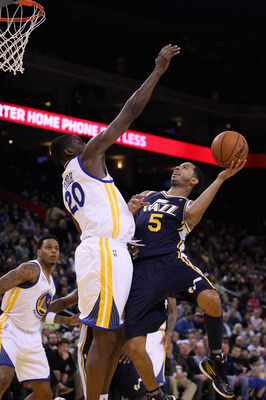 Devin Harris
Ezra Shaw/Getty Images
Devin Harris has been on a rapid decline since his glory days with the New Jersey Nets.
Sure, he is playing for a bad Utah Jazz team and doesn't have a very good supporting cast around him, but there is no excuse for Devin Harris's terrible start to the season.
This former All-Star is averaging a measly eight points per game to go along with four assists.
Washington Wizards: John Wall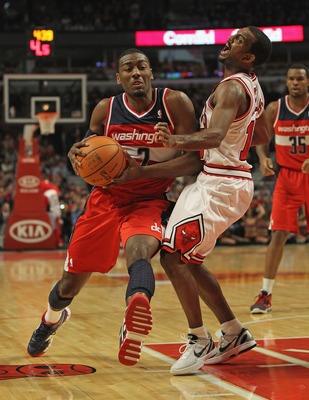 John Wall
Jonathan Daniel/Getty Images
The Washington Wizards have had a horrendous start to the season. From having the worst record in the NBA to fights between coaches and players, there are few things for Wizards fans to be excited about.
Coming into the season, the Wizards were expected to have a breakout campaign on the back of John Wall.
But not even Wall has shown any signs of improvement.
Wall is averaging 13 points per game to go along with seven assists, while leading his squad to a dismal 1-11 start. Ouch.
There is little doubt that Wall will someday be a star in the league, but this may not be his year.
Follow Hunter Konsens on his brand new Twitter account for updates, rumors and breaking stories.
Keep Reading