Australian Open 2012: 10 Best Men's Competitors in Tournament History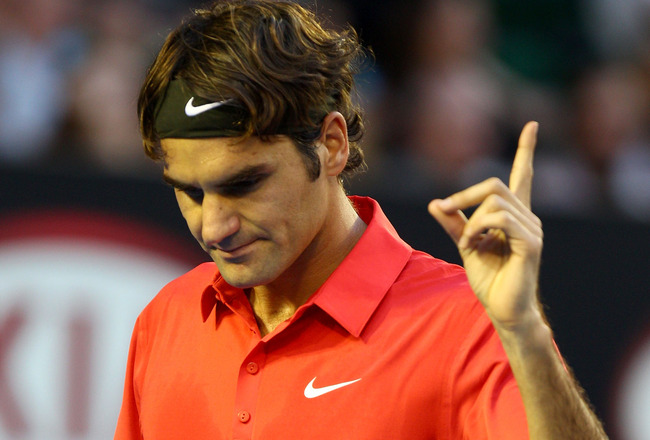 Mark Dadswell/Getty Images
The first of the four Grand Slam tournaments in the calendar year is the Australian Open.
But it was not always known as the Australian Open, it started as the Australasian Championships and in 1927 became the Australian Championships.
When professionals were allowed in 1969, it then became the Australian Open.
The tournament dates back to 1905, and since it's inception it has been played in seven different cities—two in New Zealand and five in Australia.
The tournament has been held in Melbourne since 1972, and at its current venue in Melbourne Park since 1988.
It has been played in three different surfaces—grass (up to 1987), rebound ace and plexicushion.
A tournament rich in history, it has seen the best of the best come year in and year out, in search for a piece of history.
Winning this Grand Slam tournament gets your name forever linked to the other few to have won it—the honor to call themselves a Grand Slam tournament champion.
The following list covers players from both historical periods of the tournament.
It's very difficult to compare the greatness of the players when the professionals were not playing, and to what they face since the open era.
But whether it was in the amateur or open era, there is a constant that defines them: winning.
Let's take a look at the top 10 winners of the Australian Open.
Stefan Edberg, SWE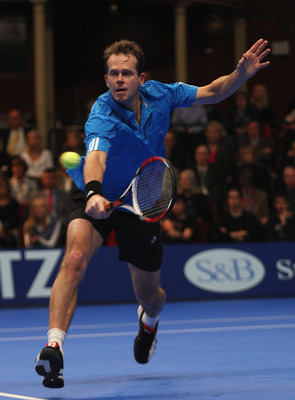 Mark Wieland/Getty Images
There have been 15 men to have won the tournament twice. Nine have won it back-to-back in the open era.
But from all of them, Sweden's Stefan Edberg has to come out on top.
Edberg's first two Grand Slam wins were at the Australian Open.
The serve-and-volley master won in 1985 and 1987—there was no tournament in 1986.
He was the runner-up three other times, including back-to-back in 1992-93.
After Wimbledon, the Australian Open was Edberg's best Slam, and no other player—not on this list—had better success than him.
James Anderson, AUS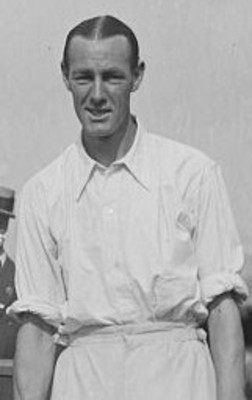 James Outram Anderson was the early star of this tournament.
He won it a total of three times (1922, 1924 and 1925) in four years.
His reign was short lived, as he would not reach the finals—or semifinals—again after those years.
But he still can call himself a three-time winner of the event.
Adrian Quist, AUS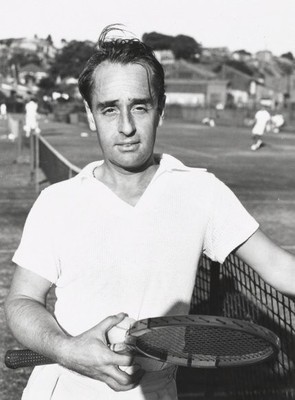 Adrian Karl Quist won the tournament three times (1936, 1940 and 1948.)
He also reached the finals in 1939.
He had to wait 12 years between his first and last championship.
But what makes that longevity remarkable is the fact that from 1941-45 there were no tournaments held due to World War II.
While Quist won the singles title three times, he also won the doubles title 10 years in a row.
Remarkable.
Mats Wilander, SWE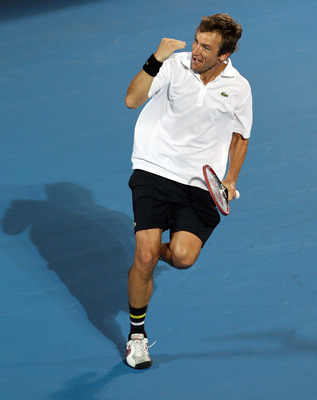 Craig Golding/Getty Images
Mats Wilander won the Australian open three times.
He has the distinction of being the only player to have won the open on grass and hard courts.
Wilander won it on grass in back-to-back years in 1983-84, and on hard courts in 1988.
He never won at Wimbledon, but those two wins on grass at the Australian Open grouped him with Jimmy Connors, Andre Agassi, Rafael Nadal, and Roger Federer as the only men to have won Grand Slam titles on grass, hard and clay courts.
He also lost in the finals in 1985 to Stefan Edberg, making that the third consecutive final he reached. Only Ivan Lendl has done that in the open era.
He finished with a total of four finals appearances.
Rod Laver, AUS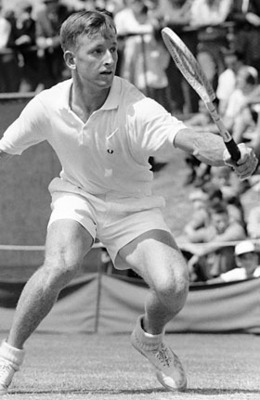 Rodney George "Rod" Laver is know as Mr. Grand Slam.
The only man to have twice won the tennis' Grand Slam—Australian, French, Wimbledon and US Open—in the same year.
He even has the main arena at Melbourne Park named after him.
Laver won the tournament three times (1960, 1962 and 1969) and lost to Roy Emerson in the 1961 final.
He also became the first man to have won it as an amateur (1960, 1962) and then as a professional (1969).
Laver, one of the all-time greats, won a total of 11 Grand Slam tournaments.
Jack Crawford, AUS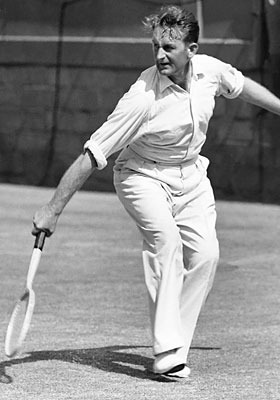 John Herbert "Jack" Crawford was the first man to win the Australian Open four times.
Known for taking a shot of whiskey when the going got tough, Crawford won it four times (1931-33, 35) in five years.
He also reached the final—and lost—against Edgar Moon.
Crawford had also reached the quarterfinals in 1928, and finished with a record of 52-15 lifetime at the Australian.
Ken Rosewall, AUS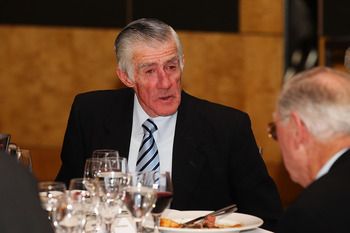 Matt King/Getty Images
Kenneth Robert "Ken" Rosewall won the Australian four times.
He has the record as the youngest (18 years and two months in 1953) and the oldest (37 years and eight months in 1972) winner of the Australian.
In 1971, Rosewall won the tournament without losing a set.
Talk about longevity in the sport.
He won it as an amateur and as as a professional.
The man who defines what a perfect backhand is, also reached the final in 1956 before losing to Lew Hoad.
This great champion had the centre court at Sydney Olympic Park renamed Ken Rosewall Arena in his honor.
Andre Agassi, USA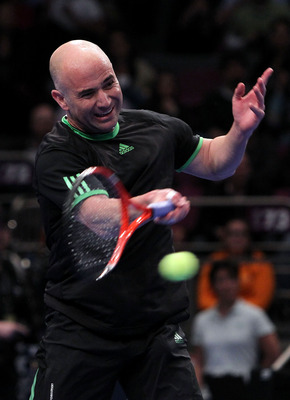 Nick Laham/Getty Images
Andre Kirk Agassi won the Australian Open four times (1995, 2000, 2001 and 2003) during the open era, including twice after the age of 30.
The Australian Open was Agassi's best slam tournament, as it seemed to bring out the best in him.
After Agassi's 2003 finish at the Australian Open, he posted a record-best win–loss percentage of 71.6 percent (121–48) at the tournament.
Roger Federer, SUI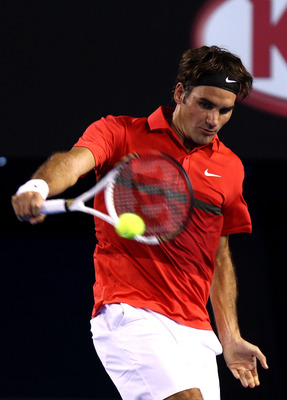 Mark Dadswell/Getty Images
Roger Federer has won, to this day, four Australian Open championships.
He is still active and very much in play for a fifth.
He is the only player to have won the Australian Open on both types of hard surfaces: Rebound Ace and Plexicushion (2007).
He is also one of two men to have made the impressive feat of winning the tournament without dropping a set (2007). Ken Rosewall was the other in 1971.
Up to this day, Federer has a 63-8 win-loss record at the Australian Open for an 88.73 winning percentage.
We might have to update this after this year—let's keep an eye on Fed-Ex.
Roy Emerson, AUS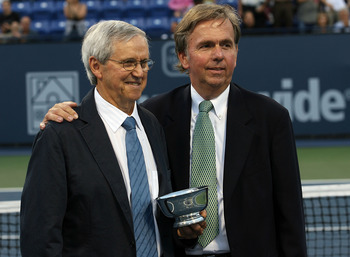 Jonathan Moore/Getty Images
Roy Stanley Emerson is the biggest winner of the Australian.
He has won it a record six times (1961, 1963–1967) and has the record for most consecutive titles with five (1963–1967), and most consecutive finals with seven (1961-67).
Emerson's feat in the Australian has not been matched, and will undoubtedly be very difficult for someone to accomplish, especially now in the open era.
No one else has won it even five times—imagine winning it five times in a row.
Besides his remarkable record at the Australian, Emerson is the only player to have won titles in all four Grand Slams in both singles and doubles events.
He finished his career with 11 Grand Slam tournament wins—the first player to reach that number.
Keep Reading