UFC 142 Results: Who Is Jose Aldo's Biggest Threat?
Use your ← → (arrow) keys to browse more stories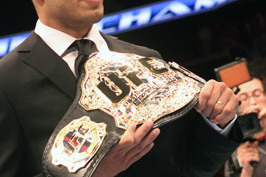 In his first main-event duty as the UFC's featherweight champion, Jose Aldo performed well above his pay grade as the Black House fighter quickly dispatched then undefeated contender Chad Mendes.
A well-timed knee from Aldo sent Mendes reeling to the canvas where Junior greeted him with additional ground-and-pound blows, sealing the knockout victory with just one second remaining in the opening stanza.
The victory served as a healthy reminder for all in the featherweight division that Aldo is far and above the rest in his class.
Mendes served as the best fighter who would be able to dethrone Aldo. The Team Alpha Male standout is a collegiate wrestling stud with underrated striking skills and heavy hands to boot, which aided him in securing his 11-0 streak.
However, a takedown-aware Aldo, coupled with his obvious muay thai prowess, is dangerous for even the most talented of fighters.
The next viable contender in the division would appear to be the world-renowned Hatsu Hioki, though the Japanese star has failed to impress in his initial UFC debut: a controversial split-decision win over The Ultimate Fighter veteran George Roop.
Aldo's biggest enemy is himself. So long as he feels up to bat, Junior has shown that he can perform up to par with the likes of the Jon Jones, George St-Pierres and Anderson Silvas of the world.
The biggest deterrent remains just how much longer will Aldo kid himself competing in the featherweight class? 155 pounds is calling.