New York Yankees: Jorge Posada and 10 Numbers They Need to Retire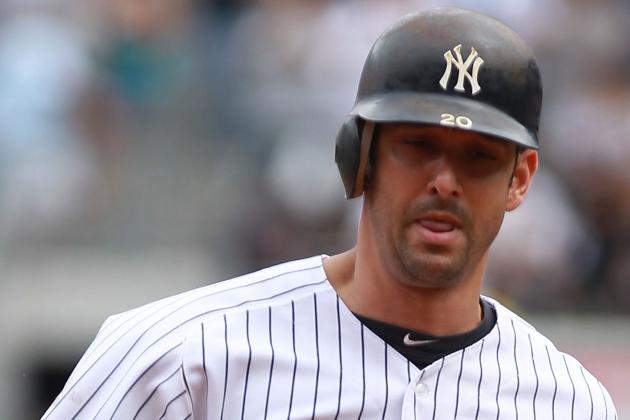 Nick Laham/Getty Images

Jorge Posada's retirement announcement has stirred up a great deal of conversation.
Much of that conversation surrounds his potential candidacy for election into the Baseball Hall of Fame when he is eligible for consideration.
While he may not have reached the numbers that he'll need to gain enough of the votes to be elected, no one can deny that Posada had a powerful presence as a Yankee.
He shares that presence with many other Yankees, both past and present. Some will become enshrined in the Hall of Fame one day, and some already have been inducted.
Some will never have the honor, but all should be remembered for their contributions and effects that they had on the Yankees dynasty.
One of the best ways to honor any athlete who deserves special recognition for talent, skills, determination and playing with heart is to permanently retire that athlete's number.
Jorge Posada and other Yankee players deserve such an honor. Take a look at some Yankees who should have their numbers retired.
Begin Slideshow

»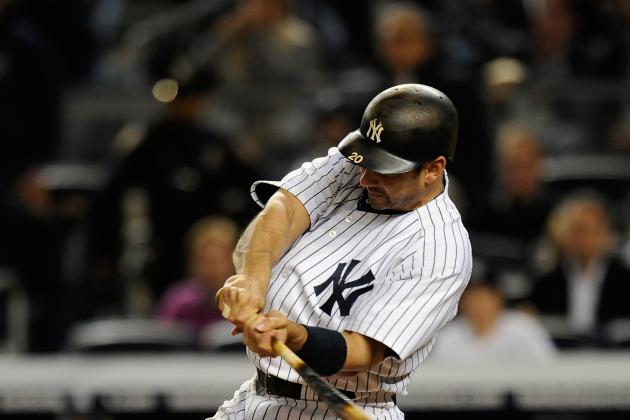 Patrick McDermott/Getty Images

He will always be remembered as one of the core four, and a career-long Yankee.
Over 17 years, he was a five-time All-Star.
Every year that he was an All-Star, he won a Silver Slugger Award.
He is one of two players in MLB history who has hit 40 doubles in two seasons.
He became the first Yankee catcher since Thurman Munson in 1978 to end a season in the top ten batting leaders in the AL.
He hit the first home run in the new Yankee Stadium in 2009.
He hit back-to-back grand slams in two games becoming the first Yankee to do so since 1937.
He has ten career grand slams.
Posada has a career batting average of .273, 1,065 RBI, 275 home runs and 1,664 hits.
He is one of the faces of the Yankees, and deserves the special honor.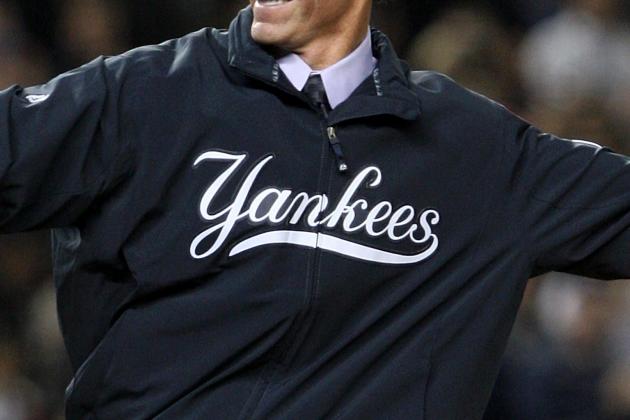 Jed Jacobsohn/Getty Images

O'Neill became a Yankee when he was traded from the Reds in 1992.
Beginning in 1995, the Yankees made the postseason for the first time in fourteen years and continued to do so for the rest of O'Neill's career with the Yankees.
O'Neill played a major role in the Yankees' success winning the World Series in 1996, 1998, 1999 and 2000.
He hit 281 home runs, 1,269 RBI, 2,107 hits and his batting average was .288 over 17 years.
In 1994, he won the American League batting title with a .359 batting average.
He was a five-time All-Star, playing in 1991, 1994, 1995, 1997 and 1998.
O'Neill was both powerful and passionate. Most fans enjoyed his emotional outbursts because it showed his passion and desire for success.
Now is the time to retire No. 21 for Paul O'Neill.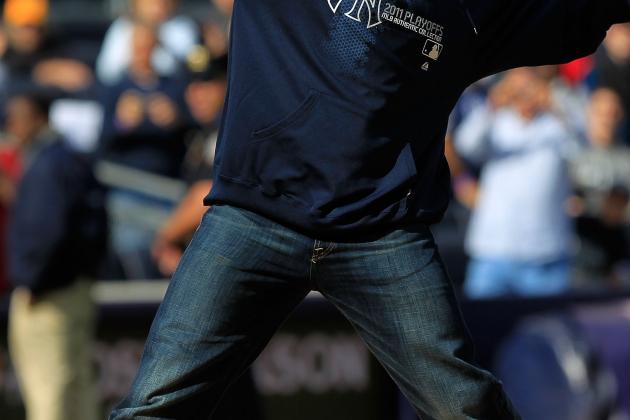 Chris Trotman/Getty Images

Pettitte was a prominent Yankee in five World Series Championships in 1996, 1998, 1999, 2000 and 2009.
He was vital in each of those titles, as well as AL championships in 2001 and 2003.
In the 2000s, he had the most wins in MLB.
Other than a brief break playing for the Astros from 2004 to 2006, he was a long-time Yankee starting in 1995.
He was often the league leader in multiple areas including wins, starts, pick-offs and double plays induced.
Pettitte was a three-time All-Star, playing in 1996, 2001 and 2010.
He was the 2001 ALCS MVP.
Over the span of his career, he went 240-138, he had a 3.88 ERA and recorded 2,251 strikeouts.
The Yankees would not have achieved such great success without Andy Pettitte.
His accomplishments should be acknowledged by retiring his number.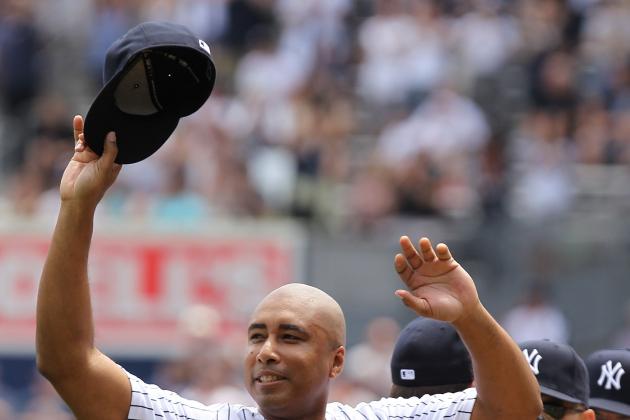 Al Bello/Getty Images

Williams began his career in 1991 with the Yankees with a bang.
He hit 18 home runs and led the Yankees in runs, hits, total bases and stolen bases.
In 1998, the Yankees set an AL record, going 114-48.
Williams batted .339, playing a large role in the success that year.
He became the first player to win a batting title, a Gold Glove Award and a World Series ring in one year.
He won four Gold Glove Awards.
The Yankees gave Williams a 7-year contract after the 1998 season for $87.5 million.
He improved consistently each year, earning his worth.
All seven years of his contract, the Yankees made the postseason.
Williams did not have spectacular numbers, but he was solid and reliable.
He will forever be known as one of the Yankees who contributed to the success of the dynasty.
Jim McIsaac/Getty Images

Nettles played for the Yankees from 1973 to 1983.
He may not have had a high career batting average of .248, but he was one of the best third basemen defensively.
Offensively, he set an AL record of the most home runs hit by a third baseman.
He played for the Yankees during four of their pennant-winning seasons.
In 1977, he won the Gold Glove Award, hit 37 home runs and 107 RBI.
Over 22 years in MLB, Nettles hit .284, 390 home runs and 1,314 RBI in 2,700 games.
He is a six-time All-Star, he won two World Series championships, he won two Gold Glove Awards and was the 1981 ALCS MVP.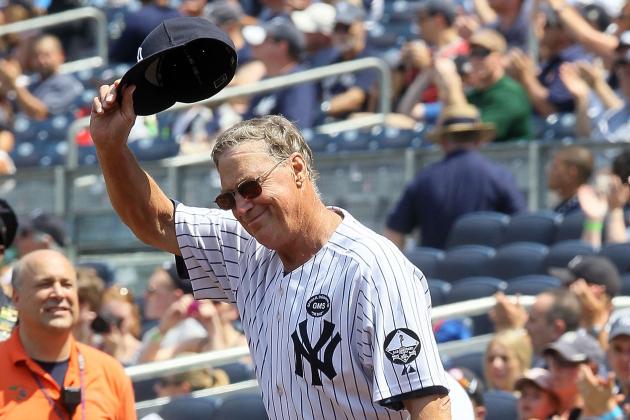 Jim McIsaac/Getty Images

Stottlemyre played for the Yankees his entire career from 1964 to 1974.
He had a win-loss record of 164-139, a 2.97 ERA and 1,257 strikeouts.
He was a five-time All-Star in 1965, 1966, 1968, 1969 and 1970.
Stottlemyre received a call-up in 1964 and went 9-3 helping the Yankees win their fifth consecutive pennant.
He had three seasons that he won 20 games.
Pitching wasn't his only talent. He was a solid hitter and hit a rare inside-the-park grand slam.
After the 1974 season, he retired from baseball due to a rotator-cuff injury.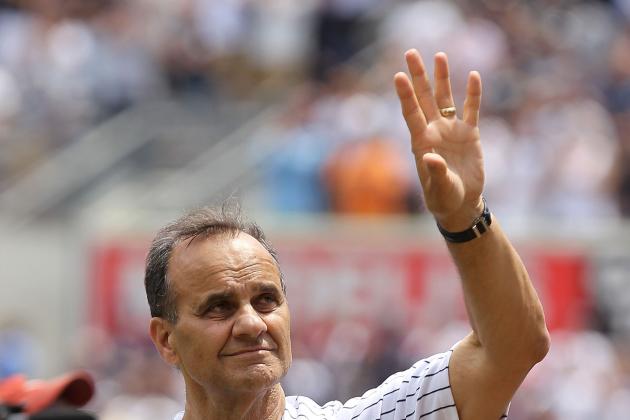 Al Bello/Getty Images

Torre played for and managed the Braves, the Mets and the Cardinals.
As a player, his career batting average was .297, 252 home runs and 1,185 RBI.
He has managed 4.329 games with a record of 2,326-1,997.
He managed the Yankees from 1996 to 2007 reaching the postseason each year.
He has a .605 winning percentage with 10 AL East division titles, six AL pennants and four World Series titles.
He ranks fifth in MLB with wins as a manager.
When he was hired as the Yankees manager, the press and fans labeled him as "Clueless Joe."
He quickly silenced the critics leading the Yankees into the postseason in each of the seasons that he was the manager.
When the Yankees won the World Series in 1996, George Steinbrenner tore up Torre's contract and gave him a new one that was longer and more lucrative.
The 1998 Yankees team that he led is regarded as one of the greatest baseball teams.
He will go down in Yankee history as one of the best managers in New York who led to one of the greatest baseball dynasties.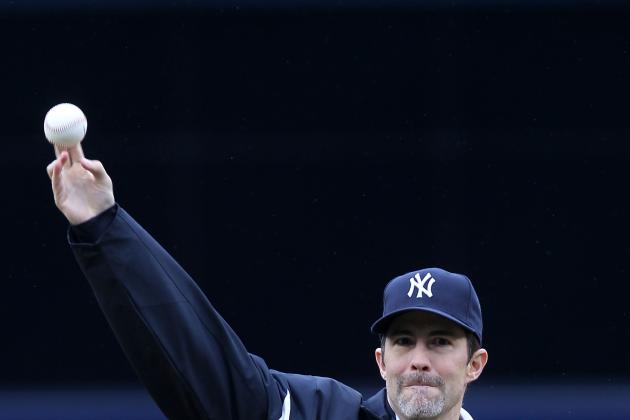 Nick Laham/Getty Images

Mussina played for the Orioles from 1991-2000, and then the Yankees from 2001-2008.
During 17 consecutive seasons, he won at least 11 games.
He had a career winning percentage of .638, a record of 270-153, and ERA of 3.68 and 2,813 strikeouts.
He was a five-time All-Star and a seven-time Gold Glove Award winner.
On six occasions, he came in at the top five in voting for the Cy Young Award.
In his final start at Yankee Stadium, he achieved his 18th win of the season and led the Yankees 9-2 beating the White Sox.
At the age of 39, he won 20 games for the first time in his career against the Boston Red Sox at Fenway Park.
He became the oldest pitcher in MLB history to reach 20 games won for the first time in a career.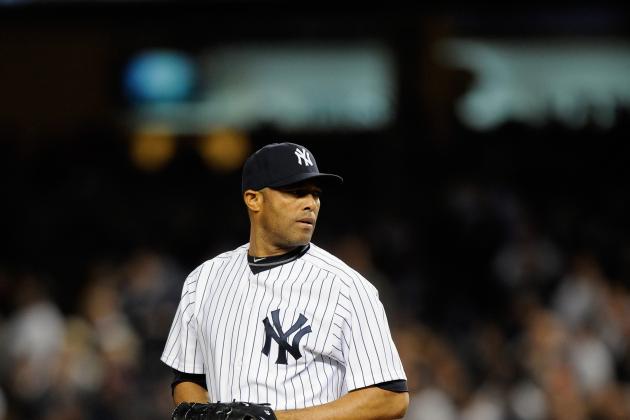 Patrick McDermott/Getty Images

Rivera, the only remaining player in MLB who wears the No. 42, should not even result in a debate.
In honor of Jackie Robinson, the No. 42 was retired league-wide in 1997. Rivera was issued the number before the retirement.
He began his career with the Yankees in 1995, and has been the most successful closer in the history of baseball.
As of the end of the 2011 season, he has a record of 75-57, 603 saves, a 2.21 ERA, a 1.00 WHIP and 1,111 strikeouts.
Rivera is a 12-time All-Star, and a five-time World Series champion.
He is a five-time Rolaids Relief Man Award winner, and a three-time Delivery Man of the Year Award winner.
In 1999, he was the World Series MVP. He pitched 43 consecutive scoreless innings in the regular season and postseason.
Numerous records were set in the 2011 season for the Yankees. One of those records belongs to Rivera.
He is now the all-time leader in regular season saves at 603.
He is the all-time leader in postseason saves at 42.
He is the all-time leader in games finished at 883.
He is the first pitcher to make 1,000 appearances with one team.
He is the first pitcher over the age of 40 to save at least 40 games in a season.
The No. 42 has a special place in the heart of baseball for Jackie Robinson. Mariano Rivera's No. 42 should also be retired proudly.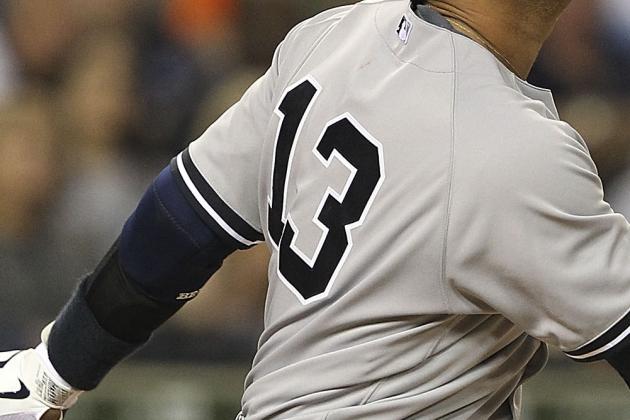 Leon Halip/Getty Images

Although many fans have hard feelings for Rodriguez, it's difficult to deny his talent.
When third baseman Aaron Boone injured his knee in the off-season, Rodriguez was brought on in 2004 to fill his place.
In his first season with the Yankees, he hit .286, 36 home runs, 106 RBI, 112 runs scored and 28 stolen bases.
He is one of three players in MLB history to hit at least 35 home runs, have 100 runs and hit 100 RBI in seven consecutive seasons.
He is the youngest player to have hit 500 home runs, and the youngest to hit 600.
As of the end of the 2011 season, he has a batting average of .302, 629 home runs, 1,893 RBI, 2,775 hits, 305 stolen bases and scored 1,824 runs.
Rodriguez is a 14-time All-Star, and a 10-time Silver Slugger Award winner.
He won the AL Hank Aaron Award four times, and is a three-time AL MVP award winner.
He has two Gold Glove Awards, and is a World Series champion.
Whether you love him or hate him, his phenomenal numbers don't lie. When the time comes that he decides to retire, the No. 13 should be retired with him.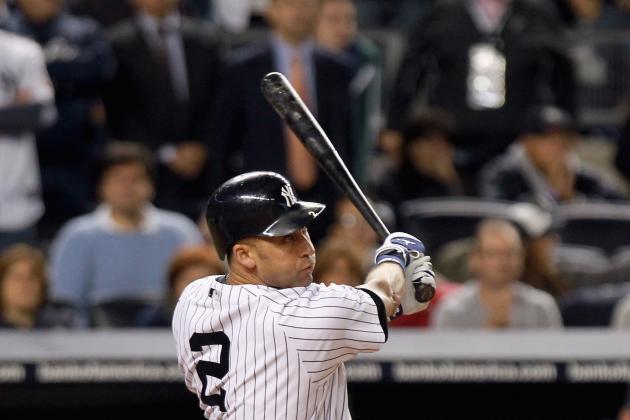 Nick Laham/Getty Images
Jeter
Did anyone really question if Derek Jeter would be on this list?
The 1996 Rookie of the Year Award winner helped the Yankees win the World Series that season.
He hit his first home run on Opening Day in 1996, and is the first Yankee rookie to do so since 1962.
Year after year, with an occasional bump, he has been the most reliable Yankee on the team.
Over the last 10 years, he has been among the AL leaders in hits and runs scored.
In 2009, he broke the record for the most hits by a shortstop.
In 2011, he recorded his 3,000th hit by smashing a home run at Yankee Stadium.
As of the end of the 2011 season, he has a batting average of .313, 3,088 hits, 1,769 runs, 240 home runs and 1,196 RBI.
Jeter is a 12-time All-Star and a five-time World Series champion.
He has received five Gold Glove Awards and four Silver Slugger Awards.
He is a two-time AL Hank Aaron Award winner.
In 1996, he won the Rookie of the Year Award.
In 2000, he was the MVP of the All Star game and the World Series.
He won the Roberto Clemente Award in 2009.
Derek Jeter has a career-long reputation of being highly professional, and a true gentleman.
I look forward to the day when he receives the ultimate honor of having his number retired for baseball eternity.