2012 NFL Draft: Oregon's Darron Thomas Makes Right Decision to Turn Pro
January 15, 2012

Stephen Dunn/Getty Images
Oregon Ducks quarterback Darron Thomas will not return for his senior season and will instead take his chances in the 2012 NFL Draft, which is the right decision for his football career.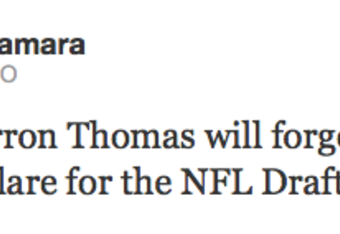 "I am ready to go," Thomas told ESPN's Joe Schad. "I left on a good note with the Rose Bowl. And I am ready to further my life."
Why is this a smart decision? Well, there aren't many can't-miss quarterback prospects in this year's class and Thomas is right in thinking he has a chance to be taken by a team looking to find a potential steal in the draft.
With USC quarterback Matt Barkley and Oklahoma star Landry Jones staying in school for next season, the amount of quality quarterbacks is quite small.
After Stanford quarterback Andrew Luck and Heisman Trophy winning Baylor star Robert Griffin III, there aren't any more potential cornerstone quarterbacks in draft.
Sure, someone like Kellen Moore of Boise State could surprise and have good NFL careers as players taken in the later rounds, but the chances of that happening aren't great.
Thomas has immense talent, there's no denying that. His size will also help him in the NFL. Thomas stands 6'3" tall and weighs 215 lbs.
As a starter with the Ducks, he was 23-3 and scored 71 touchdowns. Many people think his success as a quarterback in the spread offense won't translate to the NFL, but that thinking is foolish.
Thomas has a pretty strong arm, but was not accurate enough on a consistent basis. This is something he can work on, though, in his workouts and offseason practices.
Tim Tebow was an average passer at Florida, and he was an average passer in the NFL this season, yet he was able to find success in the passing game when he needed to many times late in games. Tebow has a winning attitude that gives his teammates confidence, and so does Thomas.
What else can Thomas give an NFL team?
Thomas told Schad he can "offer leadership, [a] winning attitude, hard work and I can make big plays. I saw what Cam Newton did this year. He took his raw talent and made a spark. I can do those things, too."
Let's face it, not many people thought Cam Newton would set a rookie record for most passing yards in a single season. Newton was labelled as future bust by many people, but his college game translated well into the NFL.
There's no reason Thomas can't utilize his talent well in the NFL. His decision to turn pro isn't a popular one, and there are reasons why it could go wrong.
However, Thomas is a winner, and is a quarterback who has shown the ability to improve while at Oregon. NFL teams would be foolish not to consider drafting Thomas with a pick in the later rounds.