Philadelphia Flyers: Is It Shea Weber or Bust in Philadelphia?
Use your ← → (arrow) keys to browse more stories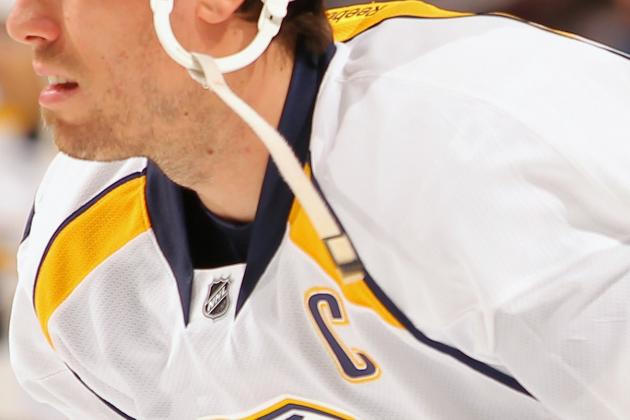 Doug Pensinger/Getty Images

First, the Flyers lose their newly appointed captain and arguably one of the best defenseman in the league in Chris Pronger for the entire season due to a severe concussion.
Then, the Flyers lost Brayden Schenn and superstar Claude Giroux for periods of time this season with concussions. Both have since returned, but it was a big scare.
Now, Philadelphia will be without the services of power forward James van Riemsdyk for what could very well be the whole season as well. Like Chris, Brayden and Claude, James is the latest Flyer to be taken out of the game with a concussion.
Just days ago, James van Riemsdyk was the subject of major trade rumors. Reports from multiple websites (an NHL.com report cites stories from TSN and the Philadelphia Daily News here) were stating that the Philadelphia Flyers and Toronto Maple Leafs were in trade discussions that would have sent the 22-year-old power forward to Toronto in exchange for highly-touted defenseman Luke Schenn.
In any other instance, I probably wouldn't have believed it. The Flyers seemed committed to James when they offered him a hefty six-year contract extension at the beginning of the season.
However, the Flyers are in dire need of help on the back end, and this may have been one of the only ways they could have gotten such a valuable defenseman.
Whatever the case may be, any chance of JvR being traded seems to have vanished. You can't trade a guy who's out with a concussion.
So, what do the Flyers do now? With James out of the lineup, it certainly makes things harder on the club. Not only will they be without his services, but they lost a huge bargaining chip in any potential trade they may have been working out.
Is it Shea Weber or bust?
A connection between Philadelphia and a big-name defenseman such as Shea Weber is still being seriously discussed by the media, but as long as Nashville remains in the playoff race, the Predators may not be willing to deal their best defenseman. The Flyers certainly didn't do themselves any justice in the 4-2 loss on Saturday night.
So, with the trade deadline fast approaching, what will the Flyers do? Has it become Shea Weber or bust in Philadelphia? Or will the Flyers once again rent some help on the blue line, only to let them go at season's end?
After the loss to the Predators on Saturday night, I feel that Philadelphia must step up and begin to get aggressive in the trade market. The Flyers have proved numerous times this season that they simply cannot keep up with some of the teams that will likely make it to the playoffs. If they can't beat some of these teams now, how can they win a seven-game series?
So, I'll ask again. Is it Shea Weber or bust in Philadelphia?
Follow me on twitter @ManayunkMike for the latest news, rumors, and more!