2012 NFL Draft: Seattle Seahawks and Teams That Must Trade Up to Select a QB
January 15, 2012

Ronald Martinez/Getty Images
The NFL has become a pass-happy league, which means you cannot win the Super Bowl without a very good, if not great quarterback leading your franchise.
The last five quarterbacks to win the Super Bowl are Tom Brady, Ben Roethlisberger, Peyton Manning, Drew Brees, and Aaron Rodgers.
This year's NFL draft has two quarterbacks worth taking in the top 10 of the first round—Stanford's Andrew Luck and Baylor's Robert Griffin III.
While the Indianapolis Colts will probably take Luck at No. 1, there are many teams who should trade up and take Griffin as their quarterback of the future.
Let's look at three teams that need to trade up in the draft to select the Heisman Trophy winner from Baylor.
Arizona Cardinals (Pick No. 13)
The Kevin Kolb experiment in Arizona this season was a disaster, and he turned out to not be the quarterback of the future many in the Cardinals organization thought he would be.
Kolb battled injuries this year and played only eight games in which he threw at least 10 passes. In those eight games, he had a very mediocre stat line that included nine touchdown passes and eight interceptions.
The Cardinals have the 13th overall pick and would be wise to take a player like Griffin. He throws a tremendous deep ball, which would really work well with the speed and route-running ability of Cardinals All-Pro receiver Larry Fitzgerald.
Trading up for Griffin is worth the risk for the Cardinals, who would be a playoff-contending team with a good quarterback.
New York Jets (Pick No. 16)
This may surprise some, but the New York Jets cannot rely on Mark Sanchez to lead them to the Super Bowl, especially this season, when he could not even lead the team to the playoffs.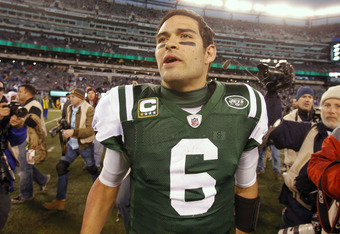 Rich Schultz/Getty Images
Sanchez hasn't developed to the level he should be at after three NFL seasons, and it's clear that the team is better off finding a better fit at quarterback.
Griffin would give the Jets a composed quarterback who can stand in the pocket and utilize his weapons like a Santonio Holmes, but also create problems for defenses with his running ability.
Trading up to get Griffin would be a risky and bold move by the Jets, but it's something they must consider to get their team to the next level.
Seattle Seahawks (Pick No. 11)
The Seahawks need a quarterback badly, and would certainly be a playoff team in the NFC if they had one, because their running game and defense are both pretty good.
At pick No. 11, it's highly unlikely that Griffin falls to them, so trading up is the only way for Seattle to draft the Baylor quarterback.
The Seahawks were just 22nd in passing offense this season, averaging just 194 yards through the air per game this season.
With a quarterback like Griffin who can make defenses worry about his passing and running ability, the Seahawks offense would be far more dangerous.
The chance to select a franchise quarterback is a move the Seahawks would be foolish to pass up on.