UFC 142 Results: 4 Questions We Have About Jose Aldo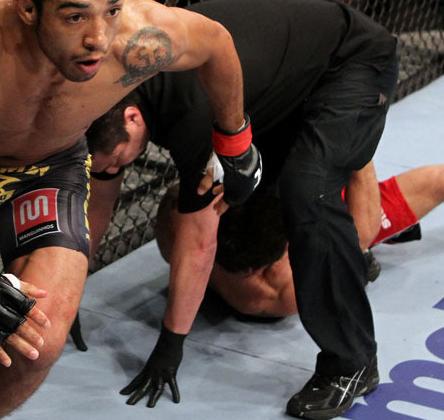 Josh Hedges/Zuffa LLC
Heading into UFC 142, many were beginning to question Jose Aldo due to back-to-back decision victories over fighters he was expected to handle fairly easily.
What was wrong with Aldo? Were the lights of the UFC stage too bright for the featherweight champion? Is Aldo really a Top Three pound-for-pound fighter?
All of those questions and more were answered with one big knee on Saturday night. By knocking out Chad Mendes is impressive fashion, Aldo silenced all of his skeptics and reminded everyone why he is one of the best in the world.
Now, the questions surrounding Aldo are of a completely different tone. Let's take a look at the most pressing questions being asked of the 145-pound kingpin.
Begin Slideshow

»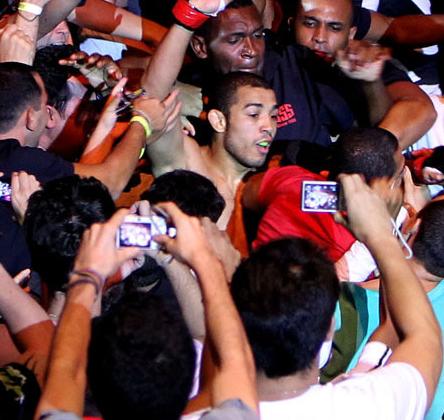 Josh Hedges/Zuffa LLC
Aldo caused quite the scene at the HSBC Arena in Rio de Janiero, Brazil after knocking out Mendes. As soon as he was pulled away from Mendes, Aldo ran wildly in the Brazilian crowd.
Aldo was swallowed by the crowd and then lifted on their shoulders in celebration. It was an unprecedented scene at a UFC event—a scene that makes one wonder whether Aldo became Brazil's favorite fighter with a single knockout.
The likely answer to that question is no.
Vitor Belfort was a huge name in the South American country before the UFC even returned to Brazil in 2011. Anderson Silva has exploded in popularity and begun filming commercials with major corporations.
No, Aldo has not surpassed the likes of Belfort and Silva when it comes to Brazilian popularity, but with his incredible win over Mendes, he will now be mentioned in the same breath.
Don't be surprised to see Aldo paired up with Silva in one of those strange Brazilian commercials that pop up on YouTube every few months.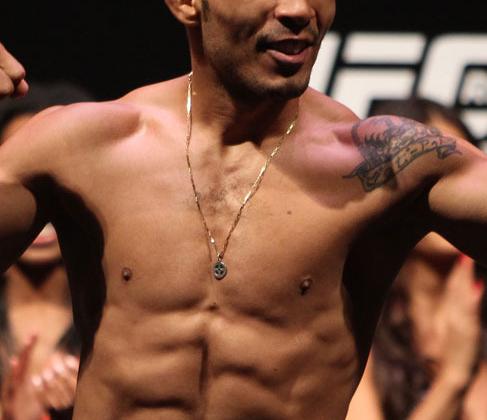 Josh Hedges/Zuffa LLC
While Aldo's stock is high following his win at UFC 142, he certainly hasn't surpassed Anderson Silva and Georges St-Pierre on anyone's pound-for-pound rankings.
However, there is certainly a strong argument that Aldo is the third-best pound-for-pound fighter currently competing in the sport.
Aldo, Jon Jones and Dominick Cruz all have three victories in fights where a UFC title was on the line. However, all three of Aldo's wins were title defenses—whereas the other two champions have only defended their UFC strap on two occasions.
Prior to joining the UFC, Aldo and Cruz were both tied with two WEC title defenses.
It's far from a end-all argument, but when determining which fighter is a better pound-for-pound mixed martial artist, title defenses are a good measuring stick.
There will be arguments on both sides, but there is certainly a strong case to be made for Aldo to closely follow Georges St-Pierre in the pound-for-pound rankings.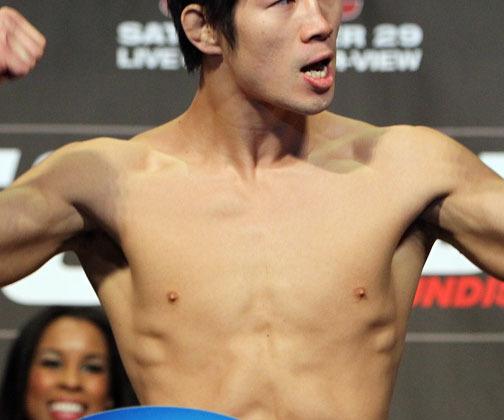 Josh Hedges/Zuffa LLC
When news broke that Hatsu Hioki had signed with the UFC, he was immediately considered one of the biggest threats to Aldo.
However, a lackluster performance against George Roop has brought doubt upon Hioki's ability to give Aldo much of a scare.
By disposing of the undefeated Mendes is such definitive fashion, it would appear Hioki is the only fighter standing between Aldo coming as close as a champion can to clearing out a division.
Given the lackluster performance he had against Roop—a fighter who former featherweight contender Mark Hominick quickly destroyed—Hioki doesn't appear to pose many problems for the 145-pound champ.
That leads us to our next question.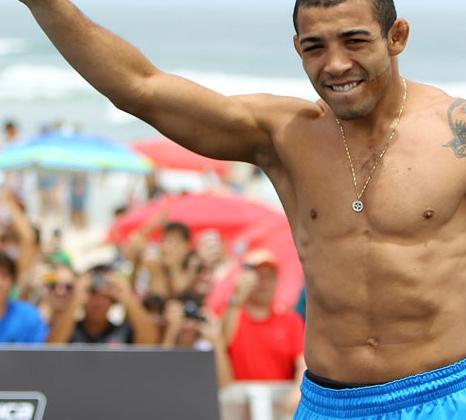 Josh Hedges/Zuffa LLC
Running out of true challenges in the featherweight division, it may soon be time for Aldo to make a move to 155 pounds.
According to UFC president Dana White, that decision is Aldo's to make.
People have been asking me about Jose Aldo moving up to 155 pounds to take on Frankie Edgar or some of the top guys there, White said at the UFC 142 post-fight press conference. That's up to him. He's going to have to make that decision whether he wants to make that move or not (via MMA Junkie.com).
This past October, though, Aldo passed along decision-making responsibility to his coach and manager in an interview with MMAFighting. "That's not really my decision. That's my coach, Andre [Pederneiras], and Ed's (Soares) decision," Aldo said.
Whoever has the final say, the time is approaching for the decision to be made. One more featherweight title defense may be all it takes before Aldo makes the move to the lightweight division.