2012 NFL Mock Draft: First-Round Picks Destined for Greatness in Rookie Season
January 15, 2012

Jeff Golden/Getty Images
As we move deeper into the 2012 playoffs we inch closer and closer to the 2012 NFL draft. There are sure-fire NFL stars, busts and projects in every draft class but only a few make immediate impact their first season.
The guys I will highlight in this mock draft will be those players that will make the most impact in their first season with their respective team. You'll know who I am talking about because their names will be highlighted in bold.
1. Indianapolis Colts (2-14)
Andrew Luck, QB, Stanford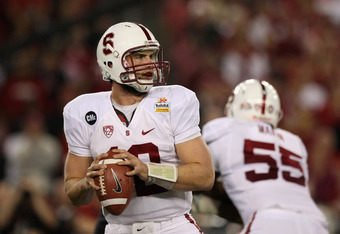 Donald Miralle/Getty Images
After seeing how quarterbacks played this year it should be no surprise to see Indianapolis lock up their quarterback position for years to come. We saw how porous they really are without a dominant quarterback.
Luck proved that he has all the tools to be a great quarterback in the NFL. I have no doubts that he will.
2. St. Louis Rams (2-14)
Justin Blackmon, WR, Oklahoma State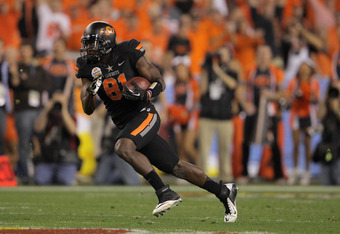 Doug Pensinger/Getty Images
If Sam Bradford is the Rams quarterback of the future it's about time to give him a young, talented weapon to toy with.
Blackmon is extremely athletic, played well in big games and dominated as a whole at the collegiate level with Oklahoma State.
3. Minnesota Vikings (3-13)
Morris Claiborne, CB, LSU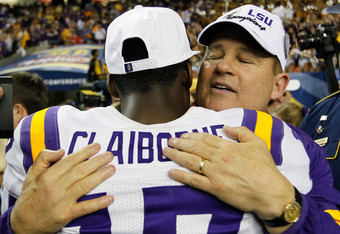 Kevin C. Cox/Getty Images
Claiborne is the best cornerback in the draft. Minnesota has a ton of holes to fill, but you can never have too many cornerbacks.
He will make an instant impact for the Vikings and their 26th-ranked pass defense. Claiborne has a decent frame for a cornerback at 6'0".
Claiborne does many things well and few things poorly. His physical tools and length are what truly makes him special.
Minnesota will get a rookie that will excel in his first season in the league. Claiborne has all the tools that scream greatness.
4. Cleveland Browns (4-12)
Robert Griffin III, QB, Baylor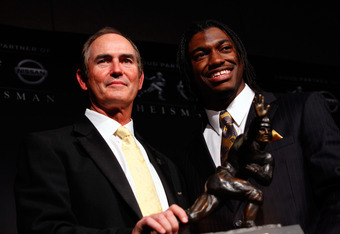 Jeff Zelevansky/Getty Images
With Colt McCoy having concussion issues at the end of the season it's time to think long-term options. I never believed McCoy was the real deal at quarterback to begin with, but it may be time to pull the plug if they can get an opportunity to snatch Robert Griffin III.
5. Tampa Bay Buccaneers (4-12)
Trent Richardson, RB, Alabama
It's going to be difficult to pass on running back Trent Richardson. He has great power and speed and he doesn't care which tool he has to perform to be successful.
6. Washington Redskins (5-11)
Matt Kalil, OT, USC
It's easier for offensive linemen to make an instant impact than other positions in the NFL because all they do is block. Matt Kalil will be able to help the Washington Redskins right away in his rookie season.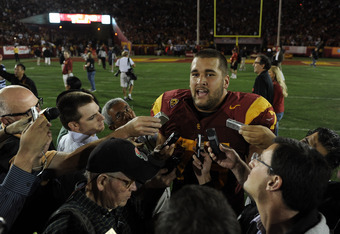 Harry How/Getty Images
Obviously at 5-11 they need a lot of help, but aiding the offensive line would be a great start.
He's a great run- and pass-blocker who can really dominate as soon as he puts his hands on a defender.
Kalil is 6'6" and 295 lbs. He has solid balance and good lateral quickness. Kalil has the skill set and size to be a fantastic player in the NFL during his rookie campaign.
I wouldn't be shocked if Washington traded up because they do need a quarterback desperately, but they would be happy to see Kalil fall to them.
7. Jacksonville Jaguars (5-11)
Dre Kirkpatrick, CB, Alabama
Jacksonville will be looking to solidify their defense in the draft among several areas. Dre Kirkpatrick was a major part of the national championship-winning Alabama Crimson Tide. Easy pick here.
8. Carolina Panthers (6-10, Subject to Coin Flip with Miami Dolphins)
Devon Still, DT, Penn State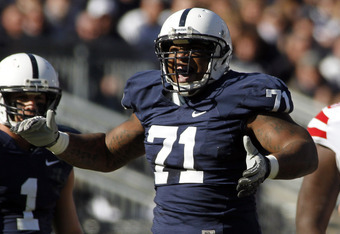 Justin K. Aller/Getty Images
Carolina has many great offensive weapons but little defensive help. Devon Still is one of the best defensive players in the NFL draft. He was the Big Ten Defensive Player of the Year this past season.
9. Miami Dolphins (6-10, Subject to Coin Flip with Carolina Panthers)
Riley Reiff, OT, Iowa
Miami needs to sure up many areas of their team. Securing a solid offensive line is always a good idea. Riley Reiff is one of the best offensive tackles in the draft.
10. Buffalo Bills (6-10)
Quinton Coples, DL, North Carolina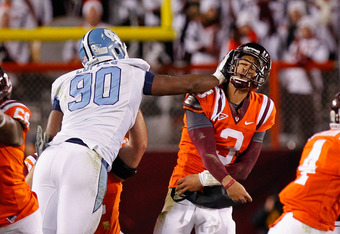 Geoff Burke/Getty Images
Buffalo's defense was atrocious this season. They were 28th against the rush and 19th against the pass. Quinton Coples would be a welcomed addition on the defensive side of the ball.
11. Kansas City Chiefs (7-9, Subject to Coin Flip with Seattle Seahawks)
Jonathan Martin, OT, Stanford
Kansas City has a great defense, young offense and a decent quarterback in Matt Cassel. They need help along the offensive line and Jonathan Martin should be their pick to help in that area.
12. Seattle Seahawks (7-9, Subject to Coin Flip with Kansas City Chiefs)
Ryan Tannehill, QB, Texas A&M
Seattle needs a quarterback like many in the NFL. When you pick this high it might be worth trying to get your quarterback of the future. Ryan Tannehill has tools that make him worthy of a top-15 pick. Of course there are some major question marks about him being a future star.
13. Arizona Cardinals (8-8)
Courtney Upshaw, OLB, Alabama 
Arizona needs help in many areas, but they desperately need to get younger on defense at the linebacker position. Courtney Upshaw would be a solid pick at this selection.
14. Dallas Cowboys (8-8)
David DeCastro, OG, Stanford
Dallas underachieved once again this season. They need cornerback help and offensive line help, but I think drafting an offensive lineman would be the best option. David DeCastro would be a perfect fit with the Cowboys.
15. Philadelphia Eagles (8-8)
Luke Kuechly, ILB, Boston College
The weakest part of the Philadelphia Eagles defense is their linebacking corp. Luke Kuechly will be able to help the Eagles considerably in his rookie season.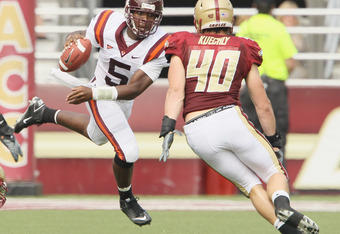 Elsa/Getty Images
There are a few occasions when being an inside linebacker can cause confusion and misdirection, but, for the most part, Kuechly should be able to handle the changes. He's one of the best run defenders in college football. Kuechly recorded 191 tackles this season. He is the only two-time consensus All-American selection that came from Boston College.
He provides a high football IQ to go along with a great feel for the game. Kuechly is just what Philadelphia needs in the middle of their defense.
Sometimes when you are on a great team, playing your style of simple football gets you noticed even more because that means you will be winning games. Keep an eye out for Kuechly next season.
16. New York Jets (8-8)
Mark Barron, SS, Alabama
New York proved this season that they aren't as great as they think they are on the defensive side of the ball.
Mark Barron would be a great addition to the Jets. He comes from a very physically-natured team in Alabama.
17. Cincinnati Bengals (from 8-8 Oakland Raiders)
Alfonzo Dennard, CB, Nebraska
Cincinnati has two picks in the top 25 in 2012. They should use one on a cornerback. Alfonzo Dennard would be a welcomed selection with this pick.
18. San Diego Chargers (8-8)
Nick Perry, DE, USC
San Diego has a pretty set offense. Their defense, however, was the worst in years. Maybe drafting Nick Perry could give them a boost.
19. Chicago Bears (8-8)
Michael Floyd, WR, Notre Dame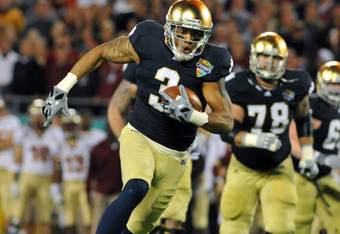 Al Messerschmidt/Getty Images
Jay Cutler hasn't had a true weapon in his years with Chicago. Michael Floyd could be that option.
20. Tennessee Titans (9-7)
Melvin Ingram, OLB, South Carolina
Tennessee just missed the postseason this year. They have a future quarterback in Jake Locker and a guy they spent a ton of money on in Chris Johnson, but what about their defense? Melvin Ingram would be a good pick for the Titans with this selection.
21. Cincinnati Bengals (9-7)
Peter Konz, C, Wisconsin
Andy Dalton will be the quarterback for several years in Cincinnati. Peter Konz would be an ideal selection here.
22. Cleveland Browns (from 10-6 Atlanta Falcons)
Kendall Wright, WR, Baylor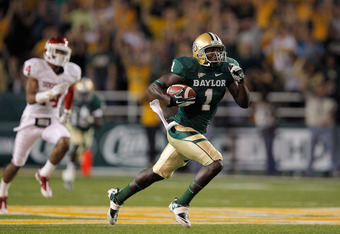 Sarah Glenn/Getty Images
Did Baylor star wide receiver Kendall Wright benefit from playing with Robert Griffin III? Maybe. But what if they played together in the NFL? It could and should happen if the Browns draft Griffin because they need weapons on the perimeter.
23. Detroit Lions (10-6)
Janoris Jenkins, CB, North Alabama
Four hundred eighty yards and six touchdowns to backup quarterback Matt Flynn. Enough said. Janoris Jenkins needs to be selected here.
24. Pittsburgh Steelers (12-4)
Cordy Glenn, OG, Georgia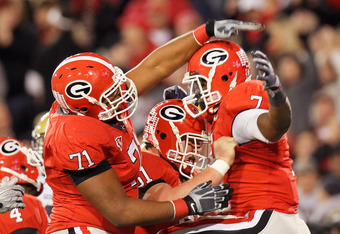 Kevin C. Cox/Getty Images
Pittsburgh is getting older on defense but they have one of the youngest offenses in the league if you take out Hines Ward. They need a reliable offensive line. Cordy Glenn would be able to give Ben Roethlisberger solid protection.
25. Denver Broncos (8-8)
Coby Fleener, TE, Stanford
This may be a reach but if Tim Tebow is the quarterback of the Broncos how about giving him a reliable tight end? Fleener was one of the best in the nation last season. As we saw on Saturday, dominant tight ends make a difference.
*All picks below are subject to change*
26. New York Giants (9-7)
Stephon Gilmore, CB, South Carolina
New York needs help in their secondary because they are below-average. Stephon Gilmore has the potential of being a reliable cornerback in the NFL.
27. Houston Texans (10-6)
Dontari Poe, DT, Memphis 
Poe is one of the best defensive tackles in the country. Put him alongside Mario Williams and you have another solid defensive player to add to a stacked defense.
28. New England Patriots (from 13-3 New Orleans Saints)
Andre Branch, DE, Clemson 
Defensively is where New England needs help. Andre Branch would give them another option on the defensive line.
29. San Francisco 49ers (13-3)
Alshon Jeffery, WR, South Carolina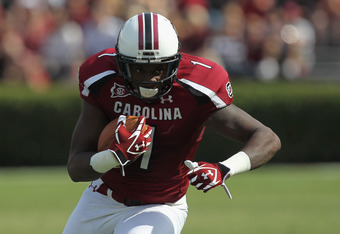 Streeter Lecka/Getty Images
Alex Smith needs weapons on the offensive side of the ball. San Francisco has the running game and defense, but it's time to help the passing game out. Michael Crabtree and Vernon Davis have been great, but Alshon Jeffery would be a great addition to an already solid receiving corp.
30. Baltimore Ravens (12-4)
Mohamed Sanu, WR, Rutgers
Baltimore taking Sanu at this pick would be a good idea. They need wide receiving depth and they can take a chance on Sanu hopefully panning out as a star.
31. New England Patriots (13-3)
Chase Minnifield, CB, Virginia 
Drafting two defensive players in the first round would be a good idea for the Patriots. Minnifield would help sure up their secondary that is one of the worst in the league.
32. Green Bay Packers (15-1)
Jared Crick, DE, Nebraska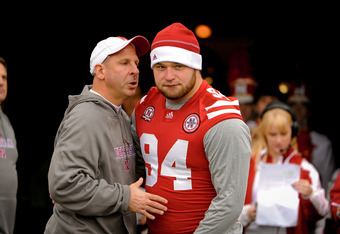 Eric Francis/Getty Images
Green Bay has the offense to compete for championships but their defense has been lacking this season. Drafting Jared Crick with the final pick of the first round would give them another threat on defense.