Baltimore Ravens in Search of Respect vs. Houston Texans
January 15, 2012

Andy Lyons/Getty Images
Whether it's because they don't have Tom Brady, Aaron Rodgers or Drew Brees at quarterback, or because their style of play isn't pretty at times, or maybe it's because they happen to play in the same division with the team that has won the most Super Bowls in NFL history, the Baltimore Ravens are rarely mentioned amongst the NFL's elite teams.
They are considered very good, but elite? Not yet. They have had their chances to be mentioned in the same breath with the Steelers, Saints, Patriots and Peyton Manning's Colts, but they have never been able to take full advantage.
They lost at home as No. 2 seed after posting a 13-3 regular season record back in 2007, and last season had the Steelers on the ropes in Pittsburgh with a 14-point lead, but ultimately in the end, the Ravens were guests of the NFL at the Super Bowl and not as participants.
The Ravens are the only team to have won a playoff game in each of the last three seasons, and currently own the longest active streak of consecutive playoff appearances, but still no mention of being elite.
The charge for respect, which is usually led by great defensive players like Terrell Suggs and Ray Lewis when talking to the media, has recently been led by fourth-year quarterback Joe Flacco.
In his latest quip, Flacco told reporters this week,"If you look at the teams that won, yeah you can look at the quarterbacks but that's just because you guys, ESPN, everybody wants to pump them up as being the best quarterback that year. It's really going to come down to what team is the best," Flacco said. "I'm sure if we win, I'll have nothing to do with why we won, according to you guys."
Flacco has every right to demand respect, and it is a team game after all. He faced 10 top 10 defenses this season, and beat eight of them, the Texans being one of those teams.
He never lost to a team with a winning record, and for the first time in Ravens history, guided an offense that swept the tough defensive-minded AFC North with a 6-0 record.
Baltimore fans usually say "beat the Steelers, and you're golden." He did it twice this season, with one of those wins coming in Pittsburgh and requiring Flacco to engineer a 92-yard drive, hitting WR Torrey Smith with a 26-yard pass with 8 seconds remaining to seal a 23-20 win.
Flacco now has 11 career game-winning drives in the fourth quarter/overtime, including three in 2011.
Still yet, everyone is worried.
Flacco's 44 regular season wins are the most by a QB in his first four seasons in NFL history. Including playoffs, he has posted an NFL-record 48 total wins in his first four seasons.
No quarterback has gone to the playoffs in the first four years of his career until Flacco accomplished that feat this season.
No quarterback, not even Johnny Unitas, in Baltimore football history has thrown for 3,000 yards in three consecutive seasons until Flacco threw for 3,610 yards this season.
Debating where the much-maligned signal caller fits in the rankings of current NFL passers is a story for another day, but you cannot debate the fact that his numbers at home are as good as any QB in the league.
Dating back to Nov. 29, 2009, Flacco has helped lead the Ravens to an 18-1 home record. In those 19 contests, he has compiled 29 TDs and just 8 INTs for a 97.6 passer rating.
Yet with all of these numbers, critics point towards his 57.6 percent completion percentage this season, and are now honing in on his less than stellar postseason numbers.
Overall, Flacco is 27-5 at the big ATM, but today is his first playoff game there, and while Flacco is leading the charge for respect in the media, running back Ray Rice leads Baltimore's offense.
With cold conditions forecast for today's match-up, not many teams heat up like the Ravens do when the elements call for smash-mouth offensive football.
During the John Harbaugh Era (since 2008), Baltimore has rushed for 160.3 yards per game in December/January, good for the NFL's second-best average. The Ravens have also been stout against the run late in the season during this span, allowing an NFL-low 86.4 rushing yards per game.
Every number indicates that Rice needs to have a successful day if the Ravens' season is to continue. The Ravens are 11-0 when the fourth year back from Rutgers has at least 18 carries, and 23 total touches in a game this season.
The Ravens lost four games this season, and while Rice's lack of touches probably would not have of made any difference during the losses in Tennessee and San Diego, it did when Baltimore stumbled in Jacksonville, and Seattle.
Rice touched the ball just 13 times in each game, gaining a combined 144  total yards from scrimmage, which is hard to imagine when you consider that Rice led the NFL with 2,068 yards from scrimmage this season.
Rice's 1,364 rushing yards ranked second in the NFL this season. He also became just the fourth NFL player since 1970 to post three straight seasons with at least 1,200 rushing yards and 500 receiving yards, joining Marshall Faulk (four from 1998-2001), Thurman Thomas (four from 1989-92) and former Ravens running back Priest Holmes (three from 2001-03).
Many fans are worried that head coach John Harbaugh, and offensive coordinator Cam Cameron, may try to lean on Flacco more than they need to in today's contest, and they may have to if the Texans second ranked defense can stop Rice.
Since Cameron arrived in 2008, the Ravens have rushed for 131.3 yards per game, fourth most in the NFL. Baltimore also has 68 rushing TDs, tying for fourth most. 
Despite this stat, fans are concerned that Cameron will blow this game through bad play calling. The Texans may have something to do with that as well.
Houston allowed an average of 285.7 yards per game, and went 10-1 when holding teams to fewer than 20 points. They set a franchise record for fewest points allowed at 278, finishing fourth in the NFL. 
The Ravens offense will have their hands full with Houston's defense, and respect for Joe Flacco will only be gained if he can beat the defense that posted the third-largest defensive improvement since 1970, allowing 91.2 fewer yards per game than in 2010. 
The Ravens have never been in search of respect on the defensive side of the ball. 
The Ravens defense just a finished a season in which they allowed the third-fewest points in the NFL for the fourth straight season, the best stretch in team history. Since the 1970 merger, only four other teams have achieved this feat. 
The Steelers did it twice, while the Cowboys, Los Angeles Rams, and Tampa Bay Buccaneers did it once. All three played in a Super Bowl during their stretches, and the only reason the Rams did not win the big game is they lost Super Bowl XIV to Pittsburgh's Steel Curtain defense, which is on the list.
The Texans will be looking to establish their Pro Bowl running back during today's game and are 6-0 when Arian Foster has 30 or more carries in a game this season. Foster, who was limited during the first three games this season with a hamstring injury, will try to carry his team to their first AFC Championship game in franchise history.
Waiting to stop him will be a Ravens front seven that's held opponents to under 4.0 yards per rush in each year of their existence (an amazing 16 straight seasons), ranking as the longest streak in NFL history.
Not to mention, Baltimore has never allowed a 100-yard rusher in the playoffs, holding opposing RBs under the century mark in 15 straight contests. That mark ranks as the NFL's third-longest active streak.
The Ravens are tough on young QB's, and Texans starting QB TJ Yates is as young as they come. Yates will look to match Joe Flacco by winning his first postseason game on the road as a rookie QB. It won't be easy.
M&T Bank Stadium is tough for veteran signal callers, much less a third-string rookie QB, as Baltimore dominated opposing quarterbacks this season. The Ravens held the opponent's QB to a 68.8 rating, which was first in the NFL. The Ravens also allowed the fewest offensive TDs allowed (21) and fewest TD passes with 11.
Even if Yates does find intermittent success, and manages to lead a drive into the red zone, Baltimore's "D" can still be demoralizing.  No defense was better defending their goal line inside the 20-yard line. The Ravens were first in red-zone defense, holding the opposition to a paltry 38.1 TD percentage.
Texans head coach Gary Kubiak had his scout team defense start from the neutral zone this week against Yates, Foster and Houston's first team offense. Kubiak wanted to try and simulate the speed of the Ravens pass rush which registered 48 sacks this season.
Led by defensive player of the year candidate Terrell Suggs, Baltimore sacked 49ers QB Alex Smith nine times on Thanksgiving night, tying a franchise record.
Speaking of T-Sizzle, he was dominating this year, and he looks to ready to accept the role as leader of the ferocious Ravens D when Ray Lewis retires.
Suggs had by far his best season, as he recorded a career-high 14 sacks, and a team-record, and NFL-high seven forced fumbles this season. The defense excelled despite a less than stellar season from all world safety Ed Reed.
In fact, their best stretch of the season may have come when future Hall of Fame middle linebacker Ray Lewis missed four games with a toe injury. It was then that they beat the Bengals, 49ers, Colts and Browns.
The defense is sending four starters to the Pro Bowl, but if you ask Suggs, Lewis, Ed Reed and DT Haloti Ngata, they would much rather be preparing to head to Indianapolis for the Super Bowl instead of the beaches in Hawaii.
The Ravens are one of two teams that rank in the top four of every major defensive category. The other team is Houston, and while the Texans may be able to overcome Ray Rice, and possibly the Ravens "D", many Ravens fans believe that they cannot overcome destiny, and destiny is on the Ravens side this season.
Super Bowl XLVI is being played in Indianapolis this year, and in case many of you forgot, that blue horse shoe that adorns the white helmet of the host team this year, was once a proud symbol in the city of Baltimore.
Jim Irsay, the eccentric owner of the Indianapolis Colts, and whose father Robert Irsay, moved the Baltimore Colts to Indy in the middle of the night recently tweeted, "I'd love 2c Steve B get the Trophy and Baltimore n Indy...got tons of friends there n it's only fitting with my good friend R Berry n tow!"
R Berry is Raymond Berry, who will be handing out the Lombardi trophy to this year's winner on the confetti laden podium in the middle of Lucas Oil Stadium. He was legendary Baltimore quarterback Johnny Unitas' favorite target when they played at the world's largest outdoor insane asylum known as Memorial Stadium located on 33rd Street in East Baltimore.
Unitas to Berry was as common as Montana to Rice, or Manning to Harrison. Coincidentally the last duo supplanted them as the top QB and receiver tandem in the Colts record books way back in 2002.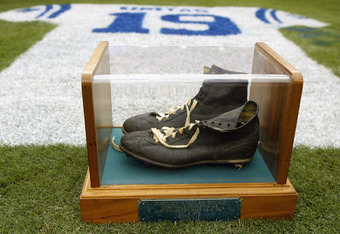 Scott Halleran/Getty Images
Ravens fans still love the Baltimore Colts (I do), hell, my father is still an Indy Colts fan first, but make no mistake, there has been plenty of talk about watching Ravens Owner Steven Bisciotti hoist the Lombardi trophy in the land where Baltimore's former team now plays.
The Ravens certainly have the players, numbers and opportunity to add the missing element for elite status. Having been Tebowed, the Steelers were eliminated last week, and the Colts weren't invited this season.
The Ravens have been sent home by either Pittsburgh or Indianapolis during their last four trips to the post season. Ironically, during all four occasions, the Steelers and Colts went on to play in the Super Bowl, each winning once and losing once.
If they win today, it's off to New England, where they destroyed Tom Brady and the Patriots 33-14 during the 2009 Wild Card round. If Karma can't do it for Baltimore, than maybe some historical numbers will.
Last night, the Broncos proved why no team that finished the regular season at 8-8 worse has ever won two playoff games; they simply aren't good enough.
Yesterday, the 49ers showed why no team that has fewer than 20 takeaways has ever won a Super Bowl, because they don't consistently win the turnover battle.
Of the teams left, none has ever won a Super Bowl finishing outside of the top 25 in offense. That means that San Francisco isn't going to win the Super Bowl. No team has ever won a Super Bowl with a defense ranked lower than 25. That eliminates Green Bay, New England and New York.
Turning to today's game, no team has ever won a Super Bowl with a rookie quarterback, much less the third-string quarterback, which leaves as your Super Bowl XLVI Champions, the Baltimore Ravens. The Ravens are the best all-around team remaining in the playoffs. You simply don't know which team is going to show up.
I like the Ravens to win this game. The team is 4-0 under Harbaugh after a bye week and beat the Texans back in Week 6 following their bye week this season. Ironically, it was during that game that Baltimore played one of its most complete offensive games of the season.
Flacco threw for over 300 yards; Rice also eclipsed the century mark, as did WR and Joe Cool's favorite target, WR Anquan Boldin, who returns today after a knee injury.
For all of their success on the road in the playoffs during the past three postseasons, the Ravens have not won a home playoff game since beating the Denver Broncos on Dec. 31, 2000.
If Joe Flacco and the Ravens are to be considered elite, and get the respect that they feel they deserve, then only duplicating what that team did will suffice: winning, or at the very least, playing in Indianapolis on the first Sunday in February.
Final Score: Ravens 27. Texans 14