FC Barcelona: 10 Ways to Beat Arguably the Best Team of All Time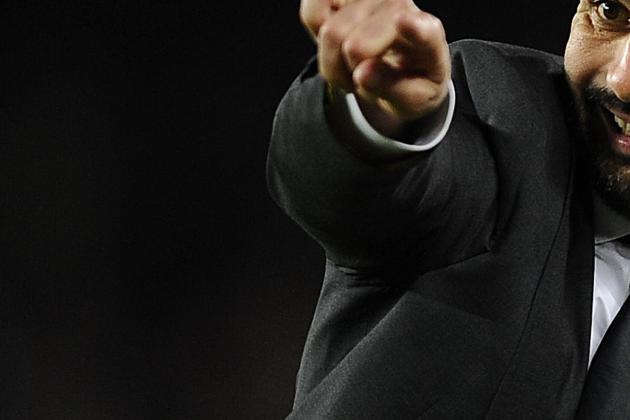 David Ramos/Getty Images

Barcelona have established themselves as one of the best teams in the history of the sport.
Manager Pep Guardiola has assembled a squad that, on its day, can comfortably defeat any team in the world.
While the beauty of their play is unrivaled, they are not unbeatable. In the past few years, they have been on the receiving end of a few surprising defeats, most notably against Inter Milan and Rubin Kazan in the Champions League.
Such defeats have provided teams with the belief that they too can claim victory over the Catalan giants.
This article lists 10 ways teams can attempt to beat arguably the greatest team of all time.
Begin Slideshow

»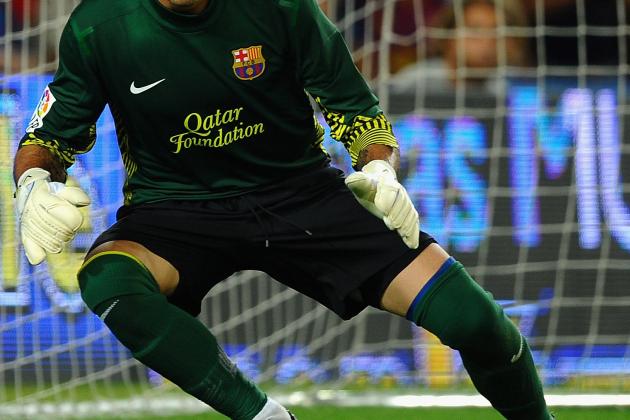 Laurence Griffiths/Getty Images

Victor Valdes has been the No. 1 at Barcelona since 2003.
This is a remarkable achievement seeing as he still divides opinions amongst fans.
There is no question that the Spaniard has the ability to make remarkable saves. However, mistakes are still present in his game. A fumble against Real Madrid led to Karim Benzema's goal, and if not for the strength of Barca's outfield contingent, the scoreline could have been very different.
Valdes relies heavily on the players in front of him, and the opposition should look to put pressure on the keeper as often as possible. He is not as reliable as Iker Casillas or Pepe Reina and could buckle under pressure if the right amount is applied.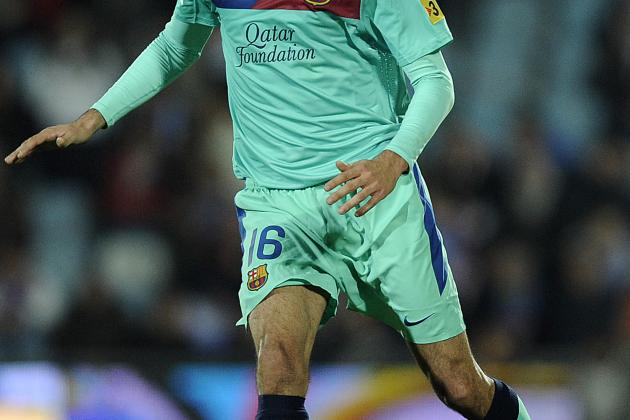 David Ramos/Getty Images

Sergio Busquets plays a role similar to the one once played by Claude Makelele at Real Madrid and Chelsea. He is not the most noticeable of players, but when he is not on the team, his presence is sorely missed.
The midfielder tends to make simple, effective passes rather than complicated ones that lose possession.
As a result, he is very important in maintaining the ball and providing vital protection to the defensive line.
Applying heavy pressure on Busquets would ultimately leave the defence exposed and present more clear-cut opportunities in front of goal.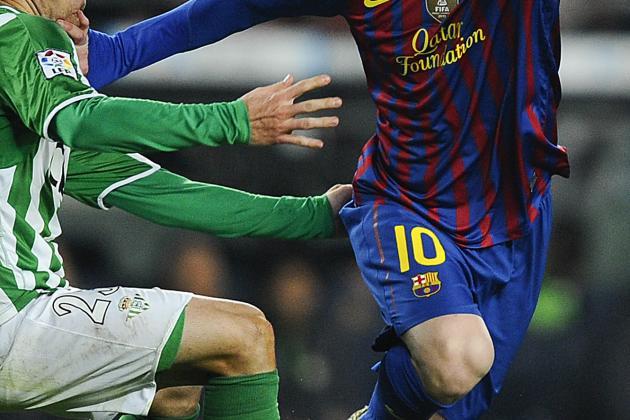 David Ramos/Getty Images

Teams that have defeated Barcelona in recent years have often found success through counter-attacking.
Rubin Kazan demonstrated this a few years ago in the Champions League when a late counter-attack made history at the Nou Camp.
Inter's similarly impressive victory, which produced two counter-attacking goals, goes to show that Barcelona can be exposed at the back.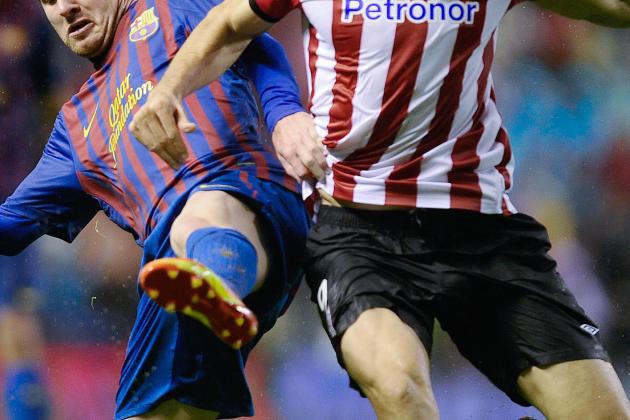 David Ramos/Getty Images

Switching off against Barcelona leads to punishment.
Ninety minutes of solid concentration and hard work is absolutely key to victory against Barca.
This season, Barcelona have been rescued by late goals, most notably against Valencia, with less than 15 minutes to go, and Bilbao, with mere seconds left on the clock.
Barca are not beaten until the final whistle is blown, and total commitment for the duration of the game is a necessity if they are to be defeated.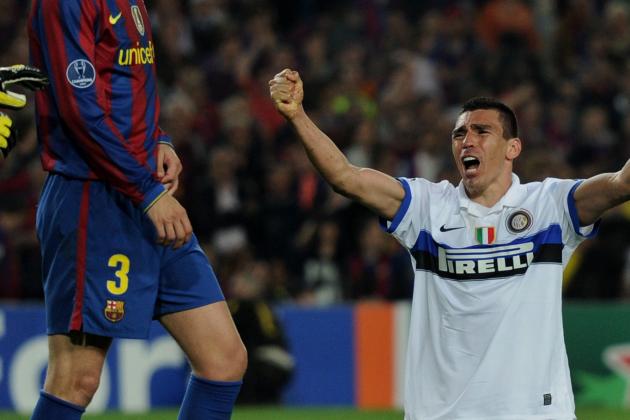 Jasper Juinen/Getty Images

Playing against arguably the greatest team to ever take to the field is a daunting task.
While it may be impossible to totally remove the nerves, finding a way to control them and turning them into adrenaline is key to success against the Catalan giants.
Confidence must accompany a team against Barcelona if a shock is to be caused.
Inter Milan's victory in 2010 was a good example of opponents showing no fear, sticking to their guns and ultimately getting the result they craved.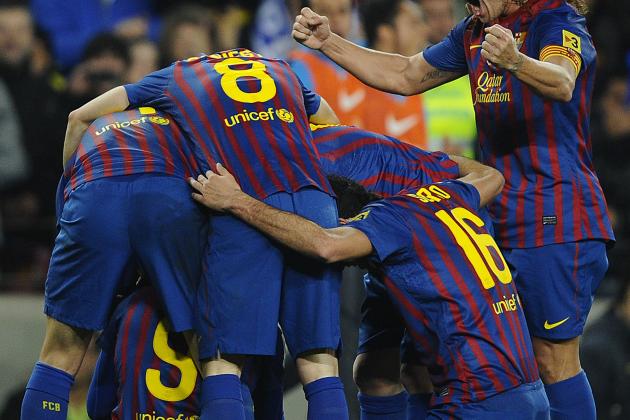 David Ramos/Getty Images

Barcelona are at their most dangerous when they have just taken the lead, and they possess the ability to score many in a short space of time.
While some teams are happy to sit back on a lead, Barca always look to play forward, which is why teams must avoid conceding early and aim to score before their opponents.
Barcelona are automatically out of their comfort zone when they concede, and despite coming from a goal behind to win against Real Madrid at the Bernabeu, Barca were extremely fortunate not to have been defeated in a game Madrid should have finished off by halftime.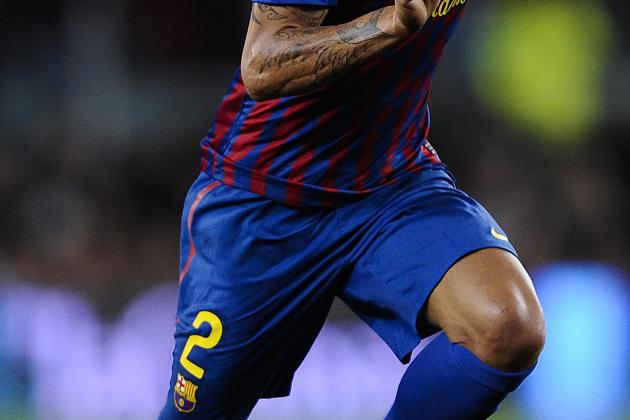 David Ramos/Getty Images

Eric Abidal and Dani Alves are top-notch full backs, but their preference to bomb forward rather than retreat backwards offers the opportunity for opponents to exploit the flanks.
The trouble for many teams is that wingers are a dying breed. You only have to look at Cristiano Ronaldo's transformation at Real Madrid to see that wingers are being used less in their natural positions.
With that being said, there are many capable wingers out there, and with Busquets subdued, the opposition can use the extra space to sprint towards victory.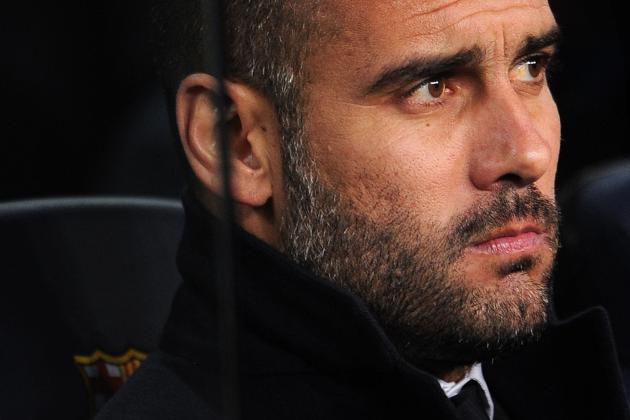 Jasper Juinen/Getty Images

More is said about the beauty of Barcelona's game rather than their sometimes petulant behaviour.
When things are going smoothly, everything seems peaceful in the Barca camp. However, when things go against them, we start to see more diving, whining and complaining to referees.
Beating Barcelona is not just done on the pitch, so keeping cool and winning the mind games puts you a step in the right direction toward glory.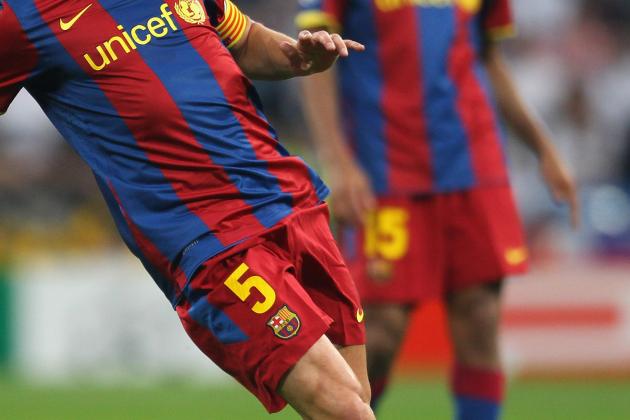 Alex Livesey/Getty Images

Barcelona are used to dominating possession, so they are naturally uncomfortable when they are not in control.
Defeating Barcelona at their own game is easier said than done, but by slowly building up possession from the back, Barca can become frustrated.
It is vital that teams restrict Barcelona's possession; otherwise, they could be on the receiving end of a heavy beating.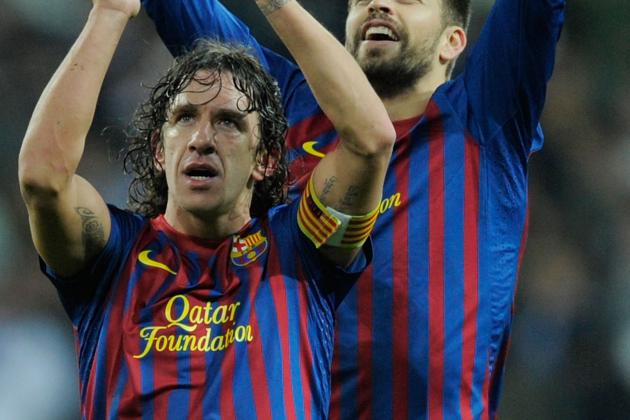 Denis Doyle/Getty Images

Carlos Puyol and Gerard Pique have developed a centre back partnership that is capable of dealing with the world's very best attackers.
Despite their attributes, between them their is a distinctive lack of pace that may well struggle when one-on-one with a pacey predator.
The tendency of the full backs to push forward at any given opportunity often leaves free space in the defensive third, which a fast finisher could take advantage of.