UFC 142 Results: Jose Aldo Just Became a Superstar
January 15, 2012

Jose Aldo just might have become as big a star as Urijah Faber. That is doubly true if the reaction of the Brazilian crowd he threw himself into is any indication.
UFC 142 is the first time that Aldo headlined a pay-per-view, and even if the numbers aren't incredible, they don't mean everything. This was the first time the champion had to take the lead as a headliner, and he couldn't have asked for it to go better.
Aldo was able to get the fight in his home country, win dominantly and get a great crowd reaction right after. The only thing that could hurt him is his inability to speak English.
It didn't hurt Anderson Silva, who had trouble speaking in the beginning, but Silva is a remarkable talent in the cage—one which fans will have to wait a long time before they see again.
Who knows?  Aldo might just be on the same level—though it's going to take a few years of learning and evolution before that shows.
For now, it's just impressive to see how Aldo won.  
It started with his patented leg kicks that damage his opponent's base. Then it went to him defending multiple takedown attempts or successfully getting up when taken down quickly.
After Mendes finally got in a good position and took Aldo's back, the champion was able to peel his challenger off and knock him out.
There were eight seconds left in the round.
Finishes like that get fans talking, and Aldo's name will be mentioned around a few offices this coming Monday.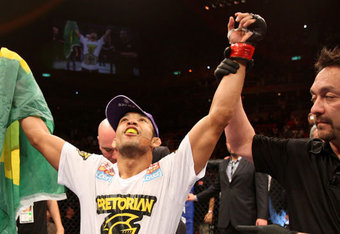 Combined with the amount of press that main-event fighters get after they win, Aldo should go to the next level after this. If the media puts his name out there, it should get him all the extra attention he needs.
It also depends on what the UFC does next. If they continue to push Aldo, he could help build up the featherweight division and what smaller fighters mean to the casual fan.
Aldo has done his part.
Now those around him just need to take notice and put him on the pedestal he deserves.
Here's hoping it happens.