UFC 142: The Fans Who Cried Wolf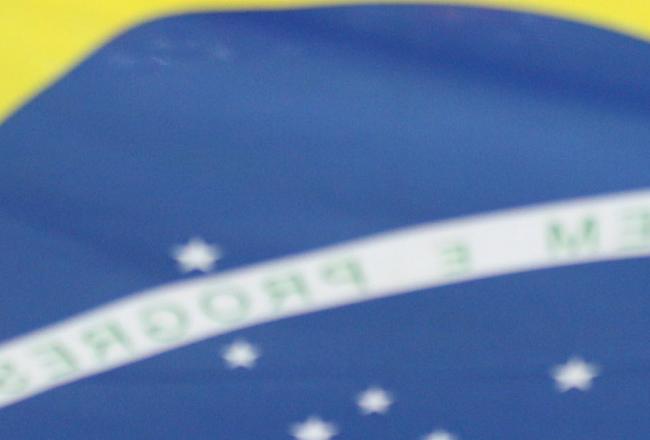 UFC 142 Brazil
Richard Heathcote/Getty Images
I have been away from B/R for quite a while, but apparently, some things never change. Since Facebook has become my only social outlet, I read most of the MMA news, and the latest lament has been, "UFC 142 looks so boring, I am not going to watch it!"
Well, folks, the joke is on you!
My husband Mel is a NASCAR fan, but finally converted to a UFC fan, largely to deal with the copious influx of MMA-related material which accumulates at our house.
Mel said that this was the best event he has viewed to date, and believe me, he has been subjected to very many events from Bellator to reruns of PRIDE.
The event tonight appealed to him largely because of the enthusiasm of the Brazilian audience and the fighters who were so inspired to be fighting in their homeland, that they risked life and limb to give back to the land of their birth.
Not at all a surprise to me, but Mel loved the fighting more than he ever has; our roles were reversed and he was giving me his blow by blow description of the action. When I dozed off briefly, he awoke me yelling, "a heel kick knockout! I've never seen that before! OMG! Did you see that spinning kick?"
Groggily I watched the replay in disbelief and wondered if I was having a weird dream from eating Papa John's pizza crust dipped liberally in garlic butter sauce.
No, it was not a dream, but what a surprising end of the fight between Edson Barboza and Terry Etim. Joe Rogan had just finished saying, "or they might get knocked out,"when the heel kick put Etim down like a solid wooden plank on the mat. Rogan screamed, "Wow, that is the first KO by a heel kick that has ever been seen in the octagon!"
How did you rate UFC 142?
Now that was just the beginning of an amazing night of fights!
Seeing Wanderlei Silva,and Lyoto Machida in the crowd enjoying the competitions from an uncustomary viewpoint was also a treat for me. They beamed with pride in their countrymen, cheering and applauding a brilliant night of surprises.
After the quick end of Erick Silva and Carlo Prater's match and the surprising disqualification that ensued, I was ready to be amazed again and again throughout the night.Still, as many times as the replay was shown, I still did not see what Mario Yamasaki did. Mel thinks that one solid hit at the end was the only questionable strike by Erick, that he saw.
I was still pondering the neck-shoulder connection that Prater was complaining about afterwards. How disheartening to see the brilliant finish turned into a no contest / disqualification in favor of Prater.
The good sportsmanship of Erick in saying how much he admired Mario and refused to question his decision, even as Joe Rogan was encouraging him to, was admirable. Good sportsmanship and faith in God were two other elements of UFC 142 that I sincerely appreciated seeing evidenced from beginning to end.
Rousimar Palheras and Mike Massenzio presented an interesting scenario due to "the little tree trunk" Palhares' propensity for take downs and submissions. Since I had just told Mel that I suspected Rousimar's short reach would cause him difficulties similar to Sean Sherk's when he lost to BJ Penn,.using the T-Rex as an example of the limitation the ferocious dinosaur must have had, I felt very foolish upon seeing how slick the finishing leg lock was applied. Wow! Monstrous indeed.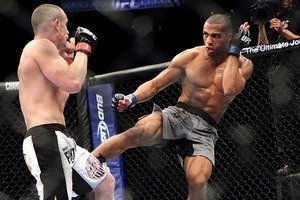 Edson Barboza and Terry Etim.
Rousimar's dedicaton of the fight to his deceased partner was one of several very sentimental moments throughout the evening. Also Rousimar's triumphant back flip put GSP's to shame. Nice tight tuck and solid landing: a "10" for sure.
Vitor Belfort and Anthony Johnson went the way many had expected in relation to the reaction elicited from the crowd.The Phenom drew cheers and thunderous applause as Brazil's flag dotted the arena, while Rumble felt the thunderous sounds of booing and stomping.
Yes, the controversial weight cut affected Johnson, in awarding 20 percent of his purse to Belfort, and it obviously incurred the wrath of the crowd that Johnson had failed to initially make weight
The fight began with Johnson looking as strong and aggressive as was anticipated, yet Vitor was not to be denied the win at home. An amazing choke hold forced Anthony to tap and the crowd went wild. His future now rests in Dana White's unsympathetic hands.
No mention was made about the poster of Belfort's sister that Vitor prominently displayed in the ring, which makes me wonder how cruel the people that abducted her must be. With Vitor being a national hero, how could anyone keep news of his sister's fate from him? And why? Incomprehensible!
Another guilty pleasure for me was hearing the crowd sing / chanting for their fighters, and then when the main event was being announced, reciting Bruce Buffer's introduction, "And now, it's time. .. " along with him, word for word, in spite of the language differences.What a classic moment in the sport of MMA that was for me!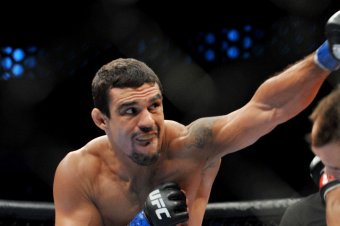 Vitor Belfort defeats Anthony Johnson.
Jon Kopaloff/Getty Images
Jose Aldo and Chad Mendes lived up to being a great title contention. For Mel, it was hard to believe that Chad was not actually Urijah Faber.
The similarity of their builds and body language, plus the unconventionally short hair that Urijah was sporting in support of his younger sister who required brain surgery after her Christmas time auto accident, really made my husband of 44 years, doubt me when I pointed him out in Chad's corner.
If it weren't for the deeply cleft chin, I might have never convinced him.
This final dramatic finish with only one second left in the first round, made the whole night a fantastic bargain on PPV in my humble opinion. Being unable to take down his opponent led to Chad's eventual Waterloo.
As he tried to come off the cage and grab Jose's leg, Chad dove right into a position for Aldo's primo knee to the head, followed by three quick hits before the ref intervened. Another "reel" moment I am sure, for the champion's highlights.
Both Gray Maynard with his warning that Mendes would be unable to take Aldo down, and Faber's advice to Chad to avoid Aldo's leg kicks, were valid. Much more satisfying to hear from these two experienced training partners than to hear a Steven Seagal spin on the technique.
So, a cautionary word to UFC fans who gripe about the lack of "names" on the card: Shame on you all! If any of you who criled wolf caused even one fan to miss UFC 142, then you are a loser and an embarrassment to MMA fans the world over.
Don't expect Grandma Dee to be the only one who takes you to task for this, either, so let this be a lesson to you for the future!
This article is
What is the duplicate article?
Why is this article offensive?
Where is this article plagiarized from?
Why is this article poorly edited?