UFC 142 Results: Chad Mendes Has a Long Climb Back to the Top
January 15, 2012

Chad Mendes was one of the best possible challengers Jose Aldo could have faced Saturday night.  He was undefeated and had beaten serious opposition to get to where he was.  
He may not have been much of a finisher when it came to his victories, but Mendes did try to get his opponents out of the cage as fast as possible.  He never once laid back and let the fight come to him or just used his wrestling to control the match without trying to work in a submission or knockout.
He was the perfect man to help Aldo sell a pay-per-view as the main event.  The only other person who could have done better is Urijah Faber and that would be on name recognition alone.  As a contender for the title, he was great on paper.
It just didn't turn out that way in the cage.
It isn't so much Mendes' fault as it is that Aldo was just that dominant.  The featherweight champion can just blow through elite competition at the drop of a hat.
The problem is that when champions like Aldo finish their opponents so quickly, it ends up hurting the challenging fighter.
If the fight had been close, then Mendes could have argued himself to a rematch or at least gotten a high-profile fight in which a win would have gotten him back into title contention.
Instead, he got shut down in only one round.
Mendes had the right game plan for the fight.  As a wrestler, his best bet was to take Aldo down and control him.  Unfortunately for Mendes, that never happened as Aldo showed a great ability to stuff takedowns and recover from any time that he spent on his back quickly.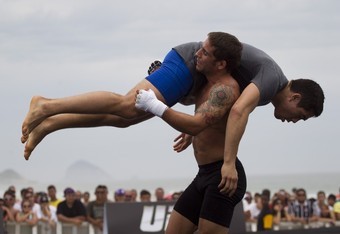 When an opponent gets beaten like Mendes did, most fans don't want to see them in a rematch because the champion beat them and proved that they are the better fighter.
Of course, it makes more sense that Mendes just got beaten on one night.  If they had a rematch it could turn out completely different.  It may be an unfair assessment, but MMA is governed by money and fans' opinions as much as it is what happens in the cage.
So Mendes is going to have to heal his image in the eyes of the fans.  For the hardcore fans that love featherweights and know that in fighting you can always get caught it won't take more than a fight or two.
He is a talented fighter and an impressive return will be noticed.
For the casual fans, it is going to take a bit more. 
At only 26, Mendes has the time to do it as long as he can shake off his first loss.
He'll need it as he has a long way back to the top.