UFC 142 Results: Anthony Johnson Proves Size Doesn't Matter
January 15, 2012

Anthony Johnson walked into the cage at UFC 142 tonight having not made weight and knowing his job was on the line. He fought that way and demonstrated why trying to get as much of a size advantage over your opponent is a mistake.
Johnson outweighed Vitor Belfort, but he didn't have the energy to go the distance.
The fight started out well for Johnson whose size and natural power were able to overwhelm the Brazilian veteran.  He was even able to start closing up one of Belfort's eyes.
At the pace Johnson was going he might have been able to win the fight. However, he cut so much weight before the fight that any cardio he might have been able to muster was eliminated quickly.
It wasn't just his performance that did him in, though. Belfort played the part of the cage-savvy, experienced fighter well. He knew what he was doing and made sure that no matter what strike or takedown Johnson attempted or succeeded in getting, it was never enough to take him out.
He patiently weathered the storm and as Johnson finally slowed down Belfort slapped on a choke and submitted his opponent.
Johnson made the 205-pound limit that had been set the morning of their middleweight fight, which was supposed to be at 185 pounds. It's a good guess that he walked into the cage at around 220 pounds.
Johnson is like a lot of fighters both in boxing and in MMA who subscribe to the theory that the bigger they are the more they can throw their opponents around. This tactic is used by wrestlers more than anyone, and it gives them a false belief that they will be able to out-muscle their opponents.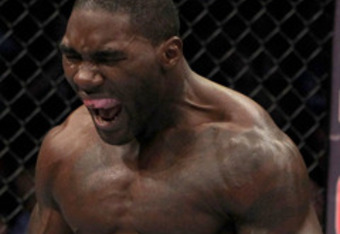 As Johnson showed tonight that is true for the first few minutes, but if the opponent can survive the first onslaught then they can come back and wipe out their worn challenger.  
Belfort is a legend and proved that his abilities honed from years of practice were more than enough to take out Johnson.  
As for Johnson missing weight in the first place?
If he had won fans would have felt he cheated Belfort out of a fair fight.
Losing after having such as size advantage makes it even worse for him. Not only did he anger his boss Dana White, but he didn't even put up a great fight. The beginning was competitive, but the rest of the fight quickly unraveled after that.
So now Johnson will have to wait and hope that White doesn't want to remove him from the company.
If he is lucky enough to get a second chance then he will have to take a look in the mirror and admit that he can't safely make middleweight and take the next step in his career.
That is a step up to light heavyweight.
Where he can finally show us how much skill he has instead of his size.