2012 NFL Mock Draft: Analyzing Riskiest Prospects on the Board
January 16, 2012

Al Messerschmidt/Getty Images
Scouts for each and every NFL team have to weigh reward with risk. Sometimes these decisions are made based on off-the-field issues, while other times they are based on a player's specific performance on the football field. 
More times than not, teams are calculating in terms of the players they go after. These decisions are made based on the structure of the organization, whether said player has shown the ability to turn around his play or off-field issues and the interview process during the NFL combine. 
Today, I am going to focus on the 10 riskiest players in the 2012 NFL draft. 
10. OT Mike Adams, Ohio State
Mike Adams is one of a multitude of Ohio State players suspended for rules violations by the NCAA. I do have Adams as a first-round pick at this point in time, but character concerns remain in regards to the talented offensive tackle. 
If Adams had played the entire 2011 season there is no doubt in my mind he would have been selected in the top half of the initial round. Now, it appears some teams might be hesitant to spend an early pick on a player that has the baggage that Adams has. 
9. RB David Wilson, Virginia Tech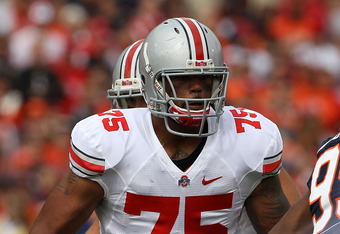 Jonathan Daniel/Getty Images
As far as talent goes, David Wilson is a top-20 prospect in the upcoming draft. The Virginia Tech star is extremely fast up the gut and gets to that second burst before opposing defenses can prepare for it. He has much more power than you would expect from his 5'10" frame. 
Still, Wilson is more of a runner than a running back at this point and probably could have used another year of seasoning before turning pro. He has not had much success running between the tackles. Durability also has to be a concern due to his frame and being barely over 200 pounds. 
Are you getting another Chris Johnson or a Jahvid Best here? That is the question that scouts are going to have to ask themselves. 
8. WR Kendall Wright, Baylor
Can Kendall Wright handle larger defensive backs at the next level? Is he a product of the play of Robert Griffin III? These are two questions people within the NFL are going to ask themselves as we inch closer to April. 
Some have indicated Wright translates better as a No. 2 receiver at the next level, not a main guy. This could cause his draft stock to drop dramatically moving forward. Wright will have to show he can get separation off the line and beat defenders up the middle. Being a player that makes a living on the outside will not endear Wright to many people within the league.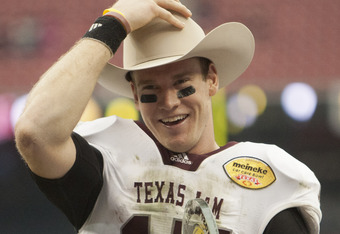 Bob Levey/Getty Images
7. QB Ryan Tannehill, Texas A&M
Sure, Tannehill's injury that will cost him to miss the Senior Bowl is going to hurt big time. However, he was considered a project quarterback to begin with. This is a player that came to Texas A&M as a wide receiver and has only played quarterback for one season. 
This will surely cause some teams to look in another direction. 
Still, the talent Tannehill has is hard to deny at this point. He has a strong arm and puts the ball into tight windows with the best of them. Mechanics are going to be an issue moving forward, as scouts decide who the No. 3 quarterback in the 2012 NFL draft is. That said, Tannehill has the measurements to be a top-tier signal-caller. 
6. DE Quinton Coples, North Carolina
Considered by many to be one of the players with the highest ceiling in the entire 2012 NFL draft, Quinton Coples also has that "bust" factor that may force teams to look in another direction. As of right now, he only has one true pass-rush move, which is going to be magnified at the next level if not fixed. He needs to gain more strength on the outside and become more multi-dimensional in order to be a difference-maker in the NFL. 
Of course, it is hard to ignore the talent this former Tar Heel has, but the bust factor might just be as big.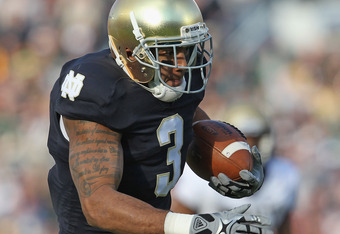 Jonathan Daniel/Getty Images
5. WR Michael Floyd, Notre Dame
This is more about character off the field than anything else because Michael Floyd can tear apart opposing secondaries with his exceptional athletic ability. Floyd has been arrested multiple times for alcohol-related incidents, mainly driving under the influence. This is a major red flag when it comes to teams looking to acquire his services. 
We have seen this story play out over and over again. Now it is time for Floyd to step up as a man and handle these questions about his character. Another off-field issue could spell doom for his NFL prospects. 
4. CB Dre' Kirkpatrick, Alabama
Dre' Kirkpatrick has been considered a top-10 prospect by many, but his stock dropped considerably this season. He doesn't have fluid hips on the outside and seems to play more like a safety than a corner. This isn't a huge concern if a team drafts him to play safety, but most are looking at him to play corner.
At this point I am not sure Kirkpatrick has the fundamentals and technique to be a true starting corner at the next level. He will have to show a lot this postseason in order to change my mind and the minds of those not sold on his ability on the outside.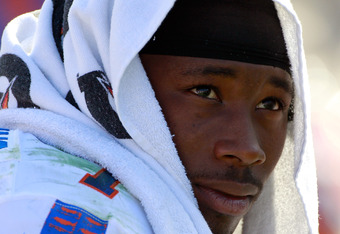 Sam Greenwood/Getty Images
3. LB Vontaze Burfict, Arizona State
I am not too overly concerned about Vontaze Burfict's character. He seems to be a highly impassioned individual, which could be a really good thing moving forward. You look for this type of mentality in a linebacker—at least I do. 
Now, the primary concern that I have in regards to Burfict is the fact he isn't fundamentally sound when it comes to playing the inside linebacker position. He seems to get lost in the play between the hashes too often, isn't adept in coverage and has issues reading offensive formations pre-snap. 
Of course, these are things that could change with experience, but for now I would worry about drafting the stellar linebacker too high. 
2. WR Alshon Jeffery, South Carolina
Without being crude, I want to make the following very clear: Alshon Jeffery is not NFL ready as I type this. He doesn't run precise routes, has issues in regards to getting off the line and catches the ball a lot with his hands, not his body. 
Of course, most collegiate receivers have this issue, but to be considered a top-15 pick this needs to change. If I were a scout I would go with the much more pro-ready (on the field) Michael Floyd, over this wild card with tremendous talent.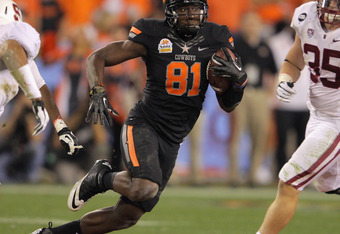 Doug Pensinger/Getty Images
1. CB Janoris Jenkins, North Alabama
Getting kicked off Florida's football team might have been the best thing to happen to Janoris Jenkins. He has remained relatively quite off the field since enrolling at Northern Alabama. In this, Jenkins has seen his stock rise considerably. 
Still, the issues Jenkins had at Florida will not be forgotten any time soon as his issues become more magnified heading to April. Postseason events and interviews between now and April are going to be huge in regards to understanding where Jenkins will go in April. 
Complete First Round Mock Draft
1. Indianapolis Colts QB Andrew Luck Stanford
2. St. Louis Rams WR Justin Blackmon Oklahoma State
3. Minnesota Vikings OT Matt Kalil Southern California
4. Cleveland Browns QB Robert Griffin III Baylor
5. Tampa Bay Buccaneers RB Trent Richardson Alabama
6. Washington Redskins WR Michael Floyd Notre Dame
7. Jacksonville Jaguars CB Morris Claiborne Louisiana State
8. Carolina Panthers DL Michael Brocker Louisiana State
9. Miami Dolphins G David DeCastro Stanford
10. Buffalo Bills OT Jonathan Martin Stanford
11. Kansas City Chiefs OT Riley Reiff Iowa
12. Seattle Seahawks DE Quinton Coples North Carolina
13. Arizona Cardinals LB Melvin Ingram South Carolina
14. Dallas Cowboys CB Dre' Kirkpatrick Alabama
15. Philadelphia Eagles LB Luke Kuechly Boston College
16. New York Jets DE Whitney Mercilus Illinois
17. Cincinnati Bengals RB Lamar Miller Miami (F)
18. San Diego Chargers LB Courtney Upshaw Alabama
19. Chicago Bears WR Alshon Jeffery South Carolina
20. Tennessee Titans CB Alfonzo Dennard Nebarska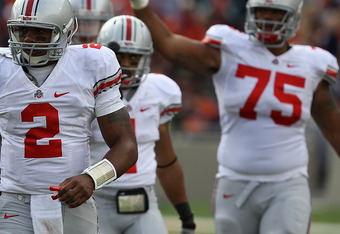 Jonathan Daniel/Getty Images
21. Cincinnati Bengals S Mark Barron Alabama
22. Cleveland Browns LB Zach Brown North Carolina
23. Detroit Lions C Peter Konz Wisconsin
24. Pittsburgh Steelers OT Mike Adams Ohio State
25. Denver Broncos CB Stephon Gilmore South Carolina
26. Houston Texans NT Dontari Poe Memphis
27. New England Patriots LB Nick Perry Southern California
28. Green Bay Packers DT Devon Still Penn State
29. New York Giants OT Kelechi Osemele Iowa State
30. Baltimore Ravens LB Vontaze Burfict Arizona State
31. New England Patriots CB Jayron Hosley Virginia Tech
32. San Francisco 49ers CB Janoris Jenkins Alabama