Australian Open 2012 : Caroline Wozniacki and Stars Who'll Disappoint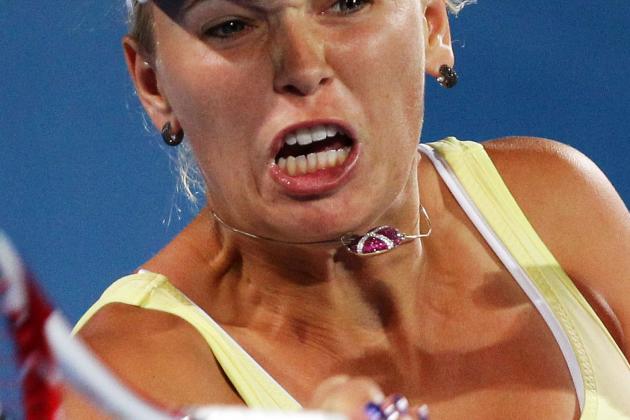 Matt King/Getty Images

The 2012 Australian Open is now here. The biggest stars are convening Down Under all looking to capture the first grand slam title of the year.
Many questions leave much to be desired.
Will Federer win another slam? Will Murray or Wozniacki capture their maiden slam? How is Rafael Nadal faring physically and mentally? Can Novak Djokovic replicate his 2011 season? Who will emerge as the premier female?
The 2012 Australian Open will start to answer many of these questions.
Not everyone will succeed. That is the nature of the game. There will be winners and there will be losers.
In this article, I am going to explore five players who are striving to make a mark Down Under but will ultimately succumb before reaching their desired goal.
Begin Slideshow

»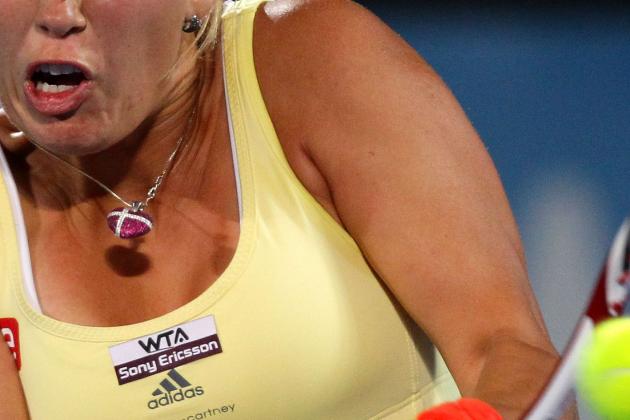 Matt King/Getty Images

Caroline Wozniacki justifiably comes into the 2012 Australian Open with lofty expectations. As the top seed on the women's side, Wozniacki has been seeking to prove herself as a legitimate world No. 1 for quite some time.
Unfortunately, she hasn't been able to capture that lone grand slam as some of her compatriots such as Ni La, Sam Stosur and Petra Kvitova have.
Wozniacki's main issue has been her reluctance to become more aggressive. An incredible defensive player, Wozniacki has been unable to win seven matches over a fortnight utilizing her defensive minded strategy.
Unless Wozniacki transforms her strategy and initiates a more offensive game plan, I wouldn't expect her to beat the likes of Kvitova, Stosur and Serena Williams.
Prediction: Quarterfinals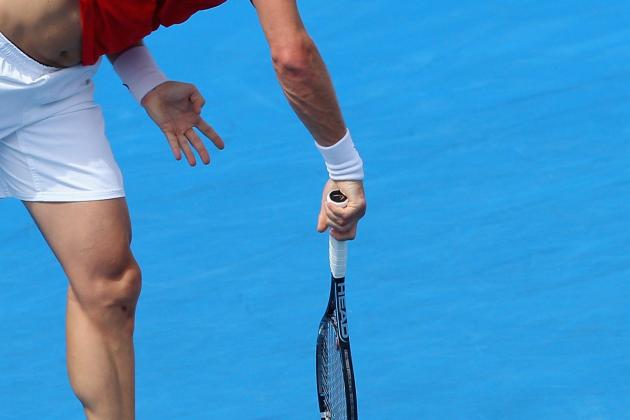 Lucas Dawson/Getty Images

Tomas Berdych is now a stronghold in the Top 10.
His vicious ground strokes and booming serve have served him well (no pun intended) in the last couple of years. Ending 2011 on a positive note by reaching the World Tour Final semifinals, Berdych is attempting to push into the exclusive realm that is the Top Five.
Working against this goal, Berdych has an extremely difficult draw. Examining Berdych's draw, it can be definitively said that the Czech has his work cut out for him.
Berdych could face Kevin Anderson, who has been under the radar for a while, in the third round. The South African has a booming serve and for a guy who stands at an intimidating 6'8", Anderson is viable from the baseline and possesses adequate movement.
This would be a significant upset, but I wouldn't put it past Anderson to beat Berdych. Remember, Berdych was stunned in the opening round of the French Open in 2011 by French journeyman Stephane Robert who was ranked 140 in the world.
In the fourth round, Berdych would most likely face Stanislas Wawrinka. Wawrinka has a 5-4 head-to- head record against Berdych, beating him in their last three meetings, most recently in a tightly contested three-setter at Indian Wells in 2011. I could definitely see Wawrinka taking out Berdych in this match implementing his swift mobility and heavy ground strokes to stabilize the power and aggression of Berdych.
In the quarterfinals Berdych would probably face Rafael Nadal. Lifetime he is 3-10 against Nadal and hasn't beaten him since 2006 having lost nine consecutive matches to the Spaniard. I realistically do not see Berdych getting past Nadal barring a totally collapse from Nadal.
Prediction: Fourth Round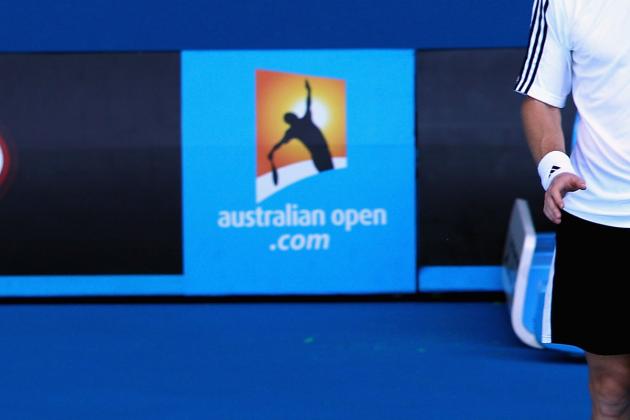 Mark Dadswell/Getty Images

Similar to Wozniacki, Murray's only version of success comes in the form of a title. As much as I would like to see the Brit capture his first grand slam, I just don't think this is where it's going to happen .
Murray is in a section of the draw where various players have the potential of creating serious traction against the No. 4 seed.
Opening against Ryan Harrison is not easy and the young American could provide Murray with tons of problems.
Looking back to the 2011 US Open, Murray faced another up-and-comer in Robin Haase in the second round and was nearly taken out by the Dutchman, barely scathing through in five sets. Harrison, if physically and mentally on his game, could pull off the monumental upset.
If seeds hold, Murray would face Alex Bogomolov Jr. in the third round. Bogomolov took out an ailing Murray in Miami last year in convincing fashion. Bogomolov had a career year in 2011 soaring to a career high ranking of 33 and recorded significant wins over Feliciano Lopez, Thomaz Belluci and Jo-Wilfried Tsonga.
In the fourth round, Murray would face Gael Monfils. The Frenchman proved his worth in Qatar after beating Rafael Nadal. Monfils unquestionably has the talent necessary to take out Murray in a best of five match. The question is whether the passive or aggressive Monfils will show up. If it is the latter, Murray would be set up for a true test against Monfils.
In the quarterfinals Murray would face Tsonga who is arguably the most in form player on the tour. I would give Murray the slight edge in this match seeing that he holds a 5-1 head-to-head record against the Frenchman. With that being said, I would not be surprised to see Tsonga take out Murray.
If Murray is able to advance to the semifinals, he will face the deadly Novak Djokovic. Murray is 4-6 all time against the Serb, but most recently took out Nole in the finals of Cincinnati. Djokovic would definitely come in as the heavy favorite. The Brit would have to play an almost flawless match to take three out of five from Djokovic.
Prediction: Semifinals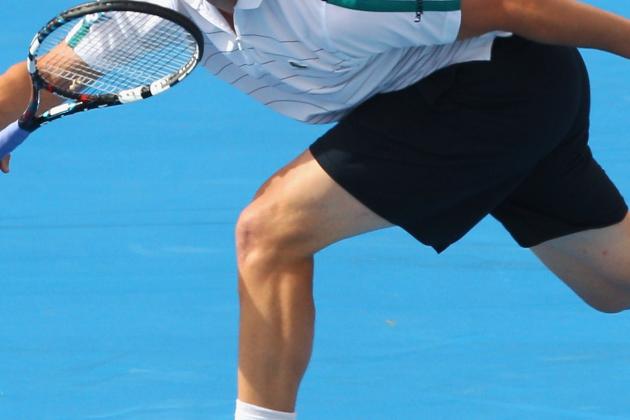 Lucas Dawson/Getty Images

Until 2011, Andy Roddick had been a mainstay in the Top 10 since 2002. He had also been the top- ranked American player until being supplanted by Mardy Fish in 2011.
Roddick is a player that many thought would win multiple grand slams. Unfortunately for Roddick, Roger Federer decided that he likes winning grand slams too. Federer has defeated Roddick in four grand slam finals, three at Wimbledon and once at the US Open.
As Roddick is approaching the latter stages of his career, he is seeking to build upon a resume that really can be coined as incomplete and unfulfilled.
The 2012 Australian Open is going to provide a difficult venue for Roddick to add to his trophy case.
Roddick opens up with the extremely dangerous Robin Haase of the Netherlands. This is a repeat of their competitive third round match which Roddick took in four sets. Haase has represented his ability to battle with the best as he almost took out Nadal in five sets at Wimbledon in 2010 and nearly beat Andy Murray in last year's US Open, getting outdone 6-4 in the fifth after blowing a two sets to love advantage.
In the second round Roddick will either face Cedrik-Marcel Stebe, a rising lefty who took home the Challenger Tour Finals in 2011 defeating Dudi Sela in the final, or Lleyton Hewitt, the veteran Aussie who surely could take Roddick out with backing of the home crowd on a match that surely would be staged on Rod Laver Arena.
In the third round if seeds hold, Roddick would face Milos Raonic. If you remember back to Memphis last season, Roddick made an incredible diving shot to clinch the title defeating the Canadian in three tight sets. If these two happen to meet in this tournament, I would definitely favor Raonic, who most recently took down the title in Chennai beating two Top-Ten players in Nicolas Almagro and Janko Tipsarevic.
I realistically don't believe Roddick is going to advance past this stage. And if he does, he will take on the Novak Djokovic. In my estimation, the road would undoubtedly end there for the American.
Prediction: Third Round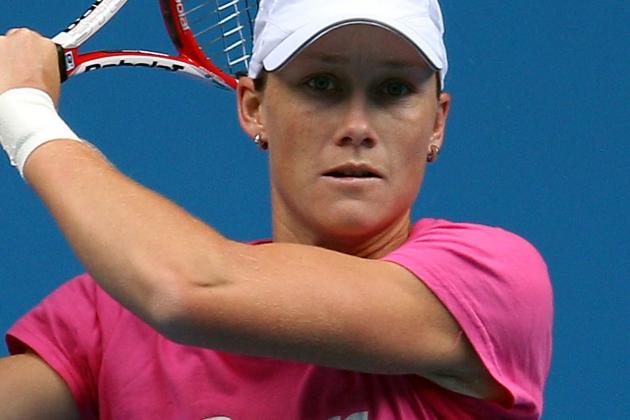 Scott Barbour/Getty Images

Sam Stosur is the home favorite. The Aussie crowd will be behind her in each and every match she plays.
After winning the 2011 US Open, Stosur and her fans will have heightened expectations for her home grand slam. Unfortunately, I think the weight of expectation will prove to be too much for Stosur.
Lets look back at the two previous women's grand slam winners and their results in the next grand slam.
Li Na took down the French Open in spectacular fashion, then when Wimbledon rolled around, was bounced in the second round 8-6 in the third set by eventual semifinalist Sabine Lisicki.
Petra Kvitova had an incredible 2011 highlighted by her triumph at Wimbledon. One part of her year that she would like to remember is the US Open where she lost to Alexandra Dulgheru in the opening round.
While I don't project Stosur to be an opening round casualty, it will be exceptionally trying for Stosur to win back-to-back slams in this day and age of women's tennis.
Hard hitters such as Serena Williams, Victoria Azarenka and Petra Kvitova are all obstacles in Stosur's desire to win the Australian Open.
To defeat seven of the top women in the world in two consecutive slams seems extremely improbable from a mental standpoint. Stosur has no room for error.
To that end, she barely made it through her matches with Nadia Petrova and Maria Kirilenko in the 2011 US Open and would undeniably have to come through in matches like these Down Under.
While I would not put it past Stosur, it seems very unlikely that she is going to take down the Australian Open this year.
Prediction: Quarterfinals