2012 NFL Mock Draft: Ranking the Best Defensive Prospects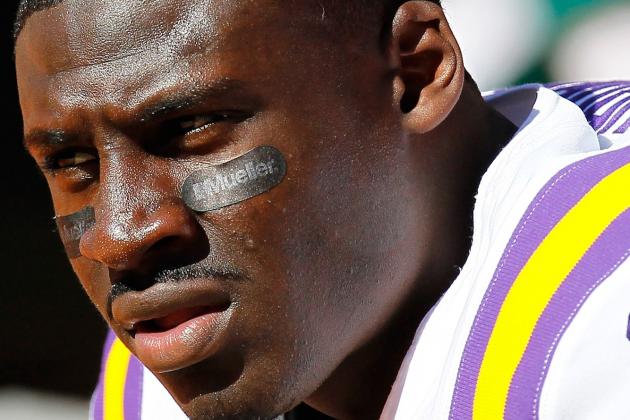 Kevin C. Cox/Getty Images

This appears to be a weak draft in regards to some defensive positions. Inside linebacker and safety jump out to me the most.
That said, there are some extremely talented players at other positions. Outside linebacker, defensive end and cornerback seems to be stacked this season. You will see some players make an immediate impact on the defensive side of the ball in 2012.
This year, players like Von Miller, Aldon Smith and J.J. Watt made an immediate impact on defense. In fact, it could be stated that these three players are one of the primary reasons that their teams made the postseason.
You can expect to see the same thing in regards to the 2012 Draft.
So, let's take a look at the top 15 players on the defensive side of the ball in the 2012 NFL Draft.
Begin Slideshow

»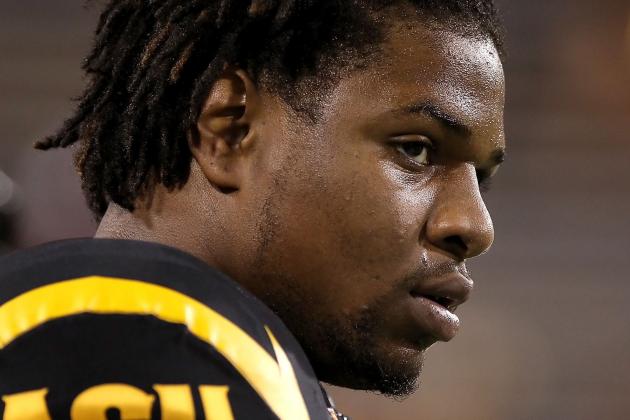 Christian Petersen/Getty Images

Burfict probably has the most upside of any defensive player in this draft. He has elite speed, hits extremely hard and can be a game changer in the front seven.
He does have pitfalls in terms of reading pre-snap offensive schemes, dropping back into coverage and staying home in nickel package. He needs to become more aware on the field.
Going to the right system with a strong foundation will be extremely important to the continued progression of Burfict's game.
Streeter Lecka/Getty Images

One of the fastest linebackers that I have seen come through the pike in a long time.
Zach Brown has the ability to disrupt opposing offenses in the back field simply due to this athleticism. He will need to bulk up at the next level in order to continue this progression towards an elite player.
Right now, it would seem that Brown translates better to the outside, but if he can bulk up that frame a little bit, you could be looking at a 4-3 weak side backer.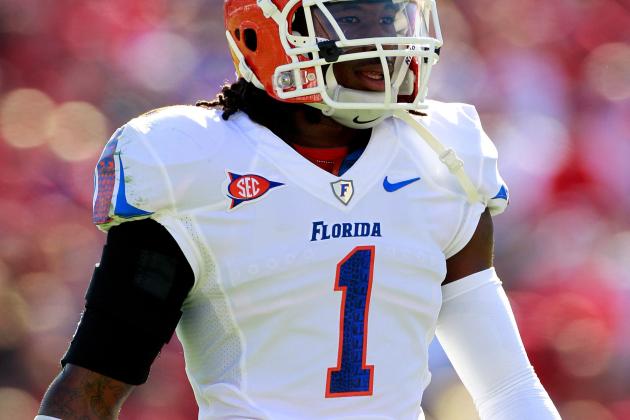 Sam Greenwood/Getty Images

Probably a top-10 pick if he hadn't been kicked off Florida's football team, Janoris Jenkins has once again become prominent in the public eye due to an exceptional season for small school Northern Alabama. I really don't care the level of competition Jenkins was playing against—he is a man among boys.
You are talking about a corner with all the necessary skills to be dynamic at the next level. He is strong in bump/run, plays well in zone, is excellent in one on one and has elite on ball ability.
What I like the most in regards to Jenkins is the fact that he plays fluid on the outside and plays the ball well—pretty much everything you are looking for in an eventual No. 1 corner.
Jenkins will have to go to the right situation to succeed. He will need to go to an organization that has a strong foundation in place, both in the locker room and within the front office. Teams like the Baltimore Ravens, Pittsburgh Steelers, New England Patriots and San Francisco 49ers fit under that category.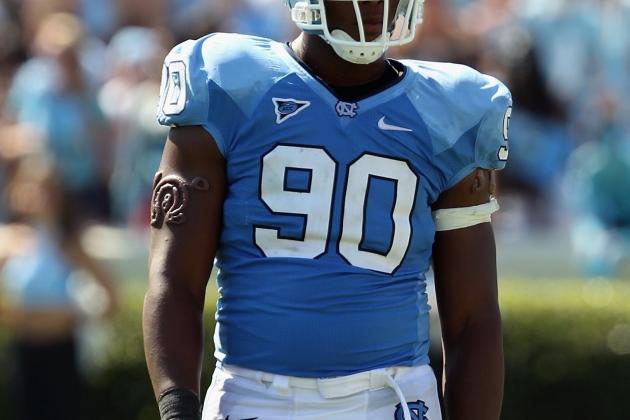 Streeter Lecka/Getty Images

High risk even higher reward, Quintion Coples didn't have the exceptional season that many thought he would. This caused the former Tar Heel to drop from a top five pick to the middle of the first round.
Some of this has to do with a purely one-dimensional pass rush, but more than that other teams were honing in on him focusing blocking schemes away from Zach Brown.
Coples will need to add another pass rush move or two and become better against stronger offensive tackles in order to become a difference maker at the next level. One thing is for sure, he has a ton of upside.
Steve Dykes/Getty Images

At 6'3" and 250 pounds, Nick Perry can play in multiple defensive schemes. Not only does he have the speed to get to the outside, he has the strength to take on blockers and come out on top.
He will struggle a little bit against the run, but that is to be expected from such a young outside linebacker prospect.
What you will see in regards to Nick Perry is the ability to get into the offensive backfield and reek havoc against quarterbacks. I would say that his best position is hands up in a 3-4 scheme.
Jonathan Daniel/Getty Images

Whether it is in a 3-4 or a 4-3 scheme, Whitney Mercilus will be a play maker at the next level. He performed at a really high level against top tier competition in the Big Ten.
What I like most is the fact that he can play anyone on the field within the box. Mercilus has the capability to cover the middle, play with his hands down and rush from a standing position.
While his best fit would be in a 3-4 (see: Aldon Smith), the former Illinois star is scheme flexible, which will help his draft stock come April.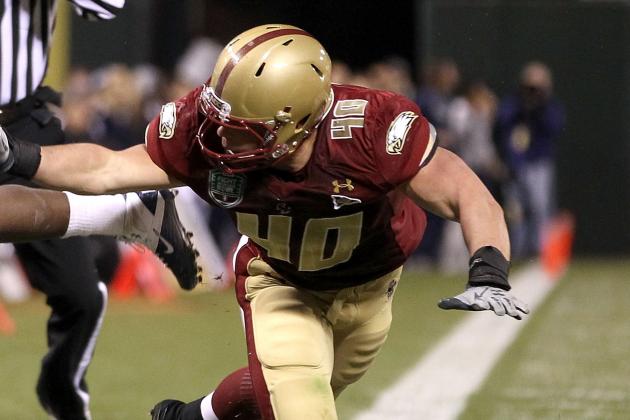 Ezra Shaw/Getty Images

Surest tackle of anyone in the draft, Kuechly will give some team amazing value in the mid-to-late first round.
He excels up the middle reading schemes and getting to the ball. Additionally, the former Boston College linebacker has a strong ability to fend off blocks between the hashes and is fast sideline to sideline.
You will not see Kuechly in the offensive backfield all too often—that is not is his game. This isn't a big deal because 4-3 teams will be looking more at the traditional inside backer.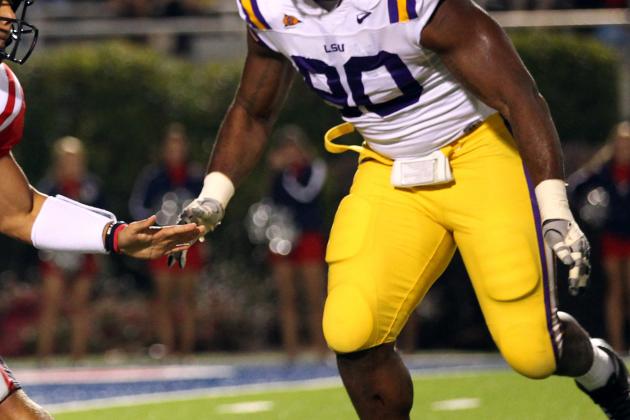 Joe Murphy/Getty Images

A new entry to the 2012 NFL Draft, Michael Brockers is one intimidating force on the defensive side of the ball.
He is a 6'6" bull rusher from the interior of the line, who gets an amazing burst right off the snap. It takes double teams the large majority of the time to contain him, which opens up gaps for speed rushers on the outside.
He probably has the most upside of any player in the draft, but is still extremely raw. You will see a team take a look at him in the first half of round one and give him some time to learn the nuances of the NFL, which is a lot different than playing in even the SEC.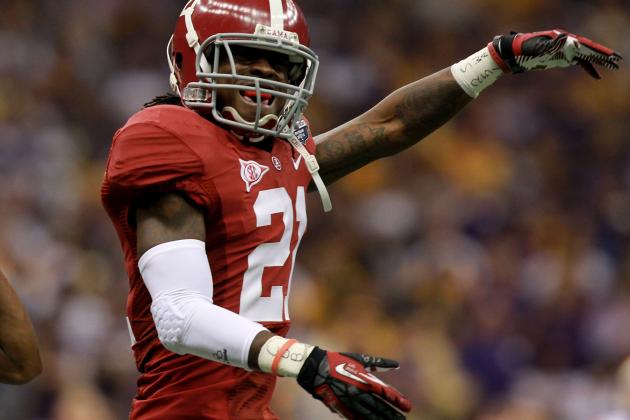 Ronald Martinez/Getty Images

As I have indicated before, Dre' Kirkpatrick will struggle in man coverage. He seems to translate much better as a free safety in the NFL, but that isn't where he is going to be drafted. Instead, some team will find a way to utilize his amazing skill set at the corner position.
Kirkpatrick will have to be coached up at the next level in order to get away from some unsound techniques. He needs to have more fluid hips on the outside, seems to get turned around far too often and isn't too great on ball.
What I do like is that he has improved as a cover man over the last couple of seasons and continues to progress in other aspects of the game that are important at the next level. His ceiling is incredibly high, as is his "bust" factor.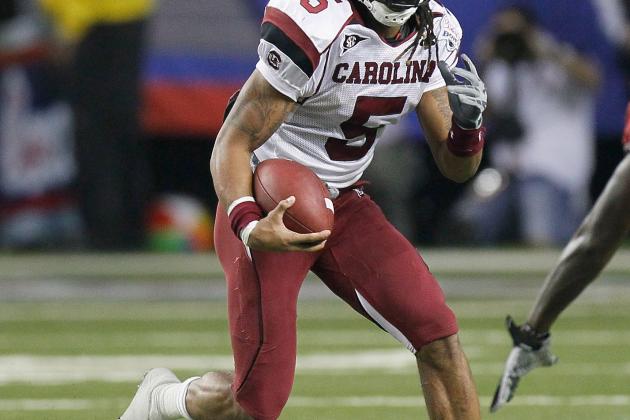 Kevin C. Cox/Getty Images

Physically, Stephon Gilmore is the most impressive corner in the draft.
He has the size to match up against any receiver in the NFL and utilizes it to his benefit. By this I mean that Gilmore shields receivers away from the ball with his field and can throw them off their route early.
A team like Denver or Dallas that is looking for a true cover guy will be salivating over Gilmore because of his exceptional on-ball ability.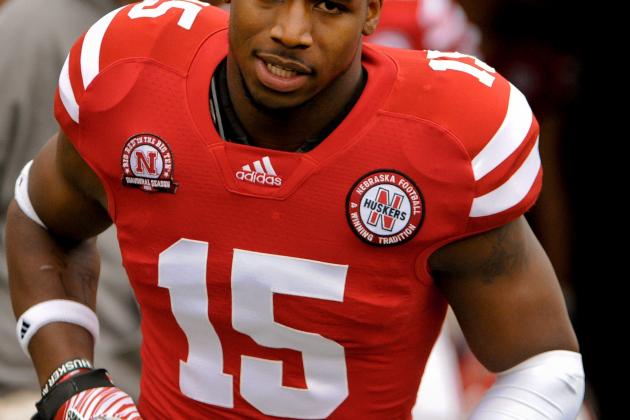 Eric Francis/Getty Images

Some may disagree with this ranking due to Dennard's performance against Alshon Jeffery in his final collegiate game, but I will not use one bad game as a precursor to denounce the ability of a player. The former Nebraska corner will be a very good cover corner at the next level.
While he may struggle against the double move and isn't as great in reading offensive schemes, Dennard does have extremely good on-field awareness and is physical at the line. Much like what I'll say about Morris Claiborne later, he has fluid hips and rarely gets turned around.
You are looking at a starting corner at the next level with the ceiling of a No. 1 guy.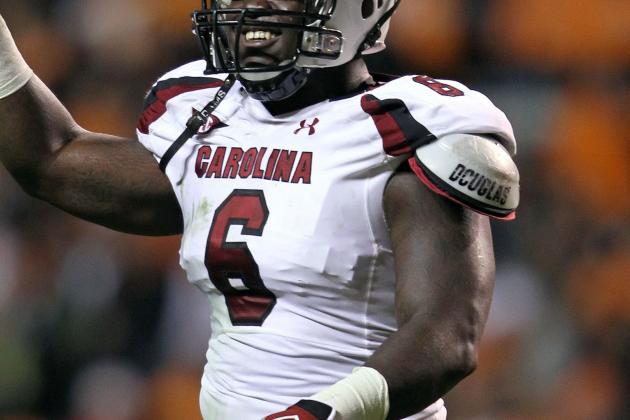 Andy Lyons/Getty Images

A real wild card in my book, Melvin Ingram has an amazing amount of potential. While he played primarily along the defensive line at South Carolina, he has the ability to drop back into coverage just because of his physical attributes.
I believe that Ingram best translates to the 3-4 as an outside linebacker because he is too small to play defensive end and too short to play along the interior of the line.
This will work out extremely well for the former South Carolina player early in his career. It will also work out well for the team that selects him to be a 3-4 backer at the next level.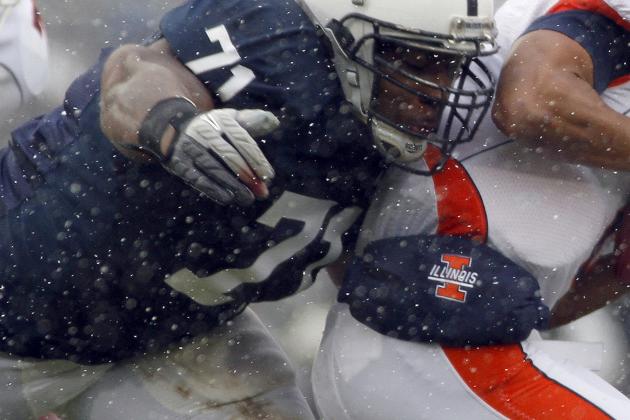 Justin K. Aller/Getty Images

Devon Still is a scheme versatile player who can play on the outside in a 3-4 and move inside in a 4-3. He continually takes on double teams, opens gaps for speed rushers and has the ability to break the line, causing pressure up the middle.
Some may think that this ranking is too high, but I am a firm believer that the former Penn State star can be a major difference maker at the next level.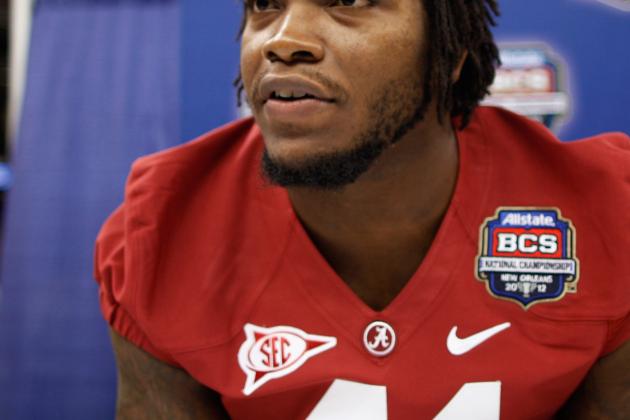 Chris Graythen/Getty Images

Not only is Upshaw the best 3-4 outside linebacker prospect in the draft, he has an all-around game that we haven't seen from this position in a while.
Sure, Aldon Smith came in and racked up 14 sacks and Von Miller played stellar in multiple aspects of the game, but Upshaw has the tools to be a dominant all-around player.
You are looking at a player that has the ability to be a game changer on the defensive side of the ball, which indicates why he is so high on this list: they are few and far between.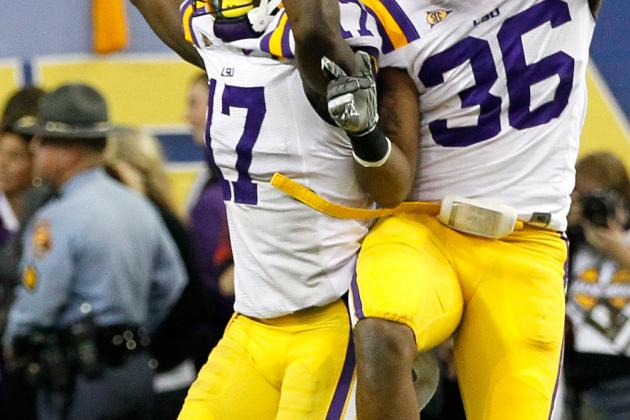 Kevin C. Cox/Getty Images

A premiere corner prospect if I have ever seen one, Morris Claiborne has everything going for him in terms of being able to become a shutdown player at the next level. He can bump at the line, play off-coverage and reads offensive schemes extremely well on the outside.
One of my favorite aspects of his game is the fact that Claiborne already has pro-ready technique. He has extremely good hip movement, rarely gets turned around and can stop on a dime to fend off a completion.
A much better cover corner than former teammate Patrick Peterson was when he was selected fifth overall last season.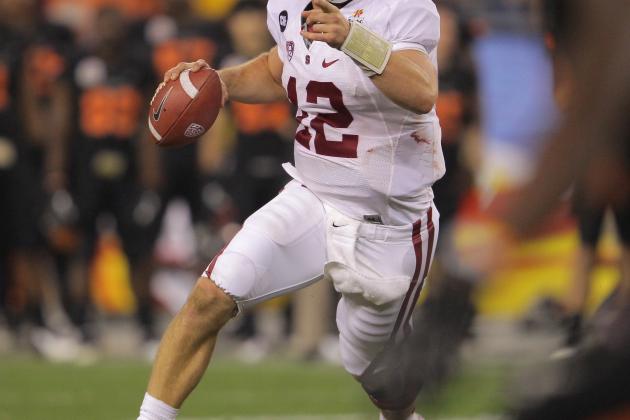 Doug Pensinger/Getty Images

1. Indianapolis Colts QB Andrew Luck Stanford
2. St. Louis Rams WR Justin Blackmon Oklahoma State
3. Minnesota Vikings OT Matt Kalil Southern California
4. Cleveland Browns QB Robert Griffin III Baylor
5. Tampa Bay Buccaneers RB Trent Richardson Alabama
6. Washington Redskins WR Michael Floyd Notre Dame
7. Jacksonville Jaguars CB Morris Claiborne Louisiana State
8. Carolina Panthers DL Michael Brocker Louisiana State
9. Miami Dolphins G David DeCastro Stanford
10. Buffalo Bills OT Jonathan Martin Stanford
11. Kansas City Chiefs OT Riley Reiff Iowa
12. Seattle Seahawks DE Quinton Coples North Carolina
13. Arizona Cardinals LB Melvin Ingram South Carolina
14. Dallas Cowboys CB Dre' Kirkpatrick Alabama
15. Philadelphia Eagles LB Luke Kuechly Boston College
16. New York Jets DE Whitney Mercilus Illinois
17. Cincinnati Bengals RB Lamar Miller Miami (F)
18. San Diego Chargers LB Courtney Upshaw Alabama
19. Chicago Bears WR Alshon Jeffery South Carolina
20. Tennessee Titans CB Alfonzo Dennard Nebarska
21. Cincinnati Bengals S Mark Barron Alabama
22. Cleveland Browns LB Zach Brown North Carolina
23. Detroit Lions C Peter Konz Wisconsin
24. Pittsburgh Steelers OT Mike Adams Ohio State
25. Denver Broncos CB Stephon Gilmore South Carolina
26. Houston Texans NT Dontari Poe Memphis
27. New England Patriots LB Nick Perry Southern California
28. Green Bay Packers DT Devon Still Penn State
29. New York Giants OT Kelechi Osemele Iowa State
30. Baltimore Ravens LB Vontaze Burfict Arizona State
31. New England Patriots CB Jayron Hosley Virginia Tech
32. San Francisco 49ers CB Janoris Jenkins Alabama