NFL Playoff Predictions: Keys to a Super Bowl Trip for San Francisco 49ers
January 15, 2012

Ezra Shaw/Getty Images
After a finish for the ages, the San Francisco 49ers escaped from the New Orleans Saints at home yesterday by a 36-32 final. As the Niners await their NFC championship opponent, they have the advantage of knowing that whichever team wins this afternoon, their own game plan won't have to change much.
San Francisco's recipe for a victory over the Saints will serve them well against either Green Bay or New York:
Make Sure Vernon Davis Stays Hot
Davis, the 49ers one bona fide big-play threat, got the chance to be a hero yesterday and delivered. He capped a seven-catch, 180-yard performance with his second TD to win the game with nine seconds on the clock.
Both the Packers and the Giants are highly vulnerable down the field—taking up two of the bottom four spots in the league in pass defense—and Davis will have his chances for big plays next week. As long as he delivers, he'll give San Francisco a chance to win.
Keep the Offense Balanced
Alex Smith had the game of his professional career in beating New Orleans, but that doesn't mean San Francisco should fall in love with the pass. Frank Gore's power running got them this far, and a healthy dose of Gore will be a big part of a winning formula in the NFC championship.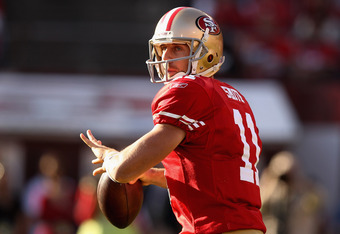 Ezra Shaw/Getty Images
If Smith manages to play the hero again, so be it. The key will be keeping the defense off balance rather than letting dangerous pass-rushers like Clay Mathews or Jason Pierre-Paul tee off on the much-maligned QB.
Win the Turnover Battle
It's hard to imagine San Francisco even approaching the combined five turnovers they forced against New Orleans, but then, it would've been hard to imagine that they could do that to the Saints, either. The most important factor, though, is not amassing crazy takeaway totals but simply getting more than they give.
San Francisco's specialty all season has been ball control, and they were a league-best +28 on turnovers in the regular season. As long as they stay in the positive—no mean feat against Green Bay, which was +24 itself—the Niners will be in position to squeak out another win and punch their tickets for Indianapolis.