Minnesota Timberwolves: 2012 Is a Year in Transition
January 15, 2012

Ezra Shaw/Getty Images
The Timberwolves have resided in the cellar of the Western Conference for years now, but with a few key new players and a new coach, there has finally been something for Wolves fans to cheer about. 
Through the first 11 games of the young NBA season, we have seen a new Minnesota team. They play better defense, they have a deeper bench, and they are generally more exciting, partly due to the arrival of Ricky Rubio, partly due to the teams competitiveness.
That said, there is still work to be done, and decisions to be made. While the team is 4-7, they have played better than that mark may indicate. Four of those losses are by four points or less, and they have certainly played there share of solid teams. 
In the first set of games, it seems as if Adelman is trying to do a kind of mixing and matching the players on the team as the Wolves currently have 10 players averaging 18+ minutes a game. Eventually, Adelman is going to have to start adjusting these minutes to make the most effective roster possible. This could mean moving players or changing up the roles.
Right now, the team isn't functioning as efficiently as possible, and I think there are some clear cut ways to improve the performance of the team. 
While it's clear this concept is already in the works, the offense needs to be fully handed over to Ricky Rubio. In order to achieve this, it may be necessary to let go of Luke Ridnour. While he is an adequate point guard, the future of the team lies with Rubio, and I would advocate that the team performs better under his hand anyway.
Rubio should play the vast majority of the point guard minutes, with Barea playing the remainder. Ridnour is no longer necessary for the Wolves now that we know what Rubio is capable of.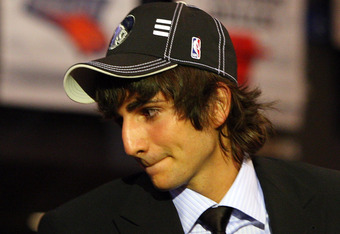 Jim McIsaac/Getty Images
The next problem is the play of Wes Johnson. The problem is, he's just terrible. He is still in the starting lineup, however, he's shooting a pathetic 34% from the field this season in 21 minutes a game.
He has no recognizable skills other than perimeter defense. He's supposedly the sharpshooter, but he's shooting just 23.5% from beyond the arc this season. His current role is simply too demanding. He should be a reserve, acting as a perimeter defense specialist at G-F until he proves he can be a well rounded player.
The last big problem with the Wolves' strategy is the utilization of Michael Beasley. There has actually been some debate among Minnesota followers as to whether or not he should play in a sixth man role, and I believe that claim is warranted. Beasley needs to understand that he isn't at a point in his career where he should be the center of the offense yet, and he needs to take a back seat to other players on this young team. 
In the seven games that he's played in, Michael Beasley is averaging 13 points and seven rebounds a game in 32 minutes. The problem is, it's taking 14 shots a game to get 13 points. Adding in his three turnovers, that's a lot of possessions for 13 points. 
Michael Beasley isn't a team player either, he is averaging one assist a game and let me tell you, it's an accurate representation of his selfishness. When Beasley gets the ball in an iso, it's either a shot or a turnover, there is no in-between. Watching him play has become quite a painful experience. 
In 25 minutes off the bench, Beasley could be an effective scoring option, but his current role is simply unsustainable. 
In my opinion, what the Timberwolves desperately need is an effective scorer from the shooting guard position. Kevin Love has had to shoot in high volumes thus far to get the Timberwolves offense moving, and that will likely have to continue if the guards fail to step up. 
If the Timberwolves could conduct a trade that would potentially include Johnson, Beasley, and Anthony Randolph, and land them a strong shooting guard it would likely help the team immensely, taking some of the scoring pressure off of Kevin Love, and stretching the floor to allow other opportunities for other members of the team. But that's a topic for another day. 
The current starting lineup includes Luke Ridnour, Wesley Johnson, Michael Beasley (when healthy), Kevin Love, and Darko Milicic. In time, I believe this lineup should be adjusted to include Rubio, Barea, Derrick Williams, Kevin Love, and Darko Milicic with Beasley coming off the bench. I'd really like to see a new shooting guard for the team, but for now I think Barea gives them the best chance to win. 
The Wolves have a strong mixture of players. They go two deep at every position, and they have a solid core of emerging young players. This is, however, the definition of a team in transition. With a new coach, new players, and a new system this is a weird time for the team.
Because there were really no designated roles and no predeterminations besides the fact that Kevin Love is the teams star player, the roles are undefined, and quite honestly, a total mess.
My projection is that at the end of the season, Rick Adelman and David Kahn will sit down and have a long talk about what is going to happen going forward. They will decide which players will definitely stay, which players should definitely go, and which players are expendable if necessary. 
This year is a year of determination. The evaluation of the puzzle pieces David Kahn has acquired over the years has begun, and the fitting together and swapping of pieces will commence as soon as these determinations have been made. I have confidence that sooner or later a team will start to form, and as a fan, I can say I am excited to see what this final product will look like.