2012 NFL Mock Draft: 5 Overrated Prospects Who Will Fool Teams into Bad Picks
January 15, 2012

Streeter Lecka/Getty Images
For every Cam Newton who becomes an instant star atop the NFL draft, there's a Ryan Leaf who makes his team wish for a do-over. Andrew Luck is as safe a prospect as there is to open the 2012 festivities, but there are plenty of question marks after the Stanford star comes off the board.
Below, a look at the projected first round in its entirety, with extra discussion of the five picks most likely to leave their teams with nothing but regrets.
Draft order for the teams still alive in the playoffs is based on projected postseason results.
1. Indianapolis Colts: QB Andrew Luck, Stanford
Even with Peyton Manning coming back, there's no passing up the surest-fire QB prospect since, well, Peyton Manning.
2. St. Louis Rams: OT Matt Kalil, USC
The Rams allowed more sacks than any team in the league, and no school is better at producing franchise left tackles than USC (where Kalil played on the left side even when 2011 first-rounder Tyron Smith was still on campus).
3. Minnesota Vikings: CB Morris Claiborne, LSU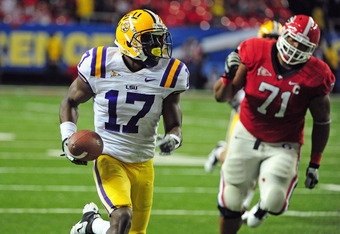 Scott Cunningham/Getty Images
Justin Blackmon would be a great fit, too, but it's easier to find a good WR than a top-notch cover corner for a team that couldn't stop anybody in the passing game.
4. Cleveland Browns: QB Robert Griffin III, Baylor
Confidence in Colt McCoy has ebbed fast, and Griffin looked an awful lot like Cam Newton in winning this season's Heisman Trophy.
5. Tampa Bay Buccaneers: RB Trent Richardson, Alabama
Richardson is the complete package as a running back, and the Buccaneers have a big hole when it comes to producing in the ground game (30th in the NFL in rushing yardage).
6. Washington Redskins: WR Justin Blackmon, Oklahoma State
Washington needs serious help at QB, but with Griffin gone they'll settle for the draft's one sure thing at wide receiver.
7. Jacksonville Jaguars: WR Michael Floyd, Notre Dame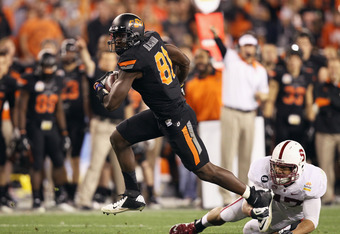 Christian Petersen/Getty Images
Jacksonville, in desperate need of WR help, reaches for the best one left on the board. Floyd shattered Notre Dame's career receiving records, capping his four years with a 100-catch, 1,147-yard performance as a senior.
As well as Floyd played for the Irish, though, his skill set makes him look more like a No. 2 receiver than the No. 1 the Jaguars need so badly.
He'll be a respectable NFL player, but not one who merits a No. 7 pick.
8. Carolina Panthers: DT Devon Still, Penn State
After drafting for offense to great success last season, the Panthers get help for a soft defense with penetrating DT Still (4.5 sacks, 17 tackles for loss last year).
9. Miami Dolphins: CB Dre Kirkpatrick, Alabama
A weak pass defense gets some much-needed cornerback depth with one of many defensive stars from the national champs. Dre Kirkpatrick has the height (at 6'3") to match up with bigger NFL wideouts, and he racked up nine pass deflections on the season.
As sharp in coverage as Kirkpatrick has been, though, he didn't record a single interception in 2011. He'll still be an asset in Miami, but without better ball skills he won't be the playmaking star the Dolphins would like.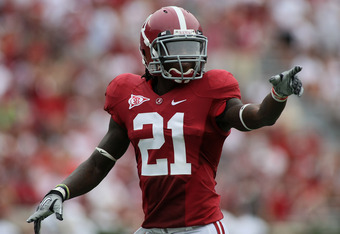 Greg McWilliams/Getty Images
10. Buffalo Bills: LB Courtney Upshaw, Alabama
With last year's first-rounder Marcell Dareus to hold down the middle, Buffalo gets a playmaker outside in Upshaw (18 tackles for loss, 9.5 sacks).
11. Kansas City Chiefs: OT Jonathan Martin, Stanford
Andrew Luck's blindside protector has NFL size (at 6'6", 304 lbs) and the smarts to move to the right side and fill the hole opposite Branden Albert.
12. Seattle Seahawks: LB Zach Brown, North Carolina
With no answer in sight to their QB problems, the Seahawks add an elite playmaker (5.5 sacks, three interceptions, 13.5 tackles for loss) in the athletic Brown.
13. Arizona Cardinals: OT Riley Reiff, Iowa
Arizona has any number of problems to address on offense, so they make a start by fixing a porous line with a polished tackle who excels in both run and pass protection.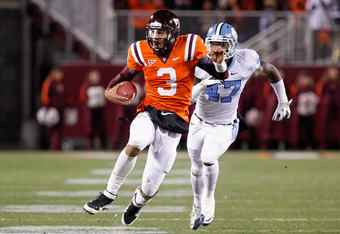 Geoff Burke/Getty Images
14. Dallas Cowboys: CB Janoris Jenkins, North Alabama
Terence Newman is Dallas' only legitimate corner, and he's already 33. Janoris Jenkins had eight interceptions in three seasons at Florida before getting booted from the team for marijuana-related transgressions.
Dallas owner Jerry Jones has had his share of success with gambling on players with character questions, but it's always a risk. If Jenkins implodes like Pac-Man Jones at the NFL level, Dallas will have only themselves to blame.
15. Philadelphia Eagles: LB Luke Kuechly, Boston College
The Eagles' linebacking corps has been held together with bailing wire for years, so there's no passing up the best college tackler in years (191 stops last season alone).
16. New York Jets: DE/OLB Whitney Mercilus, Illinois
Division I's leading sacker with 16, the aptly-named Mercilus will bolster a lackluster Gang Green pass-rush.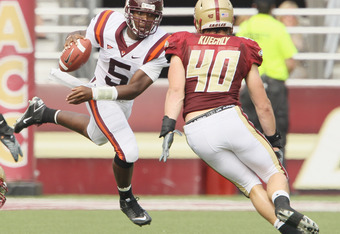 Elsa/Getty Images
17. Cincinnati Bengals (via Raiders): CB Alfonzo Dennard, Nebraska
The Bengals hope they've found a replacement for Johnathan Joseph in Dennard, a lock-down cover man.
18. San Diego Chargers: DE/OLB Nick Perry, USC
The continuing replace-Shawne-Merriman saga sees the Chargers look for pass-rushing help from a school that's produced a few LBs who can play a little. Nick Perry played DE at USC, but he did rack up 8.5 sacks and 13 tackles for loss for the Trojans last season.
Perry has the build to convert to OLB at 6'3", 250 lbs, but no experience playing off the line.
With the Chargers needing a solution sooner rather than later, they'll regret the time they have to wait for Perry to develop as a pro.
19. Chicago Bears: WR Alshon Jeffery, South Carolina
The Bears' receiving corps has been both undersized and under-performing for years. With Roy Williams clearly not the answer, Chicago grabs 6'4" Capital One Bowl MVP Alshon Jeffery.
Jeffery has great size and good hands, but he has more bust potential than any receiver in this draft. He couldn't handle double-teams as a collegian this year—his reception total was cut nearly in half from 2010—and needs to show better separation ability to make it in the pros.
Stephen Dunn/Getty Images
20. Tennessee Titans: DE Quinton Coples, North Carolina
The latest in North Carolina's long line of D-line playmakers with 7.5 sacks and 15 tackles for loss, Coples will immediately spark a terrible pass-rush that recorded just 28 sacks for all of 2011.
21. Cincinnati Bengals: OG David DeCastro, Stanford
The best interior lineman in the draft and the best player left on the board, the heady DeCastro will shore up an unremarkable interior line.
22. Cleveland Browns (via Falcons): DE Melvin Ingram, South Carolina
The star of an underrated Gamecock defense, Melvin Ingram—who had 15 tackles for loss, 10 sacks and even made two interceptions—will bring an outside push to complement last year's first-rounder, Phil Taylor, inside.
23. Detroit Lions: C Peter Konz, Wisconsin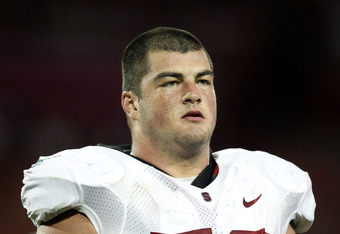 Christian Petersen/Getty Images
With Dominic Raiola nearing the end, Detroit grabs a first-class replacement in Konz, the top lineman left on the board.
24. Pittsburgh Steelers: LB Dont'a Hightower, Alabama
Not only the best player available but a valuable fit for the aging Pittsburgh LB corps, Hightower led the national champs with 85 tackles last season.
25. Denver Broncos: RB Chris Polk, Washington
Tim Tebow's option offense puts a premium on depth at running back, and Polk (1,488 yards and 12 TDs) could turn out better than anybody currently on the Broncos' roster.
26. New York Giants: CB Chase Minnifield, Virginia
A vulnerable secondary gets another talented youngster (along with Prince Amukamara) in Minnifield, the son of former Browns corner Frank.
27. Houston Texans: WR Kendall Wright, Baylor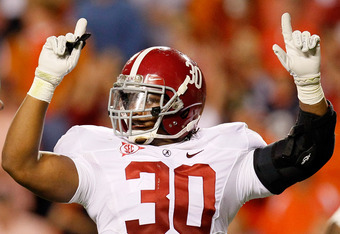 Kevin C. Cox/Getty Images
Robert Griffin III's favorite target is a speed burner who will get every chance to fill the void opposite Andre Johnson.
28. New England Patriots (via Saints): S Mark Barron, Alabama
Bill Belichick loves smart players with leadership ability, and Barron, who had five tackles for loss and two INTs for the Crimson Tide, fits that bill in spades.
29. Baltimore Ravens: LB Vontaze Burfict, Arizona State
Like first-rounder Jimmy Smith a year ago, Burfict is an A-plus athlete who needs some mentoring, and he'll get it with the veteran Baltimore D.
30. San Francisco 49ers: CB Jayron Hosley, Virginia Tech
With no apparent help for their shaky WR corps, the Niners shore up the secondary with ballhawk Hosley (12 INTs over the last two seasons).
31. New England Patriots: DE/DT Jerel Worthy, Michigan State
A penetrating DT who had 10.5 tackles for loss last season, Worthy can move to DE in New England's 3-4 look and keep right on making plays.
32. Green Bay Packers: DE/OLB Ronnell Lewis, Oklahoma
Still lacking a pass-rush threat opposite Clay Mathews, the Pack hopes to convert DE Lewis (13 tackles for loss, 5.5 sacks) to a rush OLB.