Detroit Red Wings Will Break Record for Consecutive Home Wins
January 15, 2012

Gregory Shamus/Getty Images
Making NHL history is not easy no matter what the record.
But the Detroit Red Wings have won 14 straight home games and do not look to be having any trouble rolling over opponents at Joe Louis Arena.
While their road record is far from desirable at 11-13-0, the Red Wings own a 17-2-1 record at Joe Louis Arena.
They have not suffered a defeat at home since a 4-1 loss to the Calgary Flames on November 3, 2011.
For those of you who are curious, the record for consecutive home wins is 20; it was originally set by the 1929-30 Boston Bruins, but was matched by the 1975-76 Philadelphia Flyers.
Obviously, for Detroit to beat the record, they would have to win their next seven home contests, a task not easily done by any team.
But the Red Wings have given fans a reason to believe, with their performances in their last 14 home contests.
The Red Wings have outscored their opponents 63-21 during their 14-game home winning streak.
This includes three shutouts, one shootout victory and one overtime victory.
So let's crunch some numbers for a moment.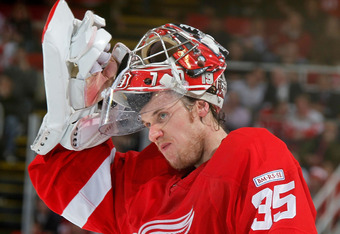 Gregory Shamus/Getty Images
Sixty-three goals over 14 games is four-and-a-half goals per game offensively.
Combine that with giving up just 21 goals in 14 games for a GAA of 1.50, and we can start to see why Detroit could challenge the record.
They have also given up a mere 36 goals in their 20 home games, so even in their close losses before their winning streak they were playing well defensively in front of Jimmy Howard.
Detroit's next seven games include Buffalo, Columbus, St. Louis, Edmonton, Anaheim, Philadelphia and Dallas.
Buffalo is 2-2-0 against the Central Division while going 6-1-0 against the rest of the West.
They lack consistent offense, and usual star goaltender Ryan Miller is having a down year with an 11-12-2 record and a 2.97 GAA.
Columbus always seems to be a thorn in Detroit's side as rivals usually are, but Detroit handled them at "The Joe" earlier this season by a score of 5-2. The Red Wings should not have a serious issue dispatching them, but should also not take this game lightly, despite Columbus' ranking in the Western Conference.
The St. Louis Blues are a revamped team both offensively and defensively since Ken Hitchcock took over a couple months ago. The home team has won all four meetings this season, but the Red Wings took the last two meetings by a combined score of 6-2 (one being a shutout). This game will be a challenge for Detroit, but if Detroit can limit the opportunities, they should pull out the victory.
Edmonton is a team that is all over the place these days.
The Oilers are now 2-7-1 in their last 10 contests, and have plummeted in the standings since the beginning of the season. They always give Detroit a battle, but Detroit has come out on top both times this season, winning 3-0 the last time Edmonton visited Detroit.
Also of note is Edmonton's road record. The Oilers have taken the road 23 times this season, and have a meager six victories. Look for Detroit to take this game by a narrow margin, as Detroit has a habit of playing down to lesser opponents.
Anaheim is also currently a mess of a franchise with trade rumors swirling left, right and center.
Since the start of the season, the Ducks have been no where near the top of the conference, and have just four wins in 20 road contests this season.
Detroit shut out the Ducks the last time they visited Motown, and also won a 4-2 decision in Anaheim on November 20. However, this is a new year and the Ducks will come into Detroit looking to put themselves back on the map figuratively speaking as they only have 14 wins this season.
The Philadelphia Flyers will likely pose the biggest threat to Detroit's winning streak, as they have star offensive power and are also solid on the back end. Their biggest questions come in goal, where they once again have a goaltender controversy brewing between the young Sergei Bobrovsky, and Ilya Bryzgalov.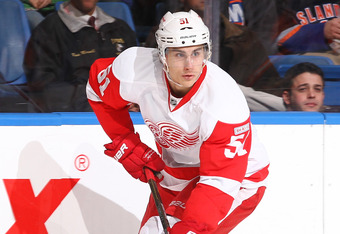 Al Bello/Getty Images
The Flyers might be at a disadvantage in this game as they just lost James van Riemsdyk indefinitely to a concussion.
If Detroit plays a good game, the Red Wings should be able to get to Philadelphia eventually, as the Flyers have lost all-star-caliber defenseman Chris Pronger for the season as well.
Score anywhere close to the 4.5 goals a game they have been averaging during this win streak, and Detroit pulls this potential high scoring game out and walks away with a 20-game winning streak.
Which brings me to the Dallas Stars game on February 14.
The Stars have surprised many this season, especially by doing so well despite the loss of superstar Brad Richards. The Stars led the Pacific Division at one point before falling off the map a little bit with the loss of Sheldon Souray to injury.
Currently, the Stars sit just a single point out of a playoff spot, and they are six points back of the division leader San Jose Sharks.
Dallas will not be an easy game either, but Detroit has beaten them twice this season by 5-2 and 5-4 scores respectively.
Detroit has a great chance to run the table and set the all-time consecutive home wins record with 21 straight wins.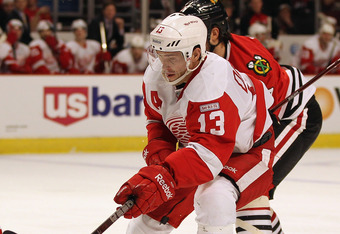 Jonathan Daniel/Getty Images
The Red Wings play the 10th, 13th, 14th and 15th placed teams in the Western Conference in Dallas, Edmonton, Anaheim and Columbus respectively.
Although standings mean nothing, as any team is capable of beating any team on any given night, a balanced, consistent effort will go a long way to giving Detroit wins over these four teams.
As for Buffalo, St. Louis, and Philadelphia, Detroit's home ice will once again be the difference in the game.
To summarize: St. Louis has yet to win in Detroit this season on two tries; Buffalo owns an 8-11 road record (some how worse than Detroit's road record), and Philadelphia, despite being a league best on the road of 16-7-2, will have to play a complete game and get scoring efforts from at least three of their four lines to beat Detroit at home.
If Detroit takes care of business like they should, they could be adding the longest home wins record to the team record books.
As Detroit currently owns the longest consecutive road wins record, look for them to try and set the consecutive home wins record as well.
For more article updates, Follow @isaacesmith91.