Super Bowl Predictions 2012: Sleeper Picks for MVP Winner
January 14, 2012

Andy Lyons/Getty Images
When predicting the MVP of the Super Bowl, it's hard to go wrong by guessing the quarterback of the winning team. 
Even so, nearly half of all MVPs have come from another position, including some of the biggest surprise heroes in the history of the title game.
These three standouts look like promising early candidates to edge out the likes of Tom Brady or Aaron Rodgers to take home this year's hardware:
Ray Rice, Baltimore Ravens
If the Ravens come out on top in Super Bowl XLVI, veterans Ray Lewis or Ed Reed will be the obvious favorites for MVP honors (which would make two such trophies for Lewis).
The Baltimore offense, however, will have a lot to say about any postseason success for this team.
Especially assuming that the Ravens would be facing Green Bay or New Orleans, they'll need to put a fair number of points on the board if they want to come out on top.
Rice, the best weapon in both the running and passing attacks for Baltimore, is the prime candidate to supply those scores.
Kyle Arrington, New England Patriots
Unheralded defensive backs have a history of stepping up on the Super Bowl stage (see Brown, Larry). 
Arrington isn't entirely an unknown after leading New England with seven interceptions, but he's hardly Champ Bailey, either.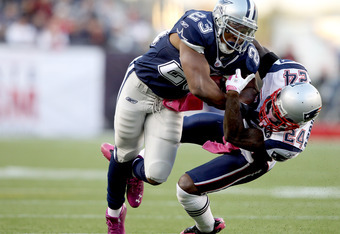 Elsa/Getty Images
The proliferation of supercharged passing offenses in the 2012 postseason makes a Super Bowl shootout a good possibility.
While the most likely outcome for Arrington is getting burned repeatedly by Rodgers or Drew Brees, a well-timed pick or two might put him on a hero's pedestal instead.
Jermichael Finley, Green Bay Packers
In 45 years of Super Bowls, no tight end has ever been named MVP. 
This year could easily be the end of that streak, and Green Bay's Jermichael Finley would be a particularly fitting choice to end it.
Finley missed out on last year's championship run with a knee injury, but he's come back with a vengeance, recording 55 catches for 635 yards and eight touchdowns.
If he catches a couple of scores in the Super Bowl—hardly far-fetched given his talents in the red zone—he could well beat out Rodgers for the award.