9 Quarterbacks the Miami Dolphins Should Target During the 2012 Offseason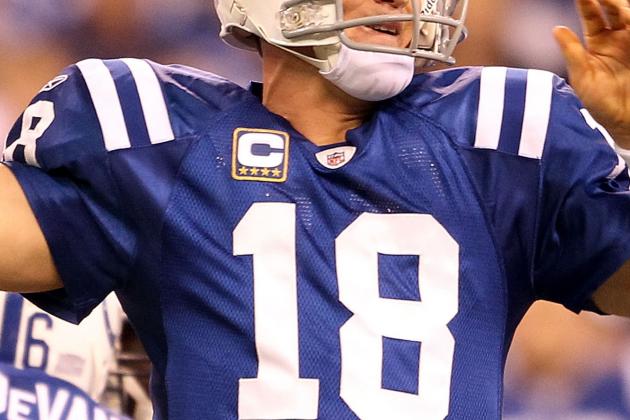 Andy Lyons/Getty Images

Another year, another quarterback hunt.
Such is the life of a Miami Dolphins fan.
We were in this same exact predicament last year (and the year before that, and the year before that, and you get the picture), but Miami's brass failed to acquire the franchise quarterback this team has longed for since Dan Marino retired in 1999. But with another offseason comes another opportunity for the 'Fins to find the solution to all of their agonizing quarterback problems.
It's important to remember two things, though.
First of all, Matt Moore is going to compete for the starting job next season barring the acquisition of Peyton Manning. Also, so much of Miami's offseason plans hinge on who they hire as head coach.
Just keep these two things in mind as you browse over this list of quarterbacks.
Begin Slideshow

»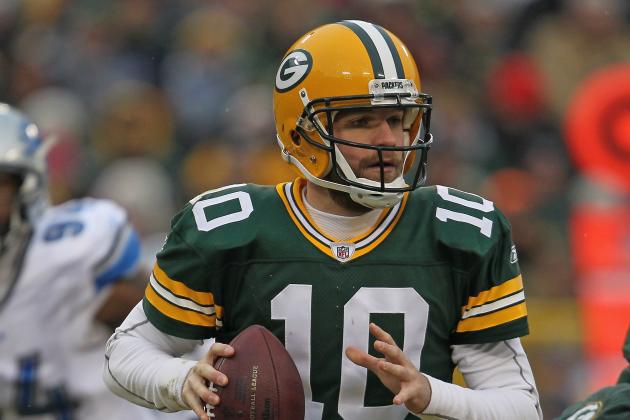 Jonathan Daniel/Getty Images

As Matt Flynn sliced and diced the Detroit Lions defense for six touchdowns passes in Week 17, he simultaneously became the most coveted quarterback the 2012 free-agency class has to offer.
Flynn's outrageous performance has generated a ton of hype, and while he could be the franchise quarterback the Dolphins have been waiting so long for, there is plenty of reason to believe otherwise.
Since he was drafted in the seventh round of the 2008 NFL draft, Flynn has started only two games. Granted, he looked spectacular in both starts, he was plugged into one of the best and most pass-happy offenses in the league. Hence, Flynn draws comparisons to Kevin Kolb.
Still, Flynn could be worth the risk. He led LSU to a national championship in 2007 and has been groomed behind Aaron Rodgers for the last four years. If Miami hires Packers offensive coordinator Joe Philbin as their head coach, then the Dolphins' chances of landing Flynn will improve dramatically.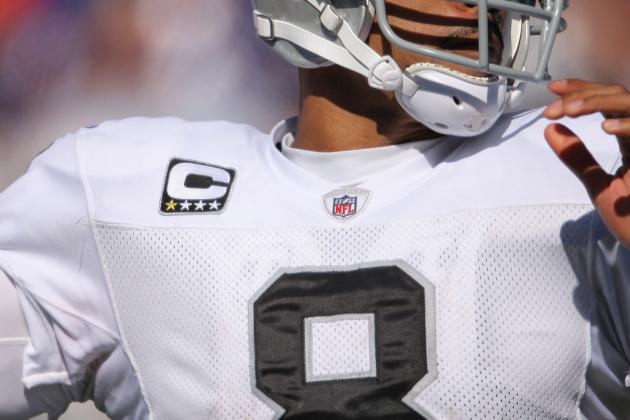 Tom Szczerbowski/Getty Images

Before you dismiss Jason Campbell, consider the talent he has been surrounded by throughout his six NFL seasons.
In Washington, he threw to an unspectacular receiving corps headlined by a streaky Santana Moss. Things barely improved in Oakland, where Campbell's most dangerous weapons were Darrius Heyward-Bey and Denarius Moore.
Campbell is an accurate passer (60.8 percent career completion rate) who has thrown eight or fewer interceptions in three of his five full NFL seasons. He is a leader (voted a captain in Oakland) and has never played with a weapon like Brandon Marshall before.
If he can stay healthy—and that's a big if—then Campbell would be a fantastic free-agent signing who could compete with Matt Moore for the starting job.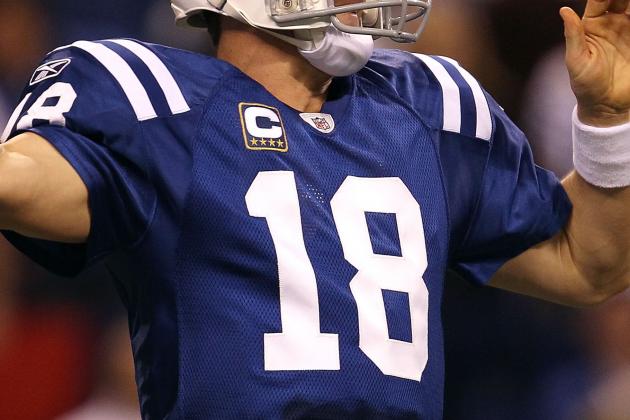 Jonathan Daniel/Getty Images

The chances of the Dolphins landing Peyton Manning are astronomical.
It's useless to debate whether or not Miami would pursue Manning until we know if he will actually be available—and we won't know the answer to that question until March 8th. However, Stephen Ross loves nothing more than a big name, and Carl Peterson's history suggests that he would support the move as well.
It's too early to tell if the Dolphins would even be able to afford Manning, or if he would be willing to play for such a dysfunctional franchise with a new head coach.
Don't sleep on the 'Fins pursuing Manning, but don't get your hopes up either.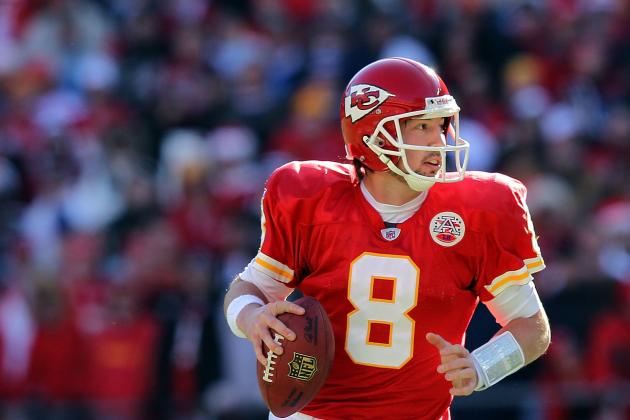 Jamie Squire/Getty Images

When Kyle Orton was a Chicago Bear, he posted solid statistics and won games. When Orton went to Denver, he posted great statistics but couldn't win games. And then, when Orton went to Kansas City, he posted poor statistics but won games.
So what are we supposed to make of him?
If Orton ever had the chance to truly settle in somewhere, there's no telling how good he could be. But is he an upgrade from Matt Moore? Maybe, maybe not, but there's a chance the Dolphins could pursue him (again) to compete with Matt Moore for a starting job next season.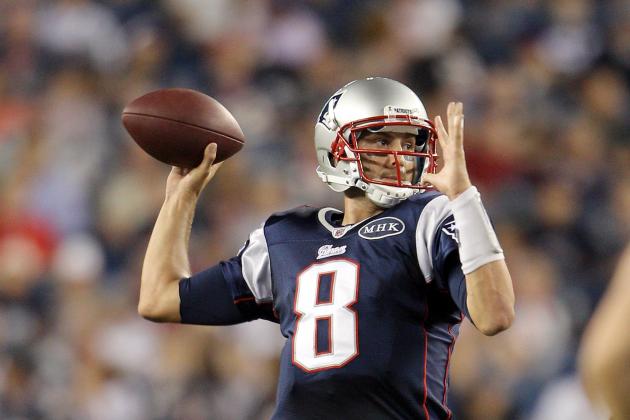 Elsa/Getty Images

Former NFL executive Mike Lombardi said that he would have traded for Patriots backup quarterback Brian Hoyer had he been offered the 49ers general manager position last summer. He even went as far as to proclaim Hoyer superior to Kevin Kolb.
Even though Hoyer has only thrown 42 passes in three NFL seasons, he has looked very polished in his assorted preseason appearances. Plus, Matt Cassel's success suggests Hoyer could enjoy a similar fortune.
It would be awesome for the Dolphins to finally turn the tables and plunder a player from the Patriots roster, but Hoyer's inexperience makes it a long shot. Still, don't rule it out. New England doesn't need to carry Hoyer and Ryan Mallett behind Tom Brady, so Hoyer (who is a restricted free agent) could hit the trading block during the offseason.
Ronald Martinez/Getty Images

The 2011 NFL draft class offered so many highly touted quarterbacks that it initially was safe to assume the Dolphins would be able to get one with the 15th overall pick. Of course, that didn't happen, and the upcoming draft is starting to unfold in a similar manner.
First, Matt Barkley decided to return to school, and now Robert Griffin III is skyrocketing up draft boards.
The only way the Dolphins will be able to snag RGIII is if they trade up inside of the top five. However, Miami will have to surrender a king's ransom, and that might not be feasible for a team with so many needs.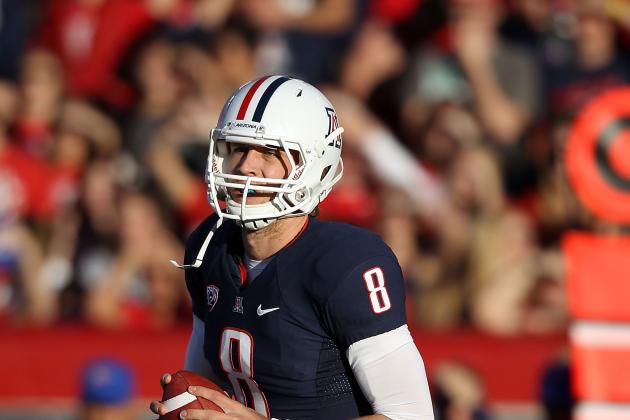 Christian Petersen/Getty Images

The Dolphins might only be able to land Robert Griffin in a pipe dream, but there are a handful of other quarterbacks who could garner Miami's interest.
One such player is Arizona's Nick Foles. He has prototypical size (6'5", 240), a rocket arm and three seasons of starting experience. However, Foles wasn't a winner in college. The Wildcats went 19-19 with Foles at the helm, making two unsuccessful bowl-game appearances as well.
Arizona's struggles were not Foles' fault, but they might reflect poorly on him nonetheless. But considering the ineptitude of his coaching staff and marginality of his supporting cast, Foles' production is rather impressive.
Foles is currently projecting as a second-round pick, and he could draw the Dolphins' attention over the next few months.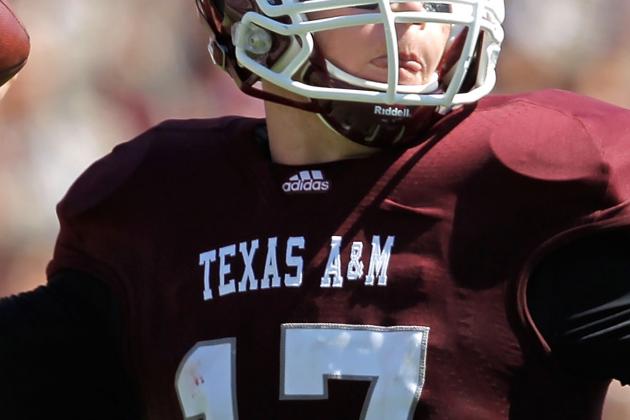 Sarah Glenn/Getty Images

Behind Andrew Luck and Robert Griffin III, Texas A&M quarterback Ryan Tannehill is easily the most intriguing quarterback in the 2012 draft class.
Initially recruited as a quarterback, Tannehill opted to walk on to Texas A&M's roster in 2008, and he was moved to wide receiver. Tannehill quickly shattered some school receiving records before earning the starting quarterback job midway through the 2010 season.
In his first and only full season as a starting quarterback, Tannehill led the Aggies to a 7-6 record and a bowl-game victory.
Tannehill has ideal size (6'4", 222), phenomenal speed (remember, he excelled at wide receiver) and played in a pro-style offense. His inexperience is an obvious red flag, but if the Dolphins are willing to be patient and develop him, then Tannehill should be on their radar come draft day.
Doug Pensinger/Getty Images

If Brandon Weeden wasn't already 28 years old (making him a 29-year-old rookie), then he would probably be a first-round draft pick. Weeden's age will deter any team from drafting him before day three of the draft, but he could be a major steal.
Weeden has a lightning-fast release and, consequently, puts amazing zip on the ball. In just two years as Oklahoma State's starter, Weeden threw for a ludicrous 9,012 yards and 71 touchdowns.
However, recent baseball-prospects-turned-football-prospects haven't panned out well (see: Weinke, Chris and Henson, Drew). The Dolphins probably won't have too much interest in Weeden, but if he falls into the latter rounds of the draft, then he becomes a viable target for the 'Fins.