NBA Power Rankings: 8 Best Players Dealing with Injuries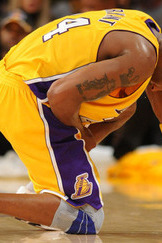 Injuries are common in the NBA, but an intensified schedule makes injuries more probable and devastating for the teams involved.
Key players, like the Chicago Bulls' Richard Hamilton, have already missed many games and might have to deal with nagging injuries.
Here is a list power-ranking the most severe injuries to star players and how these aches and pains negatively affect their respective teams.
Begin Slideshow

»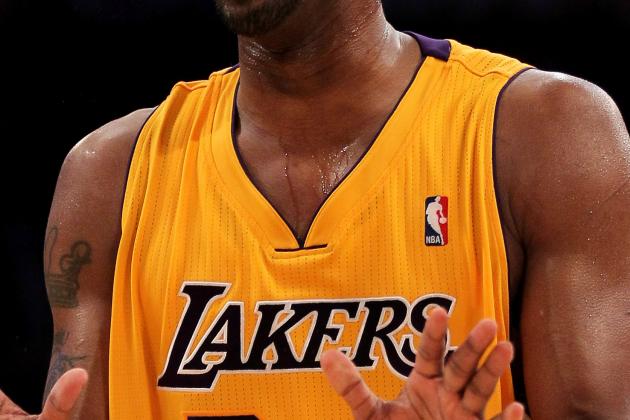 Stephen Dunn/Getty Images

While Kobe Bryant has been playing great for the Los Angeles Lakers, he is dealing with a significant injury.
According to the Los Angeles Times, the 33-year-old star has a torn ligament in his right wrist. However, Bryant maintains that his wrist is feeling better, as his three straight 40-point performances would point to.
Bryant added some extremely interesting insight to that Times article. He said his right wrist bothered him the most when he was handling the ball. As the Lakers lack a true point guard to help the Black Mamba out, he has a high chance to reaggravate his wrist
If Kobe goes down, so does the Showtime Lakers' season.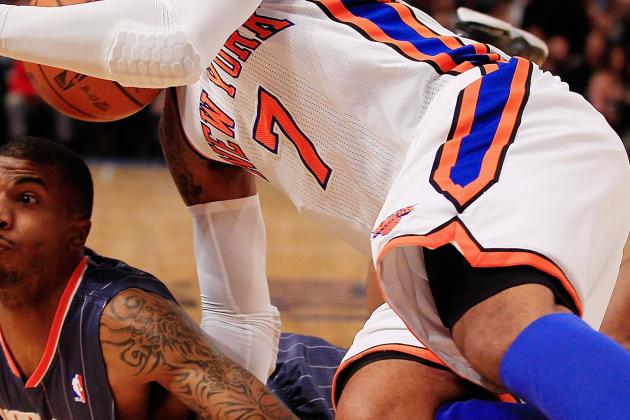 Chris Trotman/Getty Images

The New York Knicks desperately need their best player, Carmelo Anthony, on the floor, but the superstar small forward has been battling some nagging injuries.
The 27-year-old Anthony hurt his back against the Washington Wizards Jan. 6 and then injured both his right wrist and ankle against the Memphis Grizzlies Thursday.
Melo hasn't missed any games yet, but it's likely he will not play against the Oklahoma City Thunder and might miss more games.
Anthony has averaged over 25 points a night and is the only offensive player not struggling. With the Knicks not finding any rhythm, don't expect them to turn it on if Melo misses significant time.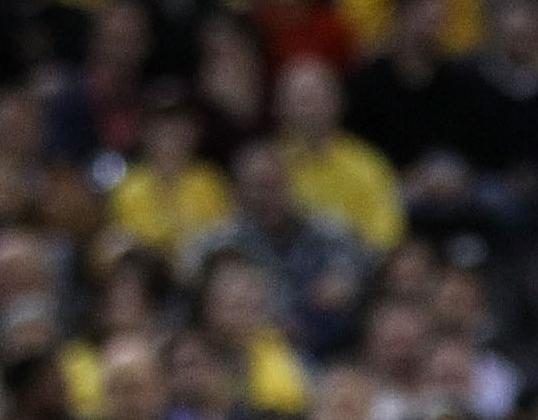 Ezra Shaw/Getty Images

Stephen Curry, along with Monta Ellis, clearly makes the Golden State Warriors' starting backcourt the best in the NBA.
However, Curry has been on the bench fairly often with his glass right ankle.
Doctors have said there is no structural damage to the point guard's ankle, but the uptempo and slashing style that Curry plays provides a high possibility for reinjury. Curry had surgery last offseason to repair that same ankle.
The Warriors need Curry healthy if they are going to be competitive.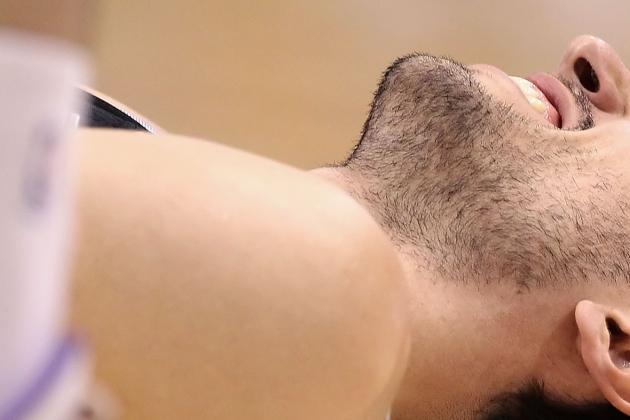 Christian Petersen/Getty Images

The San Antonio Spurs are a rugged team, and they need to be since All-Star shooting guard Manu Ginobili broke his left hand earlier this month.
Ginobili had surgery to repair the damage and is expected to return in six-to-eight weeks, but it might prove troublesome if he doesn't get more rest.
So far, the Spurs are leading the Dallas Mavericks in the NBA Southwest Division.
Manu, though, is needed when playoff time rolls around if the Spurs are to win a championship.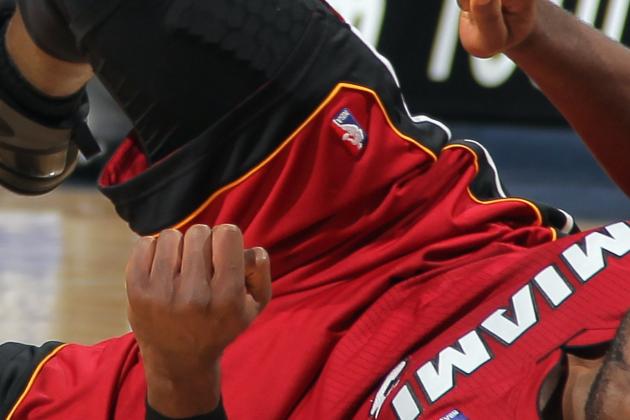 Doug Pensinger/Getty Images

The Miami Heat have been banged up with LeBron James suffering from a tender ankle, but he isn't in the same position as teammate Dwyane Wade.
The superstar shooting guard has a severe right ankle sprain he suffered Friday night against the Denver Nuggets, but x-rays show that it isn't broken.
D-Wade also had a bruise on his left foot that forced him to miss games this season.
Wade obviously needs his feet and ankles to be healthy to be explosive off the dribble, a strong slasher and an accurate jump shooter.
James and Chris Bosh have been playing well for the Heat, but a less-than-100-percent Wade will cost them an NBA championship.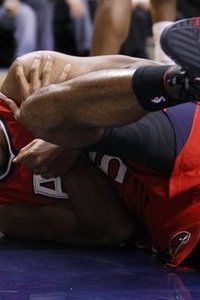 The Atlanta Hawks are a borderline contender with center Al Horford in the lineup.
Without Horford, they are just not that good.
The All-Star center tore his left pectoral muscle, which required surgery. Horford is scheduled to miss three-to-four months.
Translation: The Hawks won't have him for the rest of the season unless they make the playoffs.
Josh Smith has to take a larger leadership role, but don't expect him to because the disgruntled power forward is a problem child.
If the Hawks make the playoffs in a much-improved Eastern Conference, it would be surprising.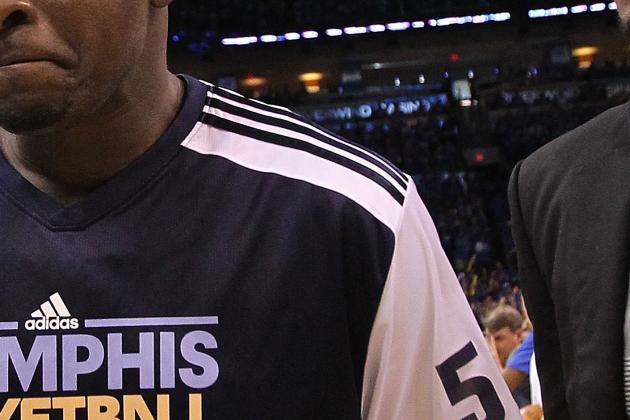 Ronald Martinez/Getty Images

Probably one of the more serious injuries this year goes to power forward Zach Randolph.
The Memphis Grizzlies' star player has a slight tear in the MCL in his right knee that occurred against the Chicago Bulls Jan. 1 and will force him to miss a couple months.
Randolph is the heart and soul of the Grizzlies, and while Memphis has Marc Gasol and Rudy Gay, a squad without Randolph could struggle mightily.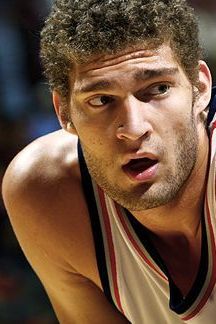 Surprisingly, the worst injury to a star player goes to New Jersey Nets center Brook Lopez.
Lopez sustained a non-displaced stress fracture of the fifth metatarsal of the right foot that required surgery before the season started. His prognosis was a six-to-eight-week recovery time.
While a Lopez-less Nets team looks incredibly awful, his injury stifles the Nets from getting Orlando Magic superstar center Dwight Howard.
The Nets were frontrunners in landing Howard, as they made his shortlist of teams he would sign a long-term contract with. However, without Lopez as a centerpiece in that trade, the Magic would be more inclined to look at the Los Angeles Lakers and Dallas Mavericks for talent.
And if Howard goes elsewhere, the Nets have no chance of retaining Deron Williams, who has stated he wants better players around him.
Bob Bajek is a Featured Columnist for the Chicago Bulls. He is also a freelance reporter and can be followed on Patch.com and Twitter.