Illinois Basketball: Has the Light Gone on for Brandon Paul?
January 15, 2012

Joe Robbins/Getty Images
Former Illinois Fighting Illini standout and current ESPN analyst Stephen Bardo called it the "best performance he has ever seen in Assembly Hall."  He was referring to Brandon Paul's 43-point outburst against fifth-ranked Ohio State last Tuesday night in Champaign, Ill., during Illinois' 79-74 victory.
Those are pretty big words coming from a guy who arguably played with some of the best players in Illini history in guys like Kenny Battle, Nick Anderson and Kendall Gill.
Bardo pointed out that what was so impressive was how efficient Paul was going 11-for-15 from the floor all while gathering eight rebounds, four blocks and playing great defense.
Since arriving in Champaign two years ago as a standout from Warren High School and fresh off of being named Mr. Basketball in Illinois, Paul has been much maligned by many people, including myself.
When you have the credentials that Mr. Paul brought along with him, that comes with a lot of expectations.
Paul has been up and down during his two-plus years in an Illini uniform and has been heavily criticized for his decision making more than anything else.
Things like settling for ill-advised jump shots instead of going to the basket and committing unforced turnovers are sometimes chalked up to being young when a player is a freshman or even a sophomore.  However, as a junior, it's just not acceptable.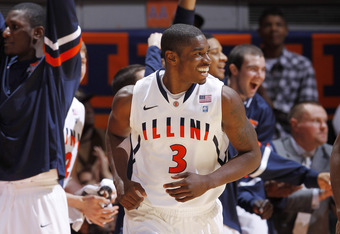 Joe Robbins/Getty Images
Despite the hot start for the Illini this season, most critics have still been clamoring for Paul to be more assertive on the offensive end and to take care of the ball.  They understand that for the Illini to take the next step, Paul must improve his game.
As good as he was with his 43 points, eight rebounds and four blocks against Ohio State, he also committed a game-high seven turnovers—many of which were unforced.
In addition, 10 of his 15 shots were from behind the arc, which worked out great since he made eight of them, but he's not going to do that consistently because he's not a great jump shooter.  He's adequate from the outside, but that's not his game.  Utilizing his athleticism to get to the hoop is his game.
Listen, I'm not here to tear down his outstanding performance against Ohio State because it was definitely outstanding.  I'm just pointing out that the areas of his game that have been a problem still remain a problem despite his heroic efforts.
Since the Ohio State game, I've heard several people making comments about him now being a great NBA prospect. While I really hope that's the case for his sake, I can't say I'm ready to go there yet.
Until Paul can display some consistency in his game, I think it's a little premature to discuss him playing at the next level.  There's no doubt that he has the talent to play at that level, but the question is can and will he do it consistently?
Perhaps the Ohio State game will be the turning point for Paul realizing his potential. At the same time, I just hope he doesn't fall in love with the three-point shot all over again and forget about getting to the basket.  In order for him to consistently score, he must get to the hoop and draw fouls.
He also must cut down on the turnovers because he has too much experience to be making some of the mistakes he has made.  It doesn't look as bad when you win, but in a loss the turnovers are magnified.  Also, against good teams, those turnovers are going to be the difference between a win or a loss.
The bottom line is that Paul has to play smarter not only for the Illini's sake, but for his own if he has any plans on playing in the NBA.
The next game for the Illini is a trip to Penn State on Thursday where they will take on a Nittany Lions team that has had pretty good success against Illinois in recent years.
I certainly don't expect Paul to have another night like he did against Ohio State, but the Illini will need another good effort from him to win in Happy Valley.
We'll see if the light has indeed gone on for Brandon Paul.