Tim Tebow: Denver Broncos QB Is Good for NFL, Religion-Based Tebowmania Is Not
January 14, 2012

Justin Edmonds/Getty Images
Tim Tebow, the young Broncos QB who has stunned the entire football world with his come-from-behind wins this season, is not, in and of himself, a bad thing for football.
He's interesting to watch, he's brought to the NFL (with the enormous help of his teammates and coach John Fox) a type of offense that, if not revolutionary, is it at least a change of pace, and has certainly helped legitimize the thinking that an NFL quarterback can be used for more than just throwing a ball.
He's mentally and physically tough, and he is not afraid to get hit. And, in an era where quarterbacks are increasingly fragile and the "roughing the passer" call has become overused in ways that would make Bart Starr turn over in his grave, this is definitely something that I can get behind.
With the rise of Tebow, however, much to my chagrin, the NFL has also become deeply immersed in something akin to a Holy War. And this is what is bad for football. True, Christianity has always been present in sports, but, with Tebowmania, the religion is—for the first time I can recall—beginning to interfere with the actual football.
Sports networks and publications talk about abortion and social values and question if Tim will endorse a Republican presidential candidate. Yes, they also talk about his amazing plays and staying power as a starter, but it is all done with a smirk and polls asking whether you think these miracle comebacks are the result of God's saving grace.
And your objective analysis of Tim as a football player has somehow taken on religious importance. Your thoughts on the passing game of the Denver Broncos quarterback have come to represent your views on the power of Jesus Christ. Church and stadium have become absurdly intertwined.
Worst of all, when these polls ask us if divine intervention helps Tebow win, 43 percent of us answer that it does. What these 43 percent of supposed "fans" are doing is unfair to football, and it is also unfair to Tim Tebow. They are taking a game characterized by hard work and blood and sweat and acting like it is something ruled by fate or luck or off-field church attendance.
They are transforming the story of a guy who battled his way from the bench to gain the respect of his teammates and coaches and the pundits who said he never could—an amazing, real, human, football story—into the story of a guy who prayed enough that God granted pity on him and magically lifted him to wins.
Does any true football fan actually prefer the latter version over the former? If you really love this game, how could you want to see it reduced to a contest over who prays the most?
I mean no disrespect to any religion or religious person. I see nothing wrong with a player pointing to the sky after a big play or even quietly praying on the sidelines, to whatever God he may believe in, if it is meaningful to him.
But these are not football actions.
They should be analyzed in Sunday school, and not on ESPN. Football fans, in football conversations, should not even slightly factor Tebow's prayer schedule into their assessment of his athleticism. He should be judged on how well he plays the game.
It is senseless and dangerous to claim that faith, more than hard work and determination, is what has allowed Tebow to do what he has done, and it is anathema to everything the sport represents. Perhaps his faith is part of his fuel, but there are dozens of nameless former college and NFL players who are devout Christians and who never have, and never will, achieve anything near Tim's success or notoriety.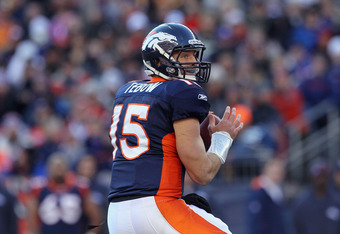 Jeff Gross/Getty Images
What sets Tebow apart from them are qualities that are distinctly universal, distinctly human—drive, toughness, desire. This is what should be celebrated. Not the story being fed to us by a small fraction of "fans" and media figures of a quarterback/saint whose success has been handed down to him on a silver platter by some omnipotent figure in white robes.
I am not sure that even Tebow, evangelical as he is, wants this.
We need to stop focusing on his sideline kneeling and talk about his 125.6 passer rating against the Steelers. We need to start asking him interview questions about his game plan, not about the way his personal life is influenced by his faith.
On the football field, Tim Tebow should be celebrated for football play, not for his religion, and his triumphs and failures should be seen as his own, bolstered or deterred by how much or how little of himself he is willing to give to his dream. That is something that everyone can identify with.
That, in my eyes, is football.