Saints vs. 49ers: 5 Predictions for Saturday's Game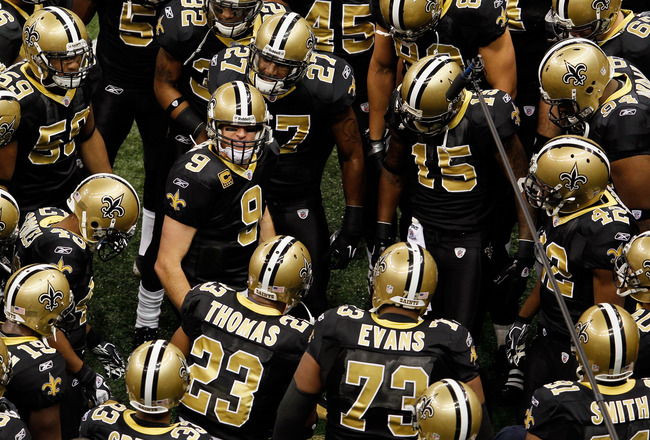 The Saints will, as always, be led by Drew Brees (9)
Kevin C. Cox/Getty Images
This is a classic matchup—a terrific offense against a stoic defense.
This afternoon, the San Francisco 49ers are charged with holding off the Drew Brees/Darren Sproles-led Saints offense that made life miserable on defenses all year.
The Saints' task is to find a way to get a leg up on a 49ers defense that has forced 42 turnovers, knowing that San Francisco doesn't turn the ball over much.
It's a home game for the 49ers, and that could prove to be the difference.
5. NaVorro Bowman and Patrick Willis Have Their Hands Full with Darren Sproles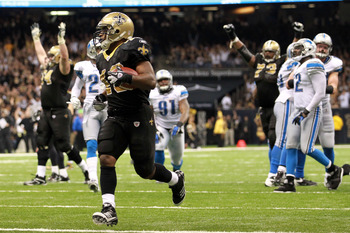 Darren Sproles, Saints
Ronald Martinez/Getty Images
San Francisco has gone a long way this year on the strength of linebackers NaVarro Bowman and Patrick Willis roaming from sidelines to sidelines shutting down some of the best running games in the NFL.
What they haven't had to do is shut down a great passing game coupled with a great running attack. That changes today when the Saints come calling in the divisional playoffs.
Sproles is a threat on his own, and when you couple that with the torrid passing game of Drew Brees, he's hard to defend.
Look for Sproles to break through some holes in the 49ers defense while Bowman and Willis are having to deal with Brees and the passing game.
4. Saints Are in for a Gore-Y Afternoon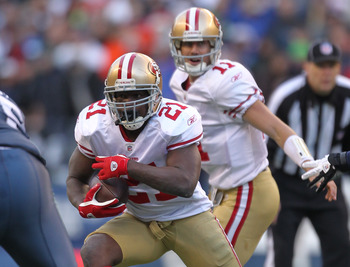 Frank Gore, 49ers
Otto Greule Jr/Getty Images
It's not too much to say that RB Frank Gore is the key man on the San Francisco offense.
It's not just that he's the leading rusher on the team, but he's often called upon to be the key backfield blocker when Alex Smith is passing.
The Saints are sure to send strong safety on a couple blitzes—he does have 7.5 sacks, after all—but Gore is among the best at deflecting that kind of pressure.
More than that, Gore is going to have to punish Harper during the running game, because Harper tends to be the Saints' last line of defense against the run.
Look for Gore to carry the day on this one.
3. Mr. Smith Goes into the Saints' Backfield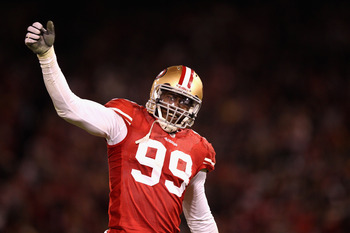 Aldon Smith, 49ers
Ezra Shaw/Getty Images
Television cameras are going to spend the day watch Saints left tackle Jermon Bushrod and 49ers defensive end Aldon Smith.
Because of Smith, the 49ers were able to sack quarterbacks 42 times without having to use their linebackers in blitzing situations.
To win this one, Smith is going to have to get the best of Bushrod, one of the best blockers in the game. Smith had 14 sacks in his rookie season. Bushrod allowed just three sacks.
Smith has a good chance to win this battle; if he doesn't, Brees is going to be free to wreak havoc.
2. The Other Tight End Breaks Through; Meet Vernon Davis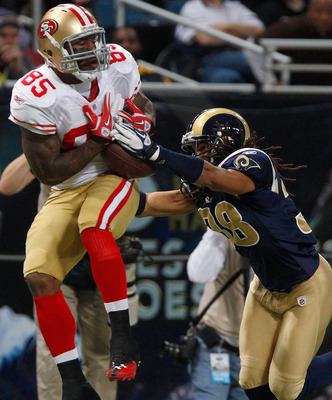 Vernon Davis, 49ers
Whitney Curtis/Getty Images
Most of the talk nationally has been about Saints' tight end Jimmy Graham, but San Francisco's Vernon Davis, who dealt with injury issues earlier in the season, is completely healthy now.
And Davis is a good one, someone likely to not take kindly to being overlooked.
He figures to come up with a breakout game against a Saints defense that will be geared toward shutting down the running game.
1. Drew Against Alex; the Battle of the Quarterbacks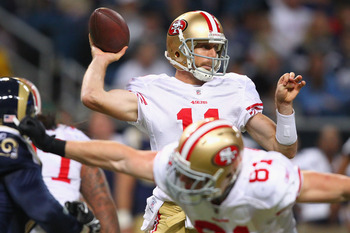 Alex Smith, 49ers
Dilip Vishwanat/Getty Images
Everybody knows about New Orleans quarterback Drew Brees, who has rewritten the record books in this, his biggest season.
Everybody should know that San Francisco quarterback Alex Smith has never been quite the player the 49ers expected when they made him the first pick in the draft.
That being said, this is a chance for the Smith to have the kind of game that will make his critics stand up and take notice.
Look for him to have a major impact—not by throwing the ball 35 or 40 or more times like Brees, but by efficiently running an offense that won't turn the ball over.
San Francisco had just 10 turnovers all season, matching the NFL record, and it's been due to Smith, who has made a habit of making smart plays this season.
One more week of that advances San Francisco one step closer to the Super Bowl.
Keep Reading