Mayweather vs. Pacquiao: Best Matchups for Fans If Megafight Falls Through
January 14, 2012

Ethan Miller/Getty Images
Floyd Mayweather's Twitter challenge to Manny Pacquiao has prompted another wave of hope from fight fans that the two sensational boxers might finally meet in the ring.
For now, though, hope appears to be all that has come out of it, as negotiations don't appear to be appreciably closer to making a Mayweather-Pacquiao bout a reality.
However, even failing that matchup, both fighters expect to be back in action this spring. 
If they can't get the bout they want, boxing fans can at least enjoy the two stars showcasing their talents against other opponents.
Floyd Mayweather vs. Saul Alvarez
Mayweather is aiming for a May 5 fight date in Las Vegas, the timing of which allows him to push back the jail term he'll be serving on a domestic violence conviction. 
The opponents featuring most prominently in that discussion have been Robert Guerrero and Saul "Canelo" Alvarez.
Guerrero is a left-hander like Pacquiao, making him a reasonable option for a possible tune-up.
However, both Mayweather and promoter Richard Schaefer have more recently pooh-poohed the idea of a Guerrero fight, perhaps because of the shoulder injury that forced Guerrero to cancel his August bout with Marcos Maidana.
Alvarez, meanwhile, is 39-0-1 and coming off a convincing November win over Kermit Cintron. 
At age 21, he certainly can't match Mayweather's experience, but he's an exciting fighter who would make for a more watchable bout than many opponents.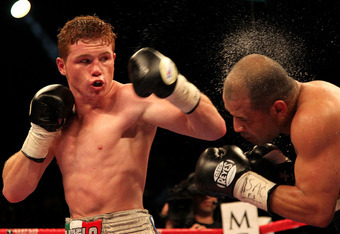 Jed Jacobsohn/Getty Images
Manny Pacquiao vs. Timothy Bradley
Pac-Man, for his part, is aiming for a fight later in May or early June, and has four main candidates for an opponent: Juan Manuel Marquez, Lamont Peterson, Miguel Cotto and Timothy Bradley Jr.
Of those, Pacquiao has already beaten two—Cotto in 2009; Marquez twice, including last November.
Peterson, meanwhile, didn't look too impressive on his home turf in last month's decision over Amir Khan, which was so sloppily judged that the WBA ordered a rematch.
That leaves Bradley, an undefeated light welterweight whose appearance on the Pacquiao-Marquez undercard last fall was seen by many as setting him up for a fight with the Filipino star.
Bradley, who demolished Joel Casamayor on that undercard, may be the WBO champ in his weight class, but he's more of a puncher than a boxer, and unlikely to be a serious threat to Pacquiao.
Still, Bradley's the most promising of the available contenders, and at least he'd be a novel opponent.