How the Philadelphia 76ers Could Land Dwight Howard
January 14, 2012

Mike Ehrmann/Getty Images
When it comes to the fans of the Philadelphia 76ers, there are two separate and distinct camps.
In one corner, there are those who want the 76ers to dump both of their high-priced veterans—namely, Andre Iguodala and Elton Brand—in an attempt to land a franchise-level talent.
There is also a vocal contingent that wants their team to stand pat in the hopes that the current unit develops into the second coming of the 2003-04 Detroit Pistons.
Ultimately, both sets of fans want the exact same thing: an NBA championship. But each group has its own unique theory on how to accomplish that goal.
On the surface, it appears that the team is committed to its current roster, intent on staying the course. Then again, they may be considering another option entirely—an option that could potentially land them the biggest prize in this summer's free-agent class: Orlando Magic center Dwight Howard.
However, quite a few things have to fall into place before fantasy can turn into reality.
Assuming that the 76ers pick up the options this offseason on Evan Turner, Jrue Holiday and Craig Brackins, the team is committed to approximately $58.55 million in salaries for 2012-13. That figure would put them slightly under next year's salary cap, which is projected at approximately $60-61 million.
Clearly, that doesn't leave them much room to make any sort of significant upgrades via free agency. However, the team could take the bold step of using the NBA's new amnesty clause on Brand—a move that would free up nearly $18.2 million in cap space.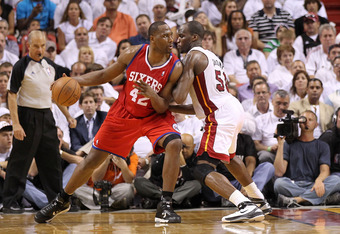 Mike Ehrmann/Getty Images
Doing so would allow the 76ers to sign Howard, who will undoubtedly opt out of the final year of his deal if Orlando fails to trade him this season.
The potential addition of Howard would give the Sixers one of the more potent starting lineups in the entire NBA:
PG: Jrue Holiday
SG: Evan Turner
SF: Andre Iguodala
PF: Thaddeus Young
C:  Dwight Howard
With a reserve unit consisting of Lou Williams, Jodie Meeks, Craig Brackins and Nikola Vucevic—not to mention any players acquired through the draft or via the team's mid-level exception—the 76ers would become instant contenders in the Eastern Conference.
For those concerned about Young's ability to guard opposing power forwards, the presence of Howard in the interior should allay those fears.
Case in point: the Orlando Magic currently sit atop the Southeast division with an 8-3 record, despite the fact that Howard shares the frontcourt with two players not necessarily known for their defensive prowess (Ryan Anderson, Hedo Turkoglu).
Again, the stars would have to align just right for all of this to come to fruition. For starters, the 76ers' new ownership group has to be willing to eat the last year of Brand's contract at more than $18 million (assuming that another team doesn't pick him up).
That isn't entirely out of the realm of possibility, however. In a recent interview, 76ers general manager Rod Thorn made it clear that the team wasn't opposed to making significant changes.
"I think we have some assets now that are valuable, some younger assets that will be increasing, and... it could put us into an advantageous position to do different things," said Thorn. "We have high hopes for this young nucleus. We'll see how it comes together and plays together and then be in a good position to move forward."
More importantly, not only would the Magic would have to retain Howard's services this season (since he'll likely sign an extension, if traded), but Howard would also have to agree to sign in Philadelphia. Until now, his wish list of preferred destinations only includes three teams: the New Jersey Nets, Dallas Mavericks and Los Angeles Lakers.
That said, if the 76ers have a strong showing in the playoffs this year, Howard may be more amenable to playing in Philadelphia. Even if he chooses to go elsewhere, the 76ers would still be in position to make a run at Minnesota's Kevin Love, provided that he doesn't sign an extension prior to the January 25 deadline.
It all revolves around Philadelphia's decision on whether or not to use the amnesty clause on Brand this summer. Doing so would make the team a player in the free-agency market for the first time in years. Otherwise, it may be a while before a true superstar-level talent dons a 76ers uniform.
The opportunity for the 76ers to be aggressive and to grab the brass ring is here. And the belief that the team should do whatever it takes—within reason—to get Dwight Howard is the one thing that pretty much all 76ers fans can agree on.