Eric Gordon and the New Orleans Hornets: 5 Keys to Success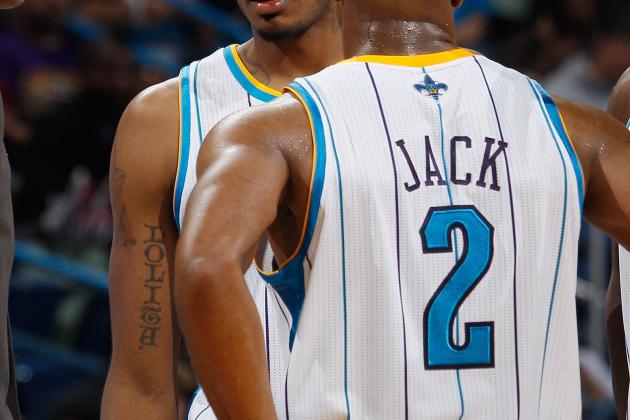 Chris Graythen/Getty Images

As the New Orleans Hornets have struggled to make ends meet this year, the absence of Chris Paul has certainly affected the team's ability to compete at a high level.
New Orleans has also been plagued with early injuries sustained by Trevor Ariza and Eric Gordon. Through the first few weeks, the Hornets have already dropped to last in the Southwest Division.
However, the season is still early and the window of opportunity remains open.
Here are five things that need to happen for the Hornets to be successful.
Begin Slideshow

»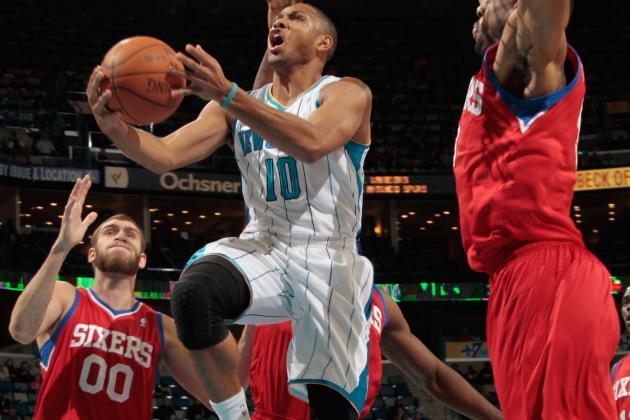 Chris Graythen/Getty Images

Out of the 11 games the Hornets have had this year, only two of them have included Eric Gordon.
The few times he has played, he's put up 20 or more points, including a go-ahead shot to win the first game of the season against the Suns.
This is not the first time Gordon has dealt with an injury. He only played 56 games last year, due to a sprained wrist and 62 the year before. After being ruled out for two to three weeks with a sore knee, the Hornets offense has been in shambles.
Eric Gordon is clearly the main scoring option, and throughout his absence, Marco Belinelli has done a lackluster job as a replacement.
Moving forward, Eric Gordon's health will dictate the flow of the Hornets season, as without him, there isn't much room for optimism.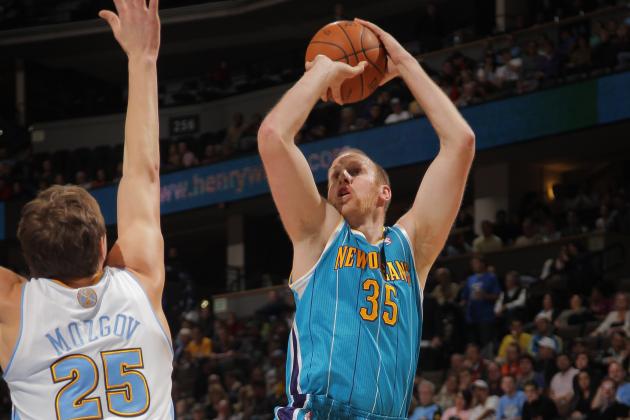 Doug Pensinger/Getty Images

Right now, the Hornets are averaging 86.5 points per game, which is the third-worst in the league.
The Hornets simply lack depth when it comes to shooting.
They're one of the worst three-point shooting teams in the NBA at 27.2 percent and have struggled at the free-throw line as well.
With Gordon out, the Hornets need to rely on their big men.
Landry is tough as nails in the post and Okafor has developed a very nice touch around the rim. Chris Kaman can also score, and he has a great shot from mid-range.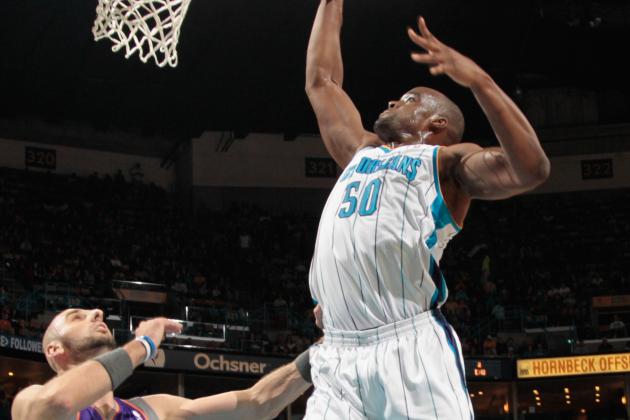 Chris Graythen/Getty Images

One really positive aspect for this Hornets squad is the depth of their big men. The only problem is, who do you start?
For the first six games of the season, it was Landry and Okafor. Then Landry got bumped out and was replaced by Kaman.
Unfortunately, all three of these guys deserve starters minutes, but there are only so many minutes to go around. It should also be noted that Jason Smith and newcomer Gustavo Ayon have worked their way into the mix as well.
The Hornets need to fully establish a big man rotation, and hopefully Monty Williams and his staff will be able to bottle up all of their frontcourt talent into a recipe for success.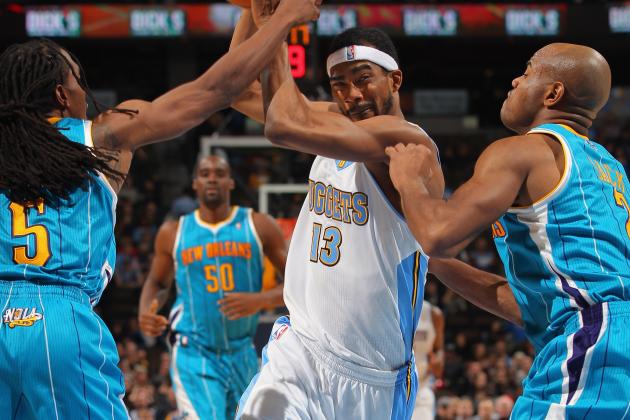 Doug Pensinger/Getty Images

Ever since Monty Williams took the reins as head coach a year ago, he put the majority of his emphasis on defense. So far, this approach has proven to work.
The Hornets are fifth in the league in defense, allowing only 91 points a game.
Yet, when you're only averaging 86.5 points on offense, you're not going to win many games. Therefore, some attention will need to be shifted to the other side of the ball.
It should be noted, however, that when Eric Gordon finally does return, their low scoring mark will likely increase. And by that time, new players on the team will have become more acclimated to Monty Williams' system.
Nonetheless, it's important that the Hornets continue to do what they do best, and keep their identity as a defensive squad.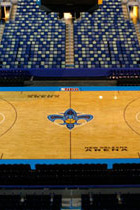 Courtesy of http://www.neworleans.com
There's nothing like home-court advantage to get a team going in the fourth quarter of a close game—that is if there are fans present in the stands.
There isn't much more the Hornets can do to improve fan support at this point.
Even after selling a large number of season tickets, the Hornets are 27th in league attendance and that ranking is not likely to improve any time soon.
Why?
Perhaps Sean Payton, coach of the New Orleans Saints, can answer that question.
New Orleans is home to some of the most enthusiastic football fans in the NFL, and the Hornets will never be embraced like their neighbors in the Mercedes-Benz Superdome.
Even so, it's important that the Hornets organization continue to raise awareness in fans, and make them recognize the importance of supporting the team while they try to rebuild in a post-Chris Paul era.