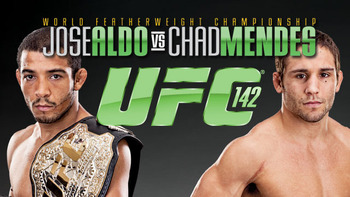 Top to bottom, UFC 142 may not appear on paper to be as loaded as some of the more recent events that Dana White has churned up for us. But rest assured, there are several highly competitive bouts on this card that are sure to please, and more than a few spots with above-average betting value.
For my first highlighted fight, we dive into the undercard...
Gabriel Gonzaga vs. Edinaldo Oliveira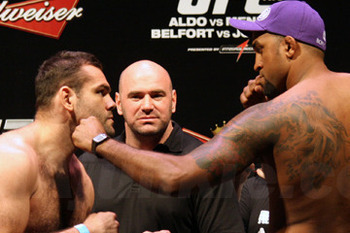 The lone heavyweight tilt on tonight's card sees the return of Gabriel Gonzaga to the UFC after being let go in 2010 following a knockout loss to Brendan Schaub. In his return, he welcomes former WFE Heavyweight Champion Edinaldo Oliveira.
Oliveira, a training partner of UFC heavyweight kingpin Junior Dos Santos, is undefeated in 14 professional fights, with eight of his victories coming by way of knockout or technical knockout. Gonzaga, mostly remembered for his epic head-kick knockout of Mirko Cro Cop at UFC 70, has been wildly inconsistent since that landmark victory.
There is a public misconception that Gonzaga is a top striker. While his knockout of Cro Cop is undoubtedly one of the greatest in UFC history, he has actually been finished by technichal knockout or knockout as often as he has been victorious in that manner (five each). With the exception of Cro Cop, he has never knocked out a premier striker.
While Oliveira may not fall into that category, he does have an amateur boxing background, and is very comfortable in the stand-up. Oliveira will be enjoying a sizeable reach and height advantage in this fight, and should be able to dictate the pace.
Gonzaga is a Brazilian jiu-jitsu black belt, and in my opinion his best chance an winning this fight is to take it to the ground and work for a submission. There are several problems he may encounter in doing that, however.
For one, Oliveira has above-average takedown defense and rarely has been forced to fight off his back. Furthermore, even if Gonzaga is successful in acquiring a takedown, Oliveira is also a black belt and will not be dealt with easily. Also, it cannot be forgotten that Gonzaga has made a poor habit in the past of getting involved in ill-advised slug-fests, many ending in his opponents favor.
The Play: I feel that this fight will take place mostly on the feet, which I feel will be advantageous to Oliveira. At even money, he is a great value. Also, keep in mind that heavyweight striking matches in MMA rarely go the distance, so I also see some value in Oliveira inside the distance at +172, and as a potential Knockout of the Night winner at +800.
Thiago Tavares vs. Sam Stout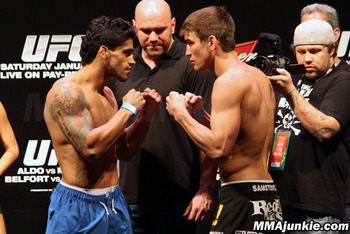 This one will be fun. With a combined six Fight of the Night bonuses between them, Sam Stout and Thiago Tavares are guaranteed to bring it.
Tavares is coming off the heels of an impressive victory over Spencer Fisher at UFC 134, and will be fighting in Brazil for the second time in five months. Stout himself is coming off of a landmark victory, and perhaps his most impressive performance in his UFC career, a devastating first-round knockout of Yves Edwards in June.
Tavares is a Brazilian jiu-jitsu blackbelt with an array of impressive finishes in his career. He punches very hard, but wings many of his power punches and is more of a brawler than a technical striker. This style was on full display in his fight with Shane Roller, where he dropped Roller early with a looping right but fell victim to a second-round technichal knockout.
Stout is a very well-rounded fighter with crisp striking and very solid takedown and submission defense. Stout has never lost via technichal knockout/knockout.
If he is smart, Tavares will most likely look to close the distance and do work on Stout from the clinch, ultimately looking to score a takedown and utilize his excellent grappling. Stout, on the other hand, will look to keep it in the stand-up and utilize his reach while pushing the pace.
The Play: Sam Stout is a crowd pleaser, and his style never disappoints the fans. Tavares, too, has been known to engage in fast paced affairs, so I would expect a barn burner. Stout will likely get caught at some point, but his durable chin will allow him to continue to attack through adversity.
While I could see Stout ending this short of the final bell, I think it is more likely for him to take home a decision win, making this fight a prime candidate for Fight of the Night at +375. Sam Stout is also +110 and carries good value.
Edson Barboza vs Terry Etim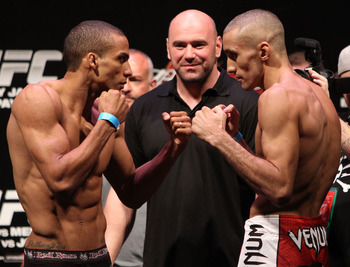 Another excellent scrap. This one actually is probably MORE likely to be an amazing war than the previous fight for a combination of savory reasons: 1) Both love to strike, and are very technical. 2) Neither has ever been finished by strikes (Edson Barboza is also undefeated).
This fight is fairly straight-forward in my opinion. They will stand and bang, and the best man will win.
The Play: Both are excellent to watch, and you couldn't ask for a better fight to open up the main card. I feel Barboza is more technical and has more tricks up his sleeve, and should pull this one off. This is my favorite for Fight of the Night at +330. Also, there is very good value in Terry Etim at +250 to pull off the upset in what should be a back-and-forth contest.
Additional Thoughts...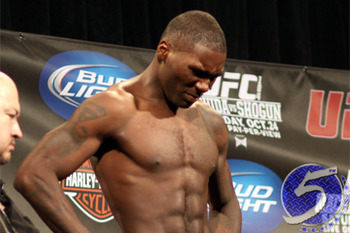 Don't discount Carlo Prater. The cagey veteran is a heavy underdog (+450), and his game could present problems for young phenom Erick Silva, who is most likely overvalued after his quick dispatch of Luis Ramos at UFC 134.
Mike Kyle is my darkhorse for Submission of the Night at 10 to 1 (+1000). Rousimar Palhares is the huge favorite to take the honor (+170), but I see huge value in Kyle in a sport where anything can happen.
I wanted to tell you that Anthony Johnson would grind out a decision win against Vitor Belfort, but his weight-cutting debacle made me second-guess. It's just a toss-up as to how he will perform. My bold prediction is that this fight has only two outcomes: Belfort finishes it early or Johnson grinds out a decision.
Chad Mendes (+205) may look like a solid value, but something tells me that Brazil will bring out the animal in Jose Aldo. I think he will be straight nasty tonight.
Keep Reading