Indiana vs. Ohio State: TV Schedule, Live Stream, Spread Info and More
January 14, 2012

Jamie Sabau/Getty Images
While most will probably be checking out Green Bay vs. New York in the NFL playoffs, college basketball gets to showcase a fantastic matchup of Big Ten powers. The Ohio State Buckeyes (15-3, 3-2 Big Ten) host the Indiana Hoosiers (15-2, 3-2 Big Ten) on Sunday.
Ohio State will be looking to avenge their 74-70 defeat on December 31 at Assembly Hall. Both teams will be looking to avoid losing two straight for the first time this season. 
Where: Value City Arena, Columbus, Oh
When: Sunday, January 15, 2012, 4:30 p.m. ET
Watch: CBS
Listen: IU Radio Network, Sirius 93, XM 190
Live Stream: ESPN3.com
Betting Line: No betting line
Key Injuries
Hoosiers: Maurice Creek (Achilles) out for season.
Buckeyes: No injuries to report
According to usatoday.
What's at Stake?
Ohio State and Indiana are chasing Michigan State (4-0) for the Big Ten regular season championship. A loss by either team would send them to 3-3 in the conference, which would put them behind the eight ball for the tough grind that is the Big Ten Conference.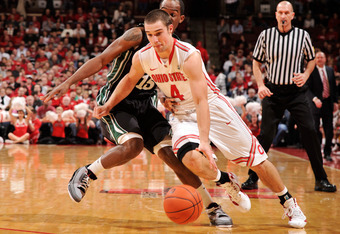 Jamie Sabau/Getty Images
The winner of this game would keep pace with Illinois and Michigan, who are both 4-1 in the conference.
It's the time of year when seeding in your conference tournament becomes vital. No game is easy pickings in the conference, but it would be ideal to finish in the upper echelon of the conference.
What They're Saying
Via SI.com:
"Coach (Thad) Matta always talks about how we have another gear, where we can take our games to the next level,'' the 6-foot-9 All-American Jared Sullinger said. "I guess our coaches, they feel like I'm the best player so they feel like if I take my effort and leadership to a whole other level, everybody else is going to follow me.''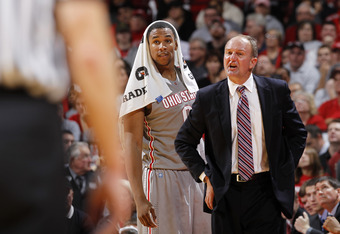 Joe Robbins/Getty Images
"We don't have a lot of guys that have come from winning backgrounds," coach Tom Crean said after Thursday's 77-74 loss. "When you start to win, as things change around you, your mindset can't change. They've got to learn; they've got to grow through that. This is new for them."
Hoosiers Player to Watch: Christian Watford
Christian Watford has been great this season for the up-and-coming Hoosiers. There have, however, been games when he struggles from the floor. Of course we are nitpicking here, but Watford is only 3-of-17 in the past two games.
Andy Lyons/Getty Images
He shot only 3-of-10 against Ohio State for 10 points in their previous meeting.
Watford has been the go-to guy for the Hoosiers all season long. He's been easily up to the challenge and he's ready to do it again.
He is the only outside scoring threat for the Hoosiers that is capable of putting up 25 or more points in any given game. When he plays well, Indiana is one of the best teams in the country.
Buckeyes Player to Watch: William Buford
Jared Sullinger gets all the love for the Buckeyes and rightfully so, but a player that consistently flies under the radar is William Buford. He is second on the team in scoring (15.4), rebounding (4.6) and assists (3.4).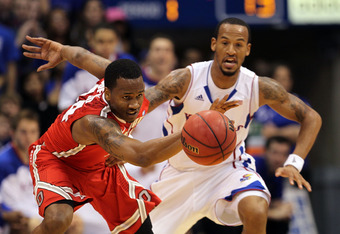 Jamie Squire/Getty Images
Buford quietly does it all on the floor. He and his dominant mid-range game has been one of the most consistent players in college basketball during the past four years. He has averaged double-figures in scoring every season in Columbus.
He shot 3-of-7 from the floor for eight points against Indiana. His shooting percentage has been dreadful (31 percent), but he continues to jack up shots, which is a sign of a true scorer.
Watch for Buford to play well at home against the Hoosiers.
Key Matchup: Cody Zeller vs. Jared Sullinger
Two of the best big men in the country go one-on-one in the paint on Sunday. Sullinger is averaging 17.4 points on 60.5 percent shooting while averaging 9.3 rebounds. Zeller is averaging 14.7 points and 6.5 rebounds per game.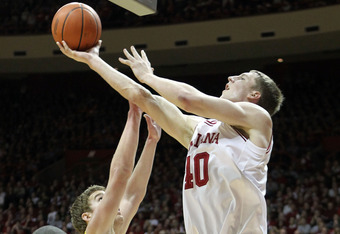 Andy Lyons/Getty Images
This is your classic size vs. athleticism matchup. One knock on Zeller is his strength and one knock on Sullinger is his athleticism. The latter's 60.5 percent shooting percentage tells you that he uses his large frame to gain great position on the block.
Will Zeller be able to match up with Sullinger physically in the paint?
It will be interesting to see if Sullinger can get Zeller on the bench with foul trouble. Whoever wins the battle down low could determine the outcome of the game.  
Prediction: Ohio State 64, Indiana 60
Big Ten conference play tends to see low-scoring affairs. Ohio State will win this game to avenge their previous defeat at Assembly Hall. Indiana is a young team that has only experienced winning this season.
How will they handle defeat as a collective group?
I think they will struggle and come out with their second straight loss.