On Friday the 13th, the New York Yankees leaped out of the shadows of irrelevancy this offseason by acquiring starting pitchers Michael Pineda and Hiroki Kuroda. Pineda, who is essentially being deemed "The Prince" to "King" Felix Hernandez, is a dominant 22 year old pitcher with one dominating season already under his belt. Kuroda, also being known for his consistency, was signed to a one year deal worth up to $10 million dollars.
Solidifying their rotation at a relatively low cost, the New York Yankees have now immediately become the favorites to win the AL East this upcoming season. Needless to say, the Boston Red Sox have not made such an impact this offseason that New York made in one day.
Of course, Boston acquired Andrew Bailey and Mark Melancon for their bullpen as well as some low cost starting pitchers such as Carlos Silva and Aaron Cook, but to say these men will really help lead Boston to the World Series would be a lie. While they stacked up the bullpen, the starting pitching is still a big question mark for the Red Sox 2012 campaign.
There are far too many questions in Boston's starting rotation beyond Josh Beckett, Jon Lester and Clay Buchholz to truly be confident that they could not only survive in the playoffs, but to get there to begin with. With the Yankees and Rays having very resourceful pitching depth, Boston needs to start building their depth back to the level it once was at.
Of course, with no disrespect to Carlos Silva or Aaron Cook, they cannot be called impact players even if they have solid comeback seasons. They will not have the same effect as Kuroda and Pineda will have in New York, so it is now time for Ben Cherington to be aggressive in his search for pitching.
What could Cherington possibly do to outdo New York? While he does not need to set out and acquire Felix Hernandez or any other farm system depleting pitcher, he does need to take some risks and finally spend some money on pitchers who are at least guaranteed to be all around and consistent back of the rotation starters. And to those who say the luxury tax is truly stopping Boston from spending money, look at the Yankees who threw $10 million dollars on a pitcher when they were supposedly unable to make any big acquisitions this offseason either.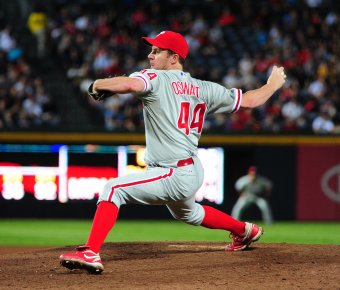 Scott Cunningham/Getty Images
The free agent market may not be filled with top tier aces but that is not what Ben Cherington needs to look for. What Cherington needs to do is go out and immediately bring Roy Oswalt to the Sox in a Hiroki Kuroda-like deal. Perfectly countering that signing from New York, Boston will now have a solid number four starting pitcher. Going 9-10 with a 3.69 ERA last season, Oswalt would be a perfect guy to fit the mold of what Boston needs. However, they need to make this move now, opposed to waiting for the Texas Rangers to go and grab him.
While Oswalt is now more of a necessity than a feather in the cap acquisition, Boston still needs to look for more depth. Trading for Matt Garza would be the ideal solution to bring in from the Chicago Cubs. Despite the asking price being through the roof, Cherington and Epstein could easily work out a deal that not only brings Garza to Boston, but gives Epstein one or two solid prospects and ends the compensation dilemma that is still looming over both of them. As a part of the compensation, the Sox should not have to spend as much as Epstein would like in order to get their guy.
Would this necessarily happen? Some may agree, while others may not, but if that deal wouldn't serve as a problem solver, I don't know what else would. As of now, no team is willing to empty their pockets for Garza like Epstein expects. So as time passes I do believe Cherington will be back in hot pursuit of Garza, who too is almost a necessity to Boston now as they have to deal with such a strong Yankees rotation.
Some may feel as though Daniel Bard, Alfredo Aceves, Aaron Cook, and Carlos Silva will pan out to be very serviceable starting pitchers for the Red Sox, and they are not truly wrong in thinking so. However, nobody out there can say that any of those men will truly serve as legitimate threats in the way that the Yankees rotation now will. Those men will serve as quality spot starters in case of injury or solid long relievers. But now, Ben Cherington needs to go out and acquire some pitchers that will truly make an impact this season.
Brian Cashman ignited the flame and now Ben Cherington has to find quality pitching and compete. Sitting back and relying on the previously mentioned will not bring Boston anywhere this coming season. Though they are all quality depth pitchers, none of them will bring what a Roy Oswalt or especially a Matt Garza will bring to the table. The Red Sox are good, but they are going to need to be great and starting pitching has always proven to be the key that leads teams to championships.
Follow me on Twitter @Str8edgeRallo