UFC 142 Results: Burning Questions Heading into UFC on FX 1: Guillard vs. Miller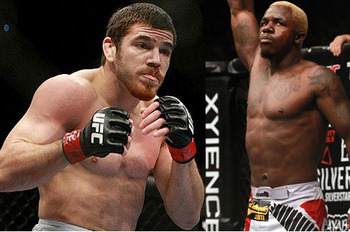 Josh Hedges/Zuffa LLC/Zuffa LLC
UFC 142 is in the books, and the full results are below:
Jose Aldo defeats Chad Mendes via knockout at 4:59 of Round 1
Vitor Belfort defeats Anthony Johnson via submission at 4:49 of Round 1
Rousimar Palhares defeats Mike Massenzio via submission at 1:03 of Round 1
Carlo Prater defeats Erick Silva via disqualification, Silva disqualified at :29 of Round 1 for illegal strikes to the back of the head
Edson Barboza defeats Terry Etim via knockout at 2:02 at Round 3
Thiago Tavares defeats Sam Stout via unanimous decision (no scores given)
Gabriel Gonzaga defeats Edinaldo Oliveira via submission at 3:22 of Round 1
Yuri Alcantara defeats Michihiro Omigawa via unanimous decision (30-27, 29-28, 30-27)
Mike Pyle defeats Ricardo Funch via TKO at 1:22 of Round 1
Felipe Arantes defeats Antonio Carvalho via unanimous decision (29-28 x 3)
What follows are the burning questions facing the UFC as they head into their first event on FX, which is set to take place on Friday, Jan. 20 from the Bridgestone Arena in Nashville, Tenn.
Can Charlie Brenneman Get Back on Track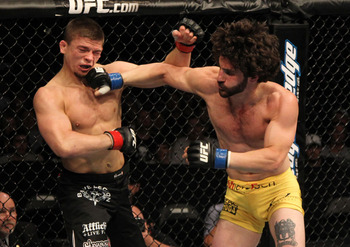 Josh Hedges/Zuffa LLC/Zuffa LLC
To say that Charlie Brenneman came from out of nowhere to defeat Rick Story on the June 26, 2011, UFC Live fight card would not be 100 percent accurate. Brenneman entered that fight as a last minute replacement for Story's original opponent Nate Marquardt and ended Story's six fight wining streak via unanimous decision.
However, prior to that victory Brenneman had compiled a professional record of 13-2, so he was not an unknown commodity.
To say that the upset victory elevated the expectations for Brenneman to an unrealistic level may be true, for he had only fought for the UFC three times before meeting Story, winning two fights and losing one.
After the Story bout he was booked to face Anthony Johnson, a feared striker and one of the largest men to compete in the welterweight division. Johnson dispatched Brenneman at the 2:49 mark of Round 1, via a head kick TKO.
On the UFC on FX card Brenneman will look to get back on track and once again get his name on the mind of the UFC and its fans. Brenneman will meet Daniel Roberts on the evening's preliminary card. Roberts last fight took place on the same card where Brenneman defeated Story. Roberts was not as fortunate as Brenneman that night, dropping a unanimous decision to Rich Attonito and extending his losing streak to two consecutive fights.
Who Is Khabib Nurmagomedov?
Khabib Nurmagomedov will make his UFC debut on Jan. 20, when he faces Kamal Shalorus in a lightweight contest that will air on the evening's preliminary card.
Nurmagomedov brings a 16-0 record with him into the Octagon, winning six of those fights by knockout, six by submission and four by decision. His latest victory was a first-round TKO over Arymarcel Santos on Oct. 22, 2011.
Along with his undefeated MMA record, the 23-year-old Russian is also a three-time combat sambo world champion.
Will We See the Career of Jorge Rivera Come to a Close?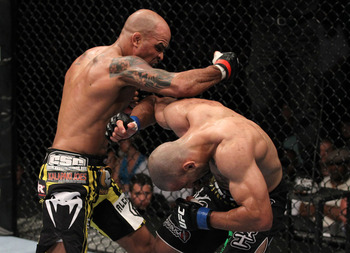 Josh Hedges/Zuffa LLC/Zuffa LLC
Jorge Rivera has been around MMA for a long time, making his debut in 2001 and first stepping into the Octagon at UFC 44, where he defeated David Loiseau via unanimous decision. Since his debut he has put together a professional record of 18-9.
Rivera's last two fights have not gone in his favor, losing to Michael Bisping via TKO at UFC 127 and then dropping a split decision to Constantinos Philippou at UFC 133.
After the loss to Philippou, Rivera contemplated retirement, ultimately deciding against hanging up the gloves and agreeing to meet Eric Schafer in Nashville.
With a loss Rivera may get some help from the UFC in making his decision as it will put him at the dreaded three consecutive losses, a number that has seen many UFC fighters shown the door from the organization.
What Would a Loss Mean to Pat Barry?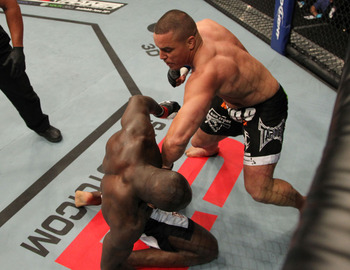 Josh Hedges/Zuffa LLC/Zuffa LLC
Pat Barry is one of the more entertaining fighters in the UFC. Inside the Octagon the 5'11" heavyweight, with a background in kickboxing, never leaves the fans wanting more. His battle with Cheick Kongo in June of last year was one of the more memorable fights of the year. In that bout, Barry looked to have put Kongo away on two occasions only to have Kongo come back to end Barry's night in stunning fashion. Even more impressive was that all the action took place in a mere 2:39.
Outside the cage, Barry is one of the more amusing fighters, using social media to its fullest to engage fans of the sport. His pre-fight YouTube videos leading up to his Oct. 1, bout with Stefan Struve led to response from Struve and his camp that were equally amusing. And who could ever forget his "California Dreaming" duet with Mirko Cro Cop?

With all that being said, Barry's UFC record leaves something to be desired, as he has gone 3-4 in his seven UFC bouts, including two consecutive losses heading into the UFC on FX event.
If Barry drops his fight to Christian Morecraft he may be in danger of losing his employment with the UFC, or he could become another fighter that will be granted a pass, much like Dan Hardy has been, despite his four consecutive losses. Face it, it's not just wins and losses that keep you in the UFC, sometimes it's a fighters willingness to always "bring it" inside the cage, something that Barry has shown a willingness to do.
Who Is Jared Papazian?
Jared Papazian will face Mike Easton in a bantamweight fight on Jan. 20. It will be the first fight in the UFC for the 14-6 former King of the Cage champion. Papazian will enter the Octagon on a three fight winning streak.
In December of last year, Papazian had not yet signed with the UFC, but that did not stop him from offering his take on some of the UFC's recent signings, "I think I could've done better than some of these guys they've been bringing in as late replacements," Papazian told Sherdog. "I was disappointed in [Alex] Soto's performance against Michael McDonald [at UFC 139]. I saw that fight and just knew I could do better than he did."
Papazian will get the chance to back those words up as he steps into the Octagon in much the same way Soto did, as a late injury replacement.
What Does the Main Event Mean?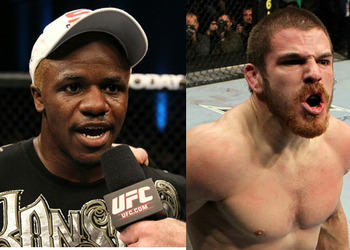 Josh Hedges/Zuffa LLC/Zuffa LLC
Not too long ago both Melvin Guillard and Jim Miller looked to be on their way to earning title shots in the UFC lightweight division. Both fighters had those shots snatched away from them in their last bouts.
Guillard was riding a five fight winning streak when he met Joe Lauzon at UFC 136. After a mere 46 seconds that fight had come to a close as Lauzon dominated, earning the submission victory via rear naked choke and adding the "Submission of the Night" bonus to his take home pay.
For Miller, his last fight went the entire three rounds, but he was never really in the contest as Benson Henderson steamrolled Miller on his way to a unanimous decision victory (30-27, 29-28, 30-26). Prior to the loss to Henderson, Miller had been on a seven fight winning streak. The win gave Henderson, a former WEC champion a shot at Frankie Edgar's UFC lightweight crown at UFC 144.
The lightweight division is one of the most competitive in the UFC to think that a victory in this bout would put the winner in line for an immediate title shot is most likely unrealistic, but it may not put them that far away from that shot, maybe two or three fights, the loser, well, that's another story.
Keep Reading