NFL Draft 2012: Alshon Jeffery and Risky First-Round Picks
January 14, 2012

Streeter Lecka/Getty Images
Sometimes the NFL Draft is hit or miss. First-round selections aren't as sure as you may believe. With every player comes a certain risk-factor. These three players provide major risks for any NFL franchise that may call their name.
Alshon Jeffery, WR, South Carolina
Alshon Jeffery has all the tools to become a stud in the NFL. His 6'4" 230-pound frame accompanied by his length really has scouts reeled in. He has great hands, good acceleration and possesses the ability to be dynamic after the catch with his size and strength.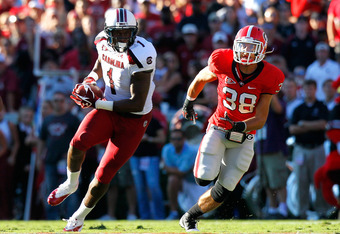 Kevin C. Cox/Getty Images
However, Jeffery isn't a great route runner, doesn't have elite speed and doesn't always get separation from corners that you would think he could.
He had one great season at South Carolina, and that was last year when he caught 88 passes for 1,517 yards and nine touchdowns. You can say that this year's quarterback problems at South Carolina hurt his productivity, but 49 receptions for 762 yards is still a little worrisome.
Right now he seems to be a late first-round draft pick. Of course he has the potential of being a great NFL player, but there is also some risk involved. 
Kendall Wright, WR, Baylor
Don't take this as me hating on Kendall Wright, but is it possible that most of his production was because of how great Robert Griffin III was? He recorded 103 receptions for 1,663 yards and 14 touchdowns this past season.
Sarah Glenn/Getty Images
There is no question that his career has been unbelievable with the Baylor Bears, but there are some questions that should be raised.
Draft scouts have him ranging anywhere from No. 10 to No. 24. Is he a true No. 1 wide receiver in the NFL?
I think that he could be, but I'm not sure if I'm taking Wright if I have a top-25 pick.
Wright still needs to improve his route-running ability and his strength if he plans to have a successful career. His 5'10", 190-pound frame doesn't scream No. 1 wide receiver to me.
Wright can be a dynamic playmaker in the NFL, but it has to help when you play with a Heisman Trophy winner.
Janoris Jenkins, CB, North Alabama
Off-the-field issues can be a major issue to some teams in the NFL and others will simply turn their cheek. Janoris Jenkins has had a few off-the-field issues that have really put a damper on his collegiate career and they can't be overlooked.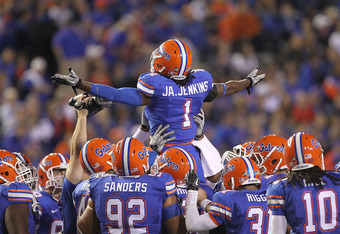 Mike Ehrmann/Getty Images
After being dismissed from Florida, Jenkins decided to play out his collegiate career at North Alabama. Jenkins, still a first-round talent, will be looked at differently given the talent level he faced this past season.
Aside from problems that he can control, his size is an issue that he can't. At 5'11" and 185 pounds, Jenkins could have trouble matching up against NFL wide receivers.
Jenkins is definitely a first-round NFL selection, but who will be willing to take in his baggage? It's definitely a risk/reward type of situation.