Duke Blue Devils vs. Clemson Tigers Preview and Prediction
January 14, 2012

Grant Halverson/Getty Images
Things happen throughout a season that will make or break a basketball team. Losing to Temple on the road could have crippled many teams, but not Duke.
Sunday, they will look to invade Little John to prove that their road woes are officially behind them.
On the season, Duke's two losses and two worst games have happened away from the friendly confines of Cameron. They simply don't look comfortable, and their defense struggles. Letting the other team get comfortable at home is a recipe for a loss, and that is exactly what Duke has to avoid at Clemson.
Clemson is an average ACC team that has had an up-and-down season. The Tigers' offense ranks at the bottom of the conference with a scoring average of 64.2 points per game. The strong spark of this team is their defense, but even it is average, at best, on most nights.
Leading the Tigers will be senior Andre Young. The guard scored just more than 13 a game and is the leader of this team. Scoring 210 points on the year, he is 14th in the ACC in scoring. Not one of the ACC's best, but Young has scored double-digits in five straight games, and if Clemson is going to keep this one close, he has to have a big night.
Helping Young will be fellow senior Tanner Smith. Smith is another guard who provides a powerful No. 2 punch. While Tanner is not the scoring threat that Young is, he can explode for points, as he proved when he scored 26 against Southern Illinois less than a month ago.
After Young and Smith, the scoring is harder to find than Bigfoot eating a Snickers on your front porch.
Duke is one of the best teams in the nation. While they are considered by many in the mass media to be a "weaker and less able" Duke team, they are still Duke. The D on their chest means they still get everyone's best every single night—and this will be no exception Sunday night.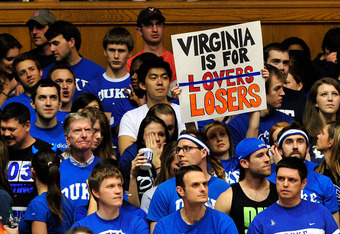 Grant Halverson/Getty Images
The big question in this one is, how well will Duke do on the road?
The Blue Devils have been vulnerable this season away from home, and a loss to Clemson could put a dagger through the heart of this team. At times I have questioned the chemistry and togetherness of this squad, and that type of loss could spell trouble.
That being said, I don't think that is going to be a problem.
Seth Curry likes to play against the Tigers, and you can expect this one to be no different. As the season hits the conference crunch, Curry needs to become the star this teams needs. Expect him to force a few shots and try to make a huge impact on this one.
Curry's best way to make an impact may be to get the ball to Mason Plumlee; Duke is a better team when Plumlee gets touches.
Averaging just under a double-double on the year, Plumlee could be the most consistent player on this squad. His problem is that a hack-a-Shaq defense will work because he has a ton of trouble from the free-throw line. He is the worst free-throw shooter on this team, but if Plumlee can correct that problem, then he can be a force down the stretch.
Prediction
On paper this shouldn't be a game. Duke is better in every single statistical category.
That being said, the Blue Devils struggle on the road. Expect this one to be close early and for Duke to run away with it in the second half. This is a game that Duke needs to exploit the big men and dominate down low. The Plumlee's should tame the Tigers and control the boards from start to finish.
Duke will win by a count of 78-62.