NFL Draft 2012: Power Ranking RGIII's Likeliest Destinations
January 14, 2012

Ronald Martinez/Getty Images
With a Heisman Trophy and amazing college numbers, Robert Griffin III is heading into the 2012 NFL draft as a wanted man.
Teams with serious questions looming at quarterback that will find it hard to sit back and watch as another team takes Griffin. Like watching all of the other kids open Christmas gifts while you enjoy a present that now feels inadequate.
As good as Griffin is, there will be teams that overvalue the young talent's potential and go far too high grabbing him. With all of the potential to be a bust, RGIII's likeliest destination will also become the spot with the hottest hot seats.
Washington Redskins
The Redskins will officially pick at No. 6 in the draft this year, but there are experts that think the Redskins will have to trade up to get their star. And owner Daniel Snyder wants a star.
Washington will do whatever it takes to draft Griffin when April comes, including moving into the No. 2 spot in the draft to ensure that they don't miss the opportunity to groom this young prospect.
Redskins head coach Mike Shanahan has always thought of himself as a quarterback mad scientist, so when he sees a mobile quarterback like Griffin that can pass, he thinks John Elway.
While there is no comparison between Elway and RGIII, Shanahan is convinced that he is always right and will risk everything to take the Heisman winner.
Odds: 90%
Jacksonville Jaguars
With the departure of former coach Jack del Rio and the arrival of former Atlanta Falcons offensive coordinator Mike Mularkey, it may be the end of the road for Blaine Gabbert and the beginning of the journey for Robert Griffin III in Jacksonville.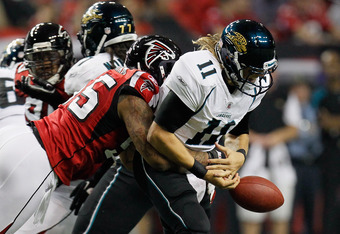 Kevin C. Cox/Getty Images
Mularkey loves the potent offensive attacks that leave defenses shaking their heads, but he will never have that with Gabbert under center. That's why taking Griffin and his dual-threat capabilities at No. 7 would begin Mularkey's tenure with a big splash.
The Jaguars could run a spread option-style offense with RGIII and Maurice Jones-Drew, but the difference would be that Griffin will air it out with accuracy when that's what has to be done. Gabbert couldn't do that.
Griffin would be a perfect fit in Jacksonville because they would build the offense around him and cater to his strengths and compensate his weaknesses. Too bad he probably won't fall this far.
Odds: 35%
Cleveland Browns
While Trent Richardson would be a far better pick for the team moving forward at No. 4, the Cleveland Browns will be seriously considering taking Griffin to replace mediocre Colt McCoy.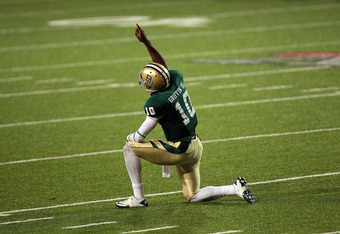 Ronald Martinez/Getty Images
As much as Browns football czar Mike Holmgren wants to convince himself and the people around him that McCoy and his less than 2800 passing yards this season is the future of the organization, it's not true.
Griffin offers far more versatile skill set than McCoy, but it's his superior ability to wiggle out of trouble using his legs that will make him such an asset to a Browns team that lacks an offensive line of any kind.
Cleveland had arguably the worst offense in the league; ranking 24th in passing yards per game and 28th in running yards. RGIII would instantly boost them into the top-15 in each category.
Odds: 25%
Check back for more on the National Football League as it comes, and check out Bleacher Report's NFL Page to get your fill of all things football.