10 Worst NFL Players Still in the Playoffs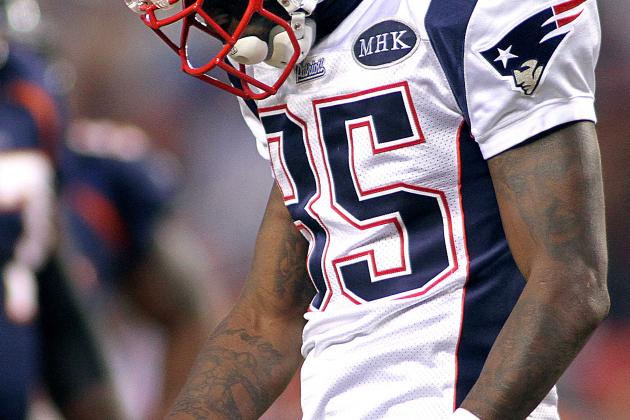 Marc Piscotty/Getty Images

Every NFL team has a weak link, a player who is needed on the field, but can rarely answer the call (as a Philadelphia Eagles fan, all season long, I knew this player was safety Kurt Coleman). Now that the stakes are higher, let's identify the worst players on the teams left in the 2012 NFL Playoffs.
Understand that these are not the 10 worst players overall on the eight teams remaining. There's no way to differentiate a bunch of bench players from one another, and those guys really have no bearing on the game anyway. These are the 10 worst regular contributors, the guys who are on the field, but holding their respective teams back.
Some of them, like Tim Tebow, have shown flashes of brilliance. And some of them, like Chad Ochocinco, were great in the past. But all of them performed at a below-average level for an NFL player starting at their position this season.
If their teams are eliminated this weekend, these guys will likely be in some part responsible for the loss. Here are the 10 worst players still playing in the 2012 NFL Playoffs.
Begin Slideshow

»
Elsa/Getty Images

Devin McCourty was a Pro Bowler in his rookie season with the New England Patriots last year, thanks in large part to his seven interceptions. But as any Washington Redskins fan can tell you (from watching DeAngelo Hall), interceptions do not a good cornerback make.
McCourty's struggles this season have been a big reason why New England ranks 31st in the NFL in pass defense. According to Football Outsiders, McCourty was one of the worst cornerbacks in the NFL this season, both in success rate and yards per pass allowed.
Not only has McCourty been bad at covering, but he's also failed to bring in many picks this season. He only has two interceptions on the year. He has been picked on by opposing quarterbacks all season, and he'll likely make Tim Tebow look good today (which isn't easy to do).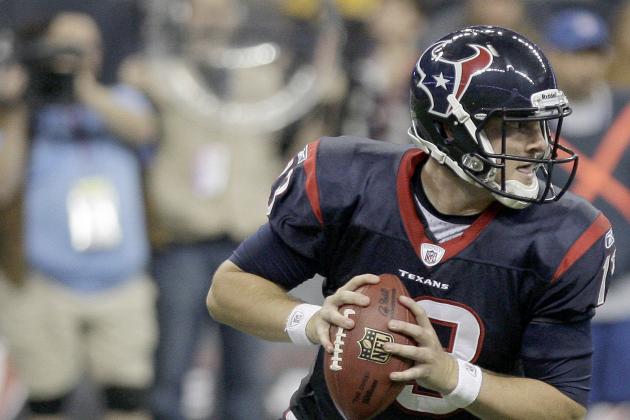 Thomas B. Shea/Getty Images

It's only because the Denver Broncos are starting Tim Tebow that the Houston Texans aren't relying on the worst quarterback of any playoff team left.
T.J. Yates was only a fifth-round pick out of North Carolina last year. Thus, I don't imagine anyone saw him starting as a rookie. Thanks to injuries to Matt Schaub and Matt Leinart, the keys to the Texans offense have been handed to Yates.
Yates was passable in the last six games of the regular season, but even with the Texans coaches giving him safe passes and relying on Arian Foster he still only threw three touchdowns with three interceptions, accruing a passer rating of 80.7. Under his leadership, the Texans lost to the Carolina Panthers and the previously winless Indianapolis Colts.
Yates played well last week against the Cincinnati Bengals, but he's facing a different kind of animal this week with the Baltimore Ravens. Once the Ravens shut down Foster, the Texans will be forced to pass, and Yates will be forced to make a lot of mistakes.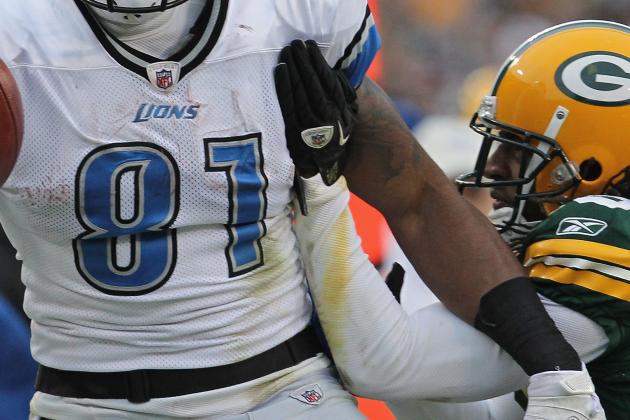 Jonathan Daniel/Getty Images

Much like Devin McCourty for the New England Patriots, Tramon Williams of the Green Bay Packers has followed a Pro Bowl season with a terrible year.
The Packers have the worst pass defense in the NFL, and it's not because of Charles Woodson. Through Week 13 of the 2011 season, Williams was allowing more yards per attempt on passes thrown at him than all but nine cornerbacks in the league. And the amount of yardage he gave up in the season finale against the Detroit Lions couldn't have helped that statistic.
Williams has had a very bad season, and he'll have to return to 2010 form if the Packers are going to repeat as Super Bowl champions.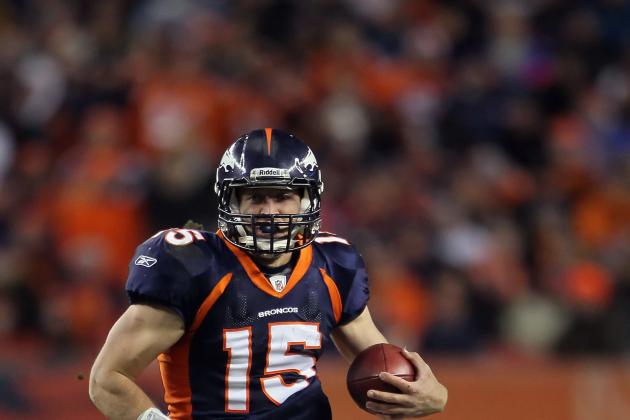 Jeff Gross/Getty Images

Say what you want about Tim Tebow being a winner. The fact of the matter is his statistics are terrible, he was thrashed by the only two good teams he faced in the regular season (the New England Patriots and Detroit Lions), and most of the comeback victories he had this year came against terrible opponents that the Broncos never should have been losing to in the first place.
Tim Tebow did play well last week against the Pittsburgh Steelers. It was the best game of his career thus far. And yet he still completed less than 50 percent of his passes. If that was him at his best, then I can''t imagine how bad he'll be at his worst (we probably saw it against the Kansas City Chiefs).
Tebow only completed 46.5 percent of his passes this season with a passer rating of 72.9. According to ESPN's QBR grading system, Tebow was the third-worst quarterback in the NFL this season. He may be good in the last five minutes, but he's terrible in the first 55.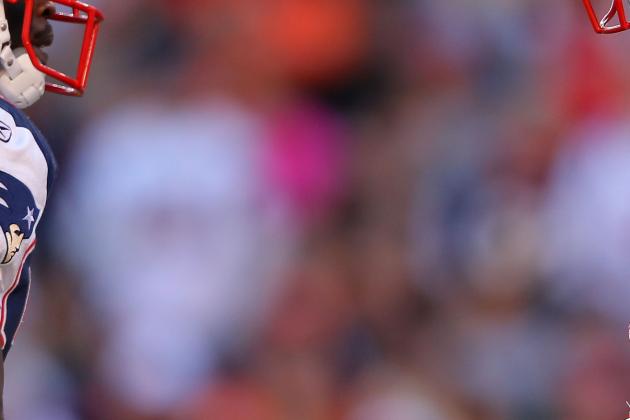 Doug Pensinger/Getty Images

Chad Ochocinco is 34 years old, and it seems his career is rapidly coming to a close. While many expected him to have a Pro Bowl season playing with the still very talented Tom Brady, Ochocinco has had career lows in catches, yardage, and touchdowns this season. He only has 15 receptions this entire season despite having played in 15 games.
Ochocinco has dropped balls this year. He's run the wrong routes. His lack of presence in the New England Patriots offense is somewhat due to his apparent inability to learn the complicated playbook. Ochocinco has had a great career, but he has been essentially useless all season long, and there's no reason to think that won't continue in the playoffs.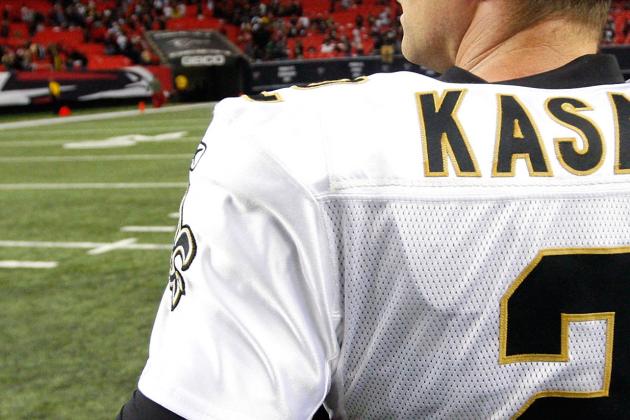 Kevin C. Cox/Getty Images

Special teams is an often overlooked but very important aspect of football. It may play an especially big part in this week's game between the New Orleans Saints and San Francisco 49ers. The 49ers have both the NFC Pro Bowl starters at kicker and punter with David Akers and Andy Lee.
Meanwhile, the New Orleans Saints have a kicker in John Kasay who is well past his prime. The last time he was a Pro Bowler was in 1996, when Drew Brees was a senior in high school.
This season, Kasay ranks only 22nd in the NFL in field-goal percentage. Moreover, he has only made seven of his 13 field goal attempts of 40 yards or longer, barely more than half. If this game comes down to a kick, the 49ers have a distinct advantage.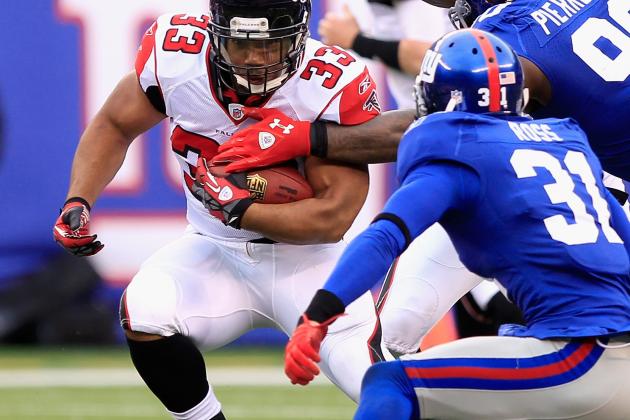 Chris Trotman/Getty Images

Aaron Ross has been cleared to play against the Green Bay Packers this week, but I'm not sure that news is as good as the New York Giants think it is.
Not only has he had a bad season at cornerback (the over 10 yards he allows per pass is a big part of the reason the Giants ranked 29th in the NFL in pass defense this year), but he also has been next to useless as a punt returner.
On 14 punt returns this season, Ross has only accumulated 99 return yards. Thus, the Giants ranked 29th in the NFL in punt return average, with only 6.1 yards per return and a long of 18 on the season.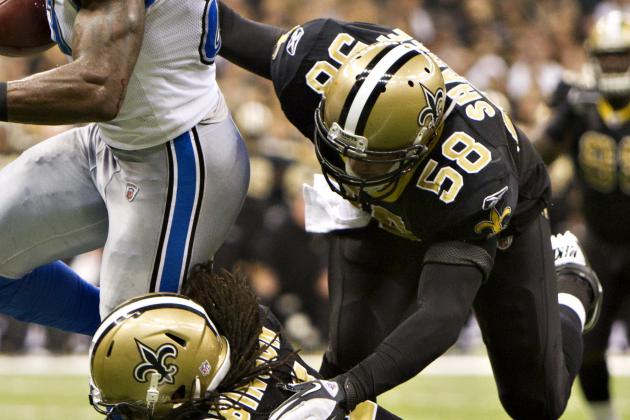 Wesley Hitt/Getty Images

According to ESPN's ranking of the positional units of each of the 2012 NFL playoff teams, the New Orleans Saints have the worst linebacker corps of all of the 12 teams. That's somewhat hard to imagine considering three-time Pro Bowler Jonathan Vilma plays in the middle.
Jo-Lonn Dunbar has not been excellent at the strongside linebacker spot, but he's just in his second season starting, and he's getting better. The real weak link in the unit is Scott Shanle. The 32-year-old Shanle is likely is on his last legs in the NFL, and according to Bleacher Report's own Matt Miller, he's one of the players the Saints will be looking to replace in the offseason.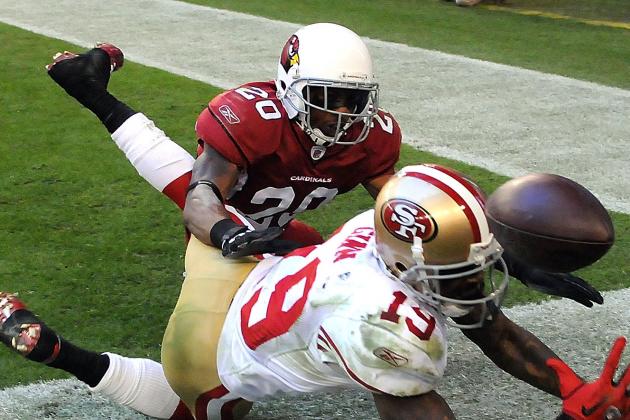 Norm Hall/Getty Images

After the season-ending injury to Josh Morgan and the recent waiving of Braylon Edwards, the San Francisco 49ers have a dearth of talent at wide receiver.
Ted Ginn, Jr. was taken with the ninth overall pick in the 2007 NFL Draft by the Miami Dolphins, and he's been a disappointment ever since. He had several low points in his career with the Dolphins, namely the dropped game-winning touchdown in a Monday Night Football game in 2009 against the New York Jets.
He's been to next to useless for the 49ers. In two seasons and 27 games, he has only caught 31 passes with one touchdown. He is questionable for today's game against the New Orleans Saints, although it likely won't make much of a difference whether he plays (or even starts) or not. Most of the time, Ginn couldn't catch a cold.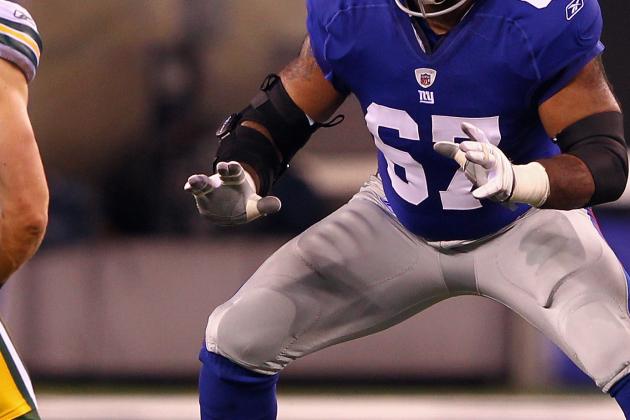 Al Bello/Getty Images

The New York Giants have had little success rushing this season. Even with Ahmad Bradshaw and Brandon Jacobs, the Giants ranked last in the NFL in rushing offense this season.
A big part of that has been the failure of the offensive line. The loss of left tackle William Beatty hurt, but another factor has been the poor play of right tackle Kareem McKenzie.
According to Football Outsiders, the New York Giants had the 28th best offensive line in the NFL this season. Moreover, they had their worst running success this season off the right tackle, according to Football Outsiders. McKenzie is a free agent after this season, and it's very unlikely the Giants will ask him to return.