Manchester United Transfer Idea: Why Keisuke Honda Should Move to Old Trafford
January 14, 2012

Epsilon/Getty Images
Throughout the last several years, Manchester United have truly lacked a playmaker in midfield after Cristiano Ronaldo left the Red Devils for the greener pastures of Real Madrid.
Even though Ronaldo clearly was not a central midfielder, that central midfield position has been a constant weak spot of United's team.
Players such a Paul Scholes, Ryan Giggs, Michael Carrick, Darren Fletcher and Anderson have all controlled that position, yet none of those players has adequately shone that are able to be a full-time playmaker for the club.
Scholes and Giggs are both good players, but both are past their prime. Carrick is more of a defensive midfielder. Fletcher is a good player but he has his injury doubts, as does Anderson.
However, Untied do have an option at a player that they could acquire in this transfer window that could fix that problem in midfield. And no, he is not Wesley Sneijder; he is none other than CSKA Moscow's Keisuke Honda.
Honda has been one of the best players in the Russian Premier League since his signing in early 2010. He helped CSKA Moscow reach the quarterfinals in the Champions League with an inspired performance over Sevilla in the round of 16, the only time that the club has done that since the fall of the Soviet Union.
CSKA Moscow were able to again advance to the knockout stage of the Champions League this year, but did so without Honda, who injured his knee and was out for over two months.
Before Honda moved to Russia, he was part of VVV Venlo in the Eredivisie, where he was affectionately given the nickname of "Keizer Keisuke."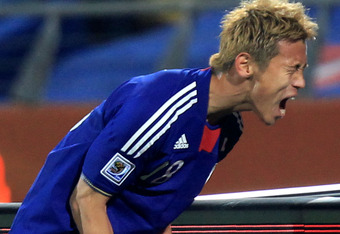 Martin Rose/Getty Images
Honda helped the squad move from the Eerste Divisie back to the Eredivisie and was among the top players at the club while he was in his young 20s.
Honda is also an acclaimed international footballer with Japan. He scored on a phenomenal free kick against Denmark in the 2010 World Cup to help Japan advance into the knockout stage for only the second time in their history.
In the 2011 Asian Cup, Honda again was Japan's big star. He scored two crucial penalties in the tournament and was also named the most valuable player of the tournament.
At only 25 years old, Honda certainly is among the best young players in the world, yet no one really talks about him.
Yet Honda is a player that would provide massive dividends at Manchester United.
Honda's great play is suited well for the Red Devils. United have even stronger attacking options than CSKA Moscow and Honda will be a fantastic provider for these strikers.
He has also kept a strong fitness record. Honda was substituted out of six matches last year, but those were mainly due to the Asian Cup that he participated in at the beginning of the year.
Also, Honda's knee injury has been the only major injury that has prevented him from playing for a long stretch of time.
By playing in both the Netherlands and in Russia (along with Japan), Honda's body should be more adept in playing in colder conditions, something that will be helpful in England.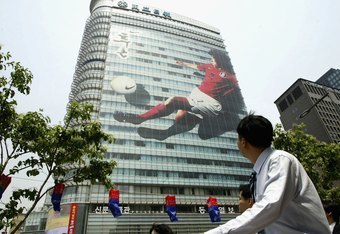 Chung Sung-Jun/Getty Images
Outside of playing with United, Honda will help United continue their strong reach in the Asian markets with their products.
Park Ji-Sung has long helped United continue their reach into eastern Asia with their merchandise sales. Yet Park will turn 31 this February and will probably not be a Man United player in the next several years.
In order to help keep a grip on sales in the Asian markets, United could buy Honda, which will already help their strong sales.
In 2010, it was revealed that United and Real Madrid both sold between 1.2 million and 1.5 million football shirts. Also, Wayne Rooney kits were the most sold out of all global kits in the 2010-2011 season, overtaking Fernando Torres (who was on top of this chart the two previous years).
Of course, buying Honda just for shirt sales is not a good idea, but getting him will certainly have dividends.
It supposedly will cost 13 million euros for Honda's services, which, all things considered, is not a bad price for a player who will provide a profit and help them win competitions.


Follow me on Twitter @Andrew_Jordan