New York Yankees
Jesus Montero Traded for Michael Pineda: Why Yankees, Mariners Come out Winners

Highly touted Jesus Montero is heading west to Seattle.
Jim McIsaac/Getty Images
January 14, 2012
Yesterday, two storylines of the current offseason collided and the impact shattered the icy chill of winter in both the Northeast and Northwest. 
The Seattle Mariners are currently a team best known for having one of baseball's most talented and dynamic young pitchers in Felix Hernandez and being told by a seemingly endless array of fans that they should deal Felix before he allegedly leaves via free agency following the 2014 season.
Nearly everyone knows who the New York Yankees are and the team's distinct lack of offseason moves in the aftermath of a divisional-round playoff loss to the Detroit Tigers was not a normal Yankee reaction.
For years, the Yankees were the team that reeled in the big-name free agents (Mike Mussina, Jason Giambi, Kevin Brown, CC Sabathia and Mark Teixeira).
This offseason, after several years of being very reluctant to deal prospects, the Yankees finally did part with one of their system's most prized possessions. 
The Yankees and Mariners completed a deal on Friday night in which the Yankees sent Jesus Montero and Hector Noesi to the Mariners for Michael Pineda and Jose Campos. The deal promises to be beneficial to both teams. 
Montero hasn't just been the top-hitting prospect in the Yankee organization, he's been one of the top prospects in all of baseball.  Last season he finally got his first taste of the majors and responded by hitting .328 with four home runs, 18 runs batted in and an OPS of .996 in only 18 games of action. 
As promising as that is, the Yankees were not poised to begin the 2012 season on a desperate hunt for offense. With a lineup that already includes Curtis Granderson, Mark Teixeira, Derek Jeter, Alex Rodriguez and Robinson Cano, the Yankees are one of baseball's most potent offenses.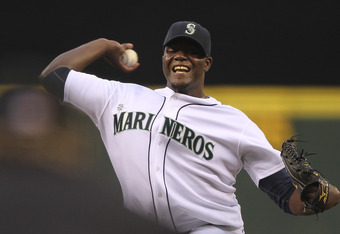 Michael Pineda will bring his 95 miles per hour fastball to the Bronx.
Otto Greule Jr/Getty Images
The starting pitching is a question mark, though. They have a rotation of Sabathia and a collection of question marks.
A.J. Burnett has been woefully inconsistent. Freddy Garcia can be not much better than mediocre. Ivan Nova is coming off an impressive season in which he won 16 games, but his ceiling probably isn't much higher than what fans observed last year.
Then there's Phil Hughes who was an All-Star in 2010, but since then has spent far more time on the disabled list than on the mound. 
Across the nation in Seattle, the Mariners have their own set of problems, but they're quite different.
The Mariners are among the weakest offensive teams in baseball. They were dead-last among all Major League teams in both batting average and runs scored in 2011. Efforts to bring power-hitting first baseman Prince Fielder into the fold have, to this point, fallen short. 
The one thing that the Mariners do appear to have a surplus of? Starting pitching.
It's not just former Cy Young winner Felix Hernandez. It's a farm system stocked with three highly-touted starting pitchers in Taijuan Walker, Danny Hultzen and James Paxton, all of whom grade out very highly according to scouting services.
The Mariners also had Pineda. Pineda finished fifth in the Rookie of the Year voting for 2011. An imposing physical specimen at 6'7", 260 pounds, Pineda will be only 23 years old on Opening Day 2012. Given the team's reluctance to deal Felix and the stockpiling of young pitching talent in the minors, Pineda represented a bit of a surplus.
That's why this deal works out so well for both the Mariners and the Yankees.
Yes, the Marines did part with a more valuable commodity. Starting pitchers of Pineda's pedigree aren't easily found on the market as free agents or trade bait. A hitter of Montero's caliber isn't anything to take for granted, but he's not a once-in-a-lifetime type of hitter.
That doesn't change the fact that the Mariners really needed more offense. It also doesn't change the fact that the Yankees really need more starting pitching. In the aftermath of yesterday's trade, both teams got what they needed. They both had to part with important and valuable parts of their franchises, but Montero will be a great addition in Seattle and Pineda will be a great addition in the Bronx.
Finally, the Mariners got to keep Hernandez, as well as their other prized pitching prospects and the Yankees didn't have to part with any of their top pitching prospects. While Montero will help the Mariners compete in the American League West, Pineda could be the missing piece to get the Yankees back to the World Series.
A good deal for the Yankees to say the least.  
Like the new article format? Send us feedback!