UFC 142 Predictions: How Vitor Belfort Will Demolish Anthony Johnson
January 14, 2012

Twenty-four hours ago, a fight between Anthony Johnson and Vitor Belfort seemed like one that could go either way depending on which Belfort showed up and how Johnson looked when he made weight.
Except Johnson didn't make weight.
He was 11 pounds over.
The man who struggled with making the welterweight limit of 170 pounds didn't even come close to clocking in at the middleweight limit of 185 pounds.
Instead, he weighed in at a healthy 196 pounds with an impressive physique, but a slightly thicker face.
Johnson should have been able to make the limit easily and didn't, so now the pressure is on for him to win.
The president of the UFC, Dana White, is never pleased when fighters don't make weight.  It is one of his biggest pet peeves and even though Johnson has been with the promotion for a while, it wouldn't be surprising to see him get axed if he loses.
But does his weight mean that it will be easier for him to fight or will it mean that he is too sluggish to engage with Belfort tonight?
If Johnson did struggle to make weight, then he is in for a long night and Brazilian fans will be going away happy.  If he didn't struggle, he might win the fight, but lose a war.
Belfort is loved in the MMA community and if Johnson looks like he didn't struggle during the fight, especially after failing to make weight by such a wide margin, he may enrage fans and his boss.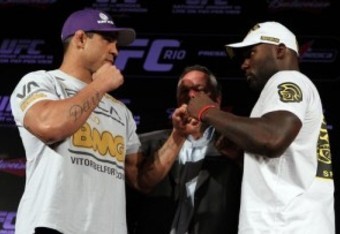 But there is a better chance that he did struggle to make weight.  In fact, news broke that he tried to make weight but had to rehydrate for safety purposes.  A fighter tries to make as much money as possible, and losing 20 percent of a purse is serious.  
Johnson's attempt to make was a serious one and that makes things even worse for him.
Even if he did rehydrate, he damaged his body further and gave himself less time to recover from the weight cut before he steps into the ring with a UFC veteran.  Both men enjoy striking, which burns a lot of energy no matter if a strike lands or not.
When Johnson isn't standing and throwing punches, he is wrestling.  That takes an immense amount of energy to take opponents down and then control them on the ground.  The physical strength needed to do it is exhausting and the fastest way to burn cardio in MMA.
Johnson's failed weight cut removes some of his abilities to do those things as the fight goes on.  If he can't find a way to get rid of Belfort in the first round, he won't have the energy to do it at all.
And that not only means a loss, but a good chance of becoming jobless as well.