Top 10 Early Season NBA ROY Candidates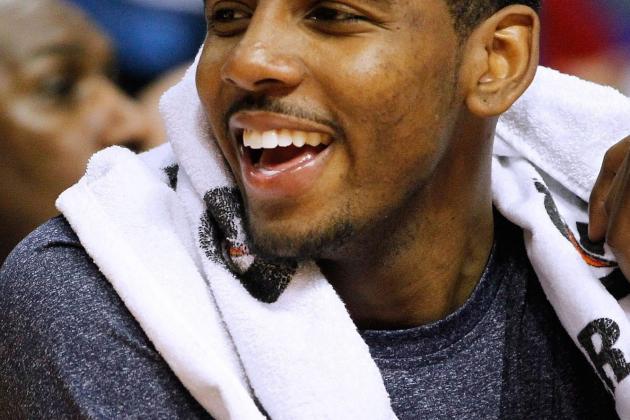 Gregory Shamus/Getty Images

The 2010 NBA draft class had its own set of stars and surprises. That year, we were introduced to fantastic players with extremely bright future such as John Wall and Blake Griffin, while others like Wesley Johnson and Evan Turner didn't live up to expectations. There were also surprises, such as the great play from second-round pick Landry Fields for the New York Knicks.
The 2011-2012 NBA season is now picking up momentum, as all teams have gotten at least 10 games out of the way, and we already have an idea as to which of those teams will make the playoffs.
The start of the NBA season has also given us a first look at this year's rookies. There are rookies who have been off to a torrid start, while others have struggled out of the gate early. We also have to take note that some rookies have gotten boosts in minutes due to a condensed schedule in which coaches rest veterans and have gotten boosts due to injuries to key players.
With a first look at the performance of this year's rookies, we have both favorites and sleepers playing well so far, and it is still anyone's race as we have months of play before the award is announced.
Here are the top 10 Rookie of the Year candidates so far this season.
Begin Slideshow

»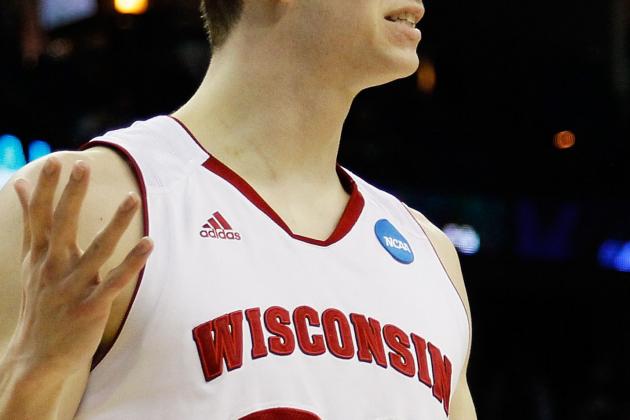 Kevin C. Cox/Getty Images

2011-2012 Stats: 19.0 MPG, 7.0 PPG, 4.3 RPG, .516 FG%
Just as Landry Fields was the second-round surprise pick of last year's draft, Leuer is looking like the biggest early surprise of this year. He is the only second-round pick on this list.
Leuer is providing great energy and fearlessness to the Milwaukee Bucks and has already had his chance to start two games due to an injury to Andrew Bogut. He has provided 8.8 points, 5.6 rebounds and one block a game over his past five contest, and nobody expected him to produce at this level so early in his career.
When Bogut comes back, Leuer will return to the bench, but he may get his chance to start and steal a starting spot from Drew Gooden later this season. It is still so early in the season, but if he can keep up this production he certainly looks to have a bright future in the NBA.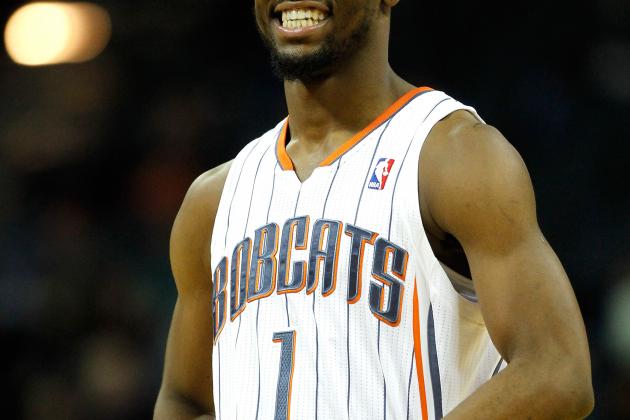 Streeter Lecka/Getty Images

2011-2012 Stats: 20.7 MPG, 10.1 PPG, 2.7 RPG, 2.8 APG, .377 FG%
Walker finds himself ninth on this list, but that very well could change soon. Walker has been struggling as of late, scoring just 7.4 points a game and shooting 13-for-44 in his last five games.
To make matters worse, Walker appears to be stuck behind D.J. Augustin, who is having the best year of his career. Augustin is getting 15 points and seven assists a game, and as Walker continues to struggle, he will be left on the bench to scrap any minutes he can get.
This may just not be Walker's year to shine. Many predicted the point guard would be a top contender for the Rookie of the Year award, but unless Augustin suffers a serious injury, Walker may very well play out his rookie season getting 20 minutes a game off the bench.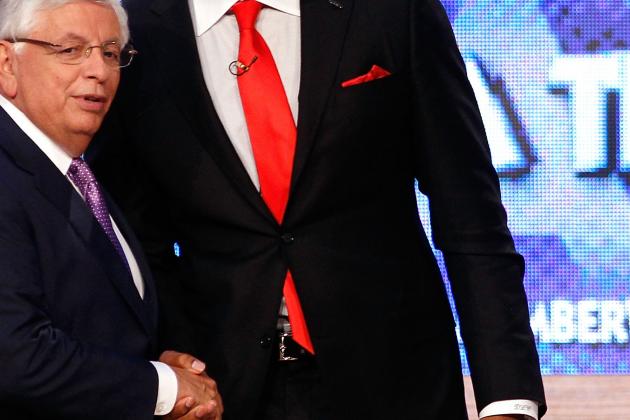 Mike Stobe/Getty Images

2011-2012 Stats: 20.8 MPG, 8.3 PPG, 4.5 RPG, .427 FG%
Williams, the No. 2 overall pick of the draft has been doing relatively well this season. It may not be what was expected of him, but he has had some good games especially as of late. Williams has scored in double-digits three times in the past five games and has also put up good rebounding totals.
He has also worked very well with Ricky Rubio. Williams and the rest of the Timberwolves have greatly benefited from Rubio's passes, and Williams and Rubio have connected on a number of lobs this season.
With an injury to Michael Beasley, Williams minutes will only increase. However, he doesn't have much of a chance for a R.O.Y. Award. He is stuck on a team with too many forwards. Beasley and Love take the bulk of the minutes, and Wesley Johnson can also play forward, so Williams most likely won't see an opportunity to start unless there is a trade.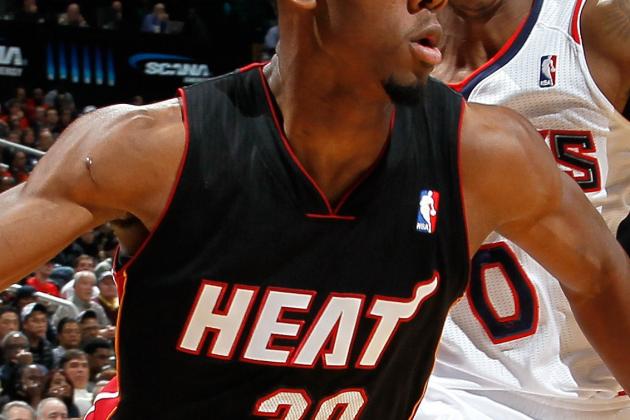 Kevin C. Cox/Getty Images

2011-2012 Stats: 22.2 MPG, 9.8 PPG, 3.3 APG, 1.3 SPG, .429 FG%
I wonder how many Heat fans are going argue that Cole a front-runner, or at least a top-five rookie. But the truth is he is extremely overhyped. The guy is playing very well and has exceeded all expectations as the 28th overall pick, but he is not a top candidate for ROY.
Over his past five games, Cole has performed at a significantly lower level, putting up 5.2 points and 3.2 assists a game and shooting a terrible 12-for-45 from the field.
Although Cole has been an amazing addition to the Heat and has a very bright future, he won't win the ROY Award. With Mario Chalmers is looking much better this season, it may be difficult for Cole to steal the starting spot. Cole will finish well above his original expectations and should secure a top-10 spot on this list all season, but he won't find himself in the top five.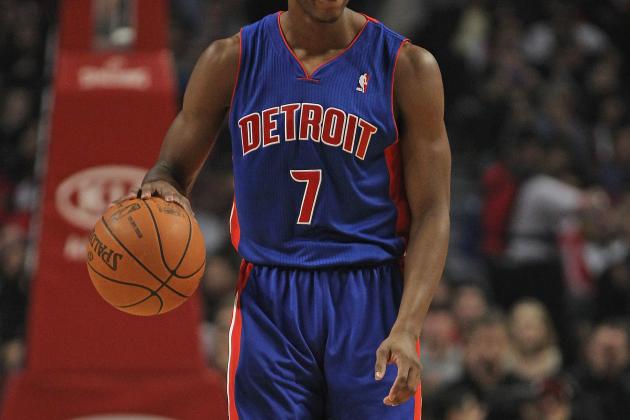 Jonathan Daniel/Getty Images

2011-2012 Stats: 29.8 MPG, 12.3 PPG, 3.9 RPG, 2.8 APG, .454 FG%
Knight has been put into the starting lineup for the Pistons and the point guard has now started the past six games. He has played at least 35 minutes in each of those games and has had a huge opportunity to showcase his abilities. He has scored in double-digits in all six of the games and has been able to grab over six rebounds a game, which is tremendous for a point guard.
The reason Knight finds himself out of the top five is simple. Although he is able to score, he hasn't been able to prove that he can efficiently run the point. In his starts, he is getting just three assists a game but has been giving up 3.7 turnovers an outing. For a rookie to be averaging over three turnovers in just six starts out of his 12 games played is pretty sloppy. He is a good scorer, but he is looking like an even worse point guard than Rodney Stuckey, which is not what the Pistons were looking for.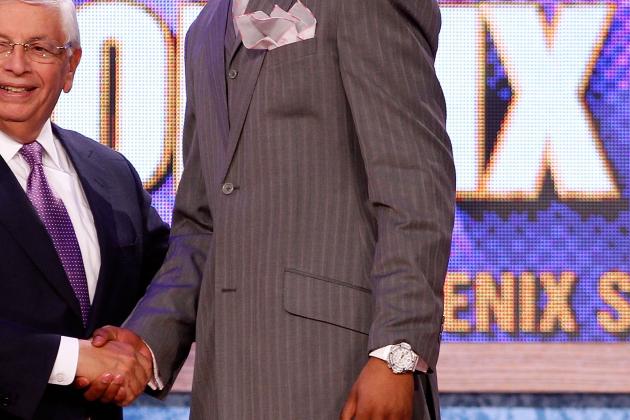 Mike Stobe/Getty Images

2011-2012 Stats: 21.3 MPG, 8.7 PPG, 5.7 RPG, 0.6 BPG, .486 FG%, .560 3P%
Markieff Morris was a bit of a surprise pick, going 13th overall and one spot ahead of his brother, Marcus. But now it appears we are seeing which brother is actually more dominant, as Markieff is quickly becoming a vital part of the Suns roster, while his brother Marcus is playing in the D-league.
Morris has played especially well so far in January. He's had four games of at least 13 points and at least eight rebounds in January all coming off the bench. He is also leading all rookies in rebounds a game. But the greatest part of his play is his ability to shoot the three-ball despite being a power forward. He has shot 14-for-25 from behind the arc for a deadly 56 percent, which is far better than any other player on this list.
Morris has had an impact on the team already and is looking to be the future power forward of the franchise. Frye may have the starting spot for now, but I'd expect that to change sometime in the near future.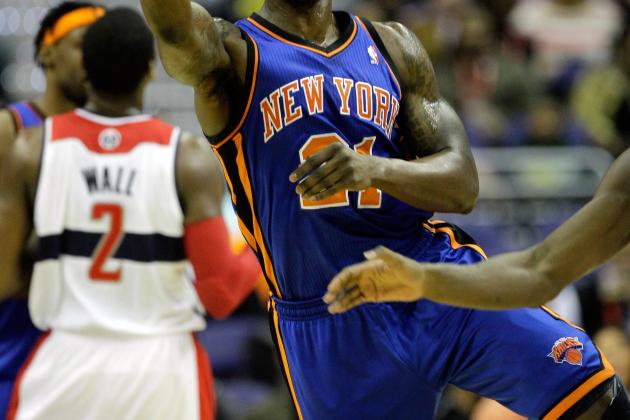 Rob Carr/Getty Images

2011-2012 Stats: 31.1 MPG, 12.6 PPG, 3.4 APG, 2.4 SPG, .380 FG%
Shumpert has stepped in this season and has made a huge impact on the Knicks, already stealing the starting spot from Toney Douglas. Since gaining the starting job in early January, Shumpert has been averaging almost 13 points, four assists and a huge three steals a game.
Shumpert looks like a legitimate contender for the ROY Award. It is still a long shot, especially because Rubio and Irving are getting most of the attention, and Baron Davis has yet to make his debut, but Shumpert has been a huge surprise to the league and to the Knicks fans.
He is able to score, pass, rebounds and swipe the ball out of the hands of the offense. He has struggled at just 38 percent from the field, but is first among rookies shooting 92 percent from the free throw line. We'll see how he plays when Davis comes back, or if he even starts, but for now watch in excitement as this guy establishes himself as a future threat to his opponents.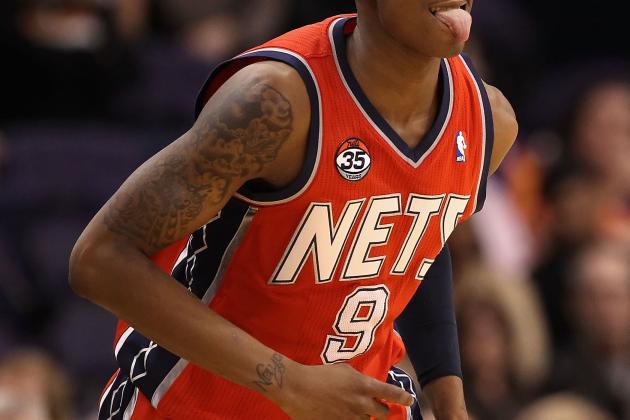 Christian Petersen/Getty Images

2011-2012 Stats: 26.7 MPG, 14.5 PPG, 3.9 RPG, 1.1 SPG, .462 FG%
You see a lot of people praising Norris Cole for his performance as a big surprise of this season, but there isn't much love for Brooks, who plays on a thus far terrible Nets team.
Not only has Brooks secured a starting spot, but he has also gained the trust of his teammates and has become a big scoring option for the team. In fact, Brooks has scored in double-digits in nine of his 11 games played, which is huge scoring numbers for someone who didn't start the season in the starting lineup.
He isn't afraid to shoot the ball either, and it is working for him. He shot 8-for-15 in last night's win over the Suns and scored 20 points to go along with five rebounds and three steals. If he can consistently shoot 45 percent from the field and 40 percent from behind the arc all year, he has a legitimate shot at a Rookie of the Year Award. Even if he doesn't win, he is already establishing himself as a possible future All-Star in the league.
David Ramos/Getty Images

2011-2012 Stats: 30.4 MPG, 10.4 PPG, 8.0 APG, 1.7 SPG, .460 FG%
Ricky Rubio has blown the league away with his fantastic transition into the NBA and has silenced all his critics who have said that he would find his first NBA season difficult. In just 11 games and one start he has already made a name for himself in the league and is the second-best player on the T-Wolves roster, behind Kevin Love.
Rubio has an extremely accurate jump shot but has impressed everyone with his great court vision. He is extremely efficient at running the point and sets up his teammates with wide open shots. He easily leads all rookies in assists and double-doubles and is also eighth in the league in assists. He has already impressed the star players of the league, including Derrick Rose and Dwyane Wade, who compared his court vision to that of Steve Nash.
Rubio is having a sensational season and has a great chance to win the award. However, even if he loses it to Kyrie Irving or another rookie he will still have made a statement, and he will be one of the greatest passers in the league and possibly in history for years to come.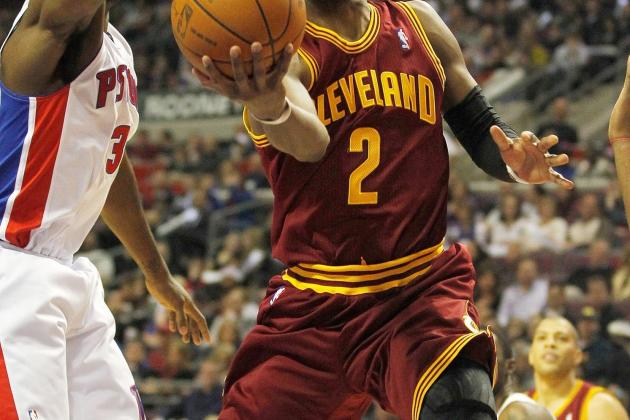 Gregory Shamus/Getty Images

2011-2012 Stats: 27.1 MPG, 17.0 PPG, 5.1 APG, 0.8 SPG, .473 FG%
Although some other rookies have been great, Irving has to be No. 1. The first overall pick of the draft has not disappointed one bit, as he seems to get better with every game. The only game in which he failed to score in double-digits was his debut, and since then he has six games with at least 20 points.
Unlike Rubio who has routinely been getting at least 30 minutes off the bench and played 44 minutes in his first game as a starter, Irving has just one game in the whole season of playing 30 minutes. But in the 27 minutes a game he is getting he has been absolutely incredible and has crushed all competition, including the rookies who are getting more playing time.
The only small downside of his play so far is the turnovers. With almost 3.5 a game, he'll have to work on that, but he has had some good passing games and is shooting the ball extremely well in January, including 48 percent from behind the arc.
Irving is already capable of All-Star numbers, and given a few more minutes of playing time and another season to develop and he will be a superstar. It won't be a piece of cake, but he is the current front runner for the ROY Award. Derrick Rose, Deron Williams and Rajon Rondo already give the Eastern Conference some great point guards, but you can add another in Kyrie Irving.