Yankees Trade for Michael Pineda: 5 Counter Moves Boston Red Sox Can Make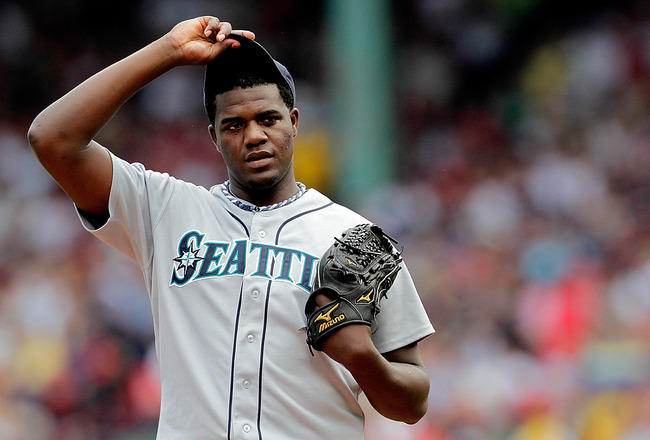 Jim Rogash/Getty Images
Friday the 13th was a bit of a horror story for Boston Red Sox fans. Not only did the New York Yankees sign free-agent pitcher Hiroki Kuroda, but they also traded Jesus Montero and Hector Noesi for young stud pitcher Michael Pineda of the Seattle Mariners.
Pineda is only 22 years old with one season under his belt. His ERA is 3.74 in 28 games, and he started all 28. He pitched 171 innings with a WHIP of 1.099.
This dude is a beast.
He is now a New York Yankee.
The Red Sox have been playing possum, trying to sign low-risk, high-reward players, and the Yankees, without spending too much money or too many prospects, have just passed Boston by.
If the Red Sox plan to keep pace, here are five moves they could make to counter the Pineda acquisition.
1. Obviously, Sign Roy Oswalt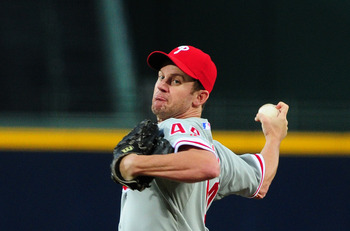 Scott Cunningham/Getty Images
It is no secret that I have been ringing the dinner bell for Roy Oswalt to be brought in to Boston.
Is now not the perfect time to pull the trigger?
Sure, the Rangers have shown interest in his services. Sure, he'd even be a hell of a fit in Texas. The thing is, Oswalt and his 3.21 career ERA is out there...just waiting for a deal. He'll even accept a one-year deal at that.
And here the Red Sox sit, twiddling their thumbs.
If the team wants to even the score immediately between itself and the Yankees, the chip to bring in would be Oswalt.
2. Edwin Jackson Is Still Available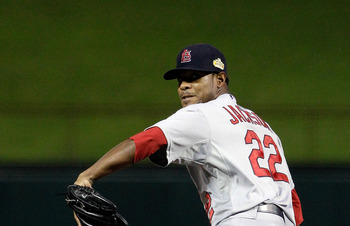 Pool/Getty Images
I'm not a terribly huge fan of Edwin Jackson.
During his three-year stint in Tampa Bay and the AL East, the best ERA he managed was a 4.42. This number does not exactly blow me away.
However, if Jackson were to come to Boston, he would do so in the role of a fourth or fifth starter.
The problem with that is Jackson will command big dollars. Likely more than what Oswalt is looking for.
If Texas snags Oswalt, Jackson is the best free-agent option left on the table.
3. Stop Messing Around and Trade for Garza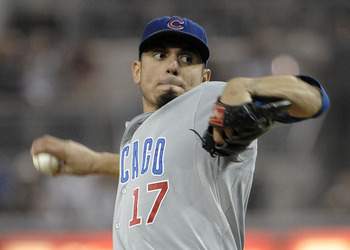 Denis Poroy/Getty Images
Every team under the sun has been somehow tied to the Chicago Cubs and Matt Garza. The last rumor I heard was that Garza was being traded to the Bad News Bears.
Surely I jest.
However, the Red Sox and Cubs are on familiar terms. This could be the easiest trade out there if both clubs wanted to sit down and talk brass tacks. The Yankees' acquisition of Pineda for two prospects may bring the asking price for Garza back down the Earth.
If that should be the case, the Red Sox should jump on it. Pull the trade off like you're tearing off a Band-Aid—quickly, so it won't hurt as much.
4. Go After a 2013 Free Agent and Extend Him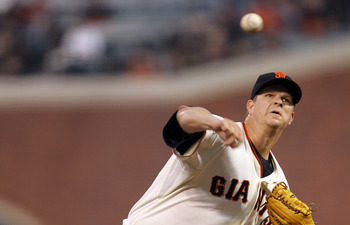 Ezra Shaw/Getty Images
Matt Cain, Cole Hamels and Zack Greinke are all going to be free agents come next winter.
Perhaps the Red Sox could kick the tires on one of these three studs a bit early. Make a trade for one of them, and upon getting them to Boston, lock them up with an extension.
Sure, easier said than done, but that is why it is the fourth option on my list.
5. Relax and Do Nothing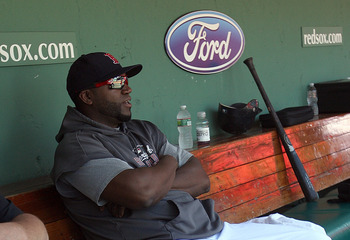 Jim Rogash/Getty Images
No big deal.
The Yankees needed some pitching. The Sox will still own them...right?
Boston can just sit back and ride into the 2012 season with what it has going right now, without a care in the world. The Red Sox are talented enough to oust the Evil Empire...uh...right?
While ill-advised, this is a very real possibility.
Very real.
Keep Reading

Boston Red Sox: Like this team?