Philadelphia Eagles: Could Donovan McNabb Be Michael Vick's Backup Next Season?
January 14, 2012

Ronald Martinez/Getty Images
The Philadelphia Eagles will be in the market for a backup quarterback again next season. 
Michael Vick is entrenched as the starter, but Vick is injury-prone, and thus, the Eagles will probably look for a veteran backup.  Re-signing Vince Young may not be completely out of the question, but it's definitely possible that Young moves on or the Eagles move in a different direction.
So if the Eagles are not confident in Mike Kafka (they could give him the job and draft a quarterback), then they will be looking at veteran quarterbacks on the market.  One intriguing name is former Eagle Donovan McNabb.
First, McNabb knows coach Andy Reid and the Eagles offense well since he played here for a decade.  Secondly, McNabb is friendly with most of the locker room and would not be disruptive at all.
Furthermore, McNabb would know he would likely get a chance to play at some point during the season, since Vick rarely makes it through a full season.  So, McNabb would get to play in a few games during the season.
Now, there are some issues around signing McNabb.  Last year, there was a McNabb to Philly rumor, but he was not a free agent, so that was different. This year, as a free agent, Donovan could pick his team.  However, does he want to be a backup someplace?  Does he want to play?  He might just retire, and call it a career.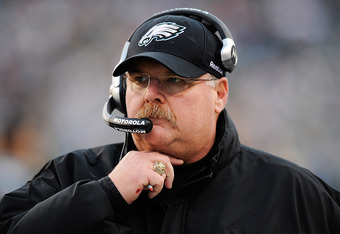 Patrick McDermott/Getty Images
If he does, no one could blame him.  He has a job as an analyst already lined up so he could just decide to do that.  He also had a good career and made a lot of money.
However, if McNabb wants to stay in the league, it's unlikely that anyone will try to sign him as their starter at this point.  So he would have to look for a backup job someplace.  If that's the case, what better place to look than Philadelphia?
It's a city he knows where he had success, a coach and system he knows and a team he knows well. 
If the Eagles part ways with Vince Young, I wouldn't be shocked to see No. 5 back in the City of Brotherly Love in 2012.