New York Yankees: Why Recent Acquisitions Make Them World Series Favorites
August 8, 2016
Hannah Foslien/Getty Images
As I reflected on the New York Yankees following their 2011 Division Series loss to the Detroit Tigers, the feeling was not optimistic, to say the least.  While I was very proud of the 2011 team and all they accomplished given the pitching rotation in place, I certainly doubted the future of the team.
The lineup looked great without question; Robinson Cano, Brett Gardner, Curtis Granderson and Mark Teixeira are all young, and I still believe Alex Rodriguez and Derek Jeter have productive years left in them.
The pitching staff is what bugged me, and specifically the rotation.   
Yes, CC Sabathia is a tremendous ace to have, and I could not be more grateful for him—the guy is an absolute horse. And, yes, Ivan Nova has an excellent future ahead of him and should be a perennial All-Star for years to come.
But who exactly comes next?
Freddy Garcia? Freddy had a spectacular season, but a fluke of one if you ask me. Phil Hughes? I am not a big Hughes fan. He had an injury-proned 2011 and won 18 games in 2010 thanks solely to good run support. A.J. Burnett?  I don't hate Burnett like most people seem to, but he's inconsistent.
On January 13, 2012, all of these negative thoughts turned into the most optimism for the Yankees I have had since the 2009 offseason.
The Yankees acquired Michael Pineda in a trade for star catcher Jesus Montero, and signed Hiroki Kuroda as a free agent.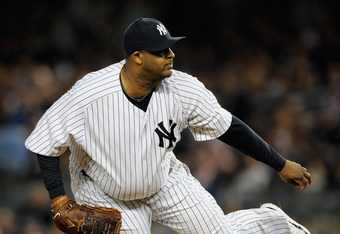 Patrick McDermott/Getty Images
Now, I love Montero, but the Yankees have made a fantastic move.
Hitting for the Yankees is plentiful—they were second in runs last season—but pitching is not.
Through the first three months of the 2011 season, Pineda had a sub-3.0 ERA while going 7-5 on a Mariners team that was last in the league in run support. He wore out in the second half but, shocker, that happens to rookies. He may have the brightest future of any young pitcher in baseball.
And let us not forget about Hiroki Kuroda. Kuroda has quietly been a very solid pitcher for the Los Angeles Dodgers the past few years, and is another excellent addition to the rotation.
As of now, the rotation will look something like this: Sabathia as the obvious ace, Pineda at No. 2, followed by Nova and Kuroda, and preferably Burnett rounding out the rotation.
Now, some may strongly disagree with giving Burnett a spot in the rotation. But let me pose a question: What is accomplished by giving it to Phil Hughes? The ceiling for him is not high at all, and he will likely give the Yankees an average season which, to his benefit, is all that is expected from a fifth starter. 
Burnett, on the other hand, has a very good risk/reward. With absolutely no pressure being on him as the fifth starter, combined with the amount of potential he has, is enough, in my opinion, to give him at least a shot. His Game 4 performance in the ALDS proved he still can perform in big games; he just needs to go into every outing with that same level of intensity.
Regardless of who is selected to the rotation, it will be a very good one.
I will even go as far as to say that the Yankees will have the best pitching staff in baseball this year—only the Philadelphia Phillies have a better rotation, and the Yankees bullpen is the best in baseball with David Robertson, Rafael Soriano and Mariano Rivera.
On top of this, the argument can be made that the Yankees lineup is also the best in baseball.
In my mind, they are clearly the best team in baseball.
The Los Angeles Angels of Anaheim have a solid staff, but don't have many reliable bats after Albert Pujols. The Texas Rangers lost their ace, and the Boston Red Sox have a very questionable staff and a team as a whole that is declining.
Philadelphia undoubtedly poses the biggest threat, even if they are in the National League.  However, while the Phillies have a very good front end of the rotation, the Yankees' is deeper and could ultimately be stronger.
Furthermore, the bullpen and lineup of the Yankees are both clearly better than a Phillies lineup that is average at best and a bullpen that, while adding Jonathan Papelbon, lost Ryan Madson and has zero reliable arms other than Papelbon.
With all of this being said, the Yankees are my pick to win the World Series, as they will go on to claim their 28th title.