Josh McDaniels Back in New England Can Make the Offense More Consistent
January 14, 2012

A. Messerschmidt/Getty Images
Bill Belichick doesn't do reunions.
The Patriots head coach is not the sentimental type. Only if he feels someone can make the team better, then Belichick will welcome a familiar face back.
Josh McDaniels, formerly the Pats' offensive coordinator from 2006-2008, is back after a failed head coaching stint in Denver and escapes St. Louis before probably getting fired by new head coach Jeff Fisher.
McDaniels will be an offensive assistant to outgoing OC Bill O'Brien, who's leaving New England for the Penn State head coach job after the playoffs.
It's unknown what McDaniels will do as offensive assistant, but he won't be positioned to step on O'Brien's toes, that's for sure. But looking at what they did in their separate terms as New England's offensive coordinator, the offense can be more consistent with McDaniels around.
Comparing their total bodies of work is like apples and oranges. To simplify, we'll focus on their best statistical seasons—McDaniels' 2007 and O'Brien's 2011.
This is a fair comparison because both offenses were record-breaking in their own rights: '07 for Brady's 50 touchdown passes and WR Randy Moss' 23 TD receptions and 2011 because Brady eclipsed Dan Marino's 27-year-old passing yards record, and Rob Gronkowski shattered tight end records for receiving yards and touchdowns in a season.
In just two categories is there a big difference between seasons? Total points are 589 in 2007 to 513 in 2011. That's due to the TD passes being 50 to 39, respectively. Rushing TDs was almost identical, as the present day squad edged 2007, 18 to 17.
Offensive rankings were almost even as well. '07 was first in overall offense and passing offense. '11 was a notch below (second overall) in the same categories. Rushing yards favored McDaniels, as New England was ranked 13th to O'Brien's 20th-ranked run offense.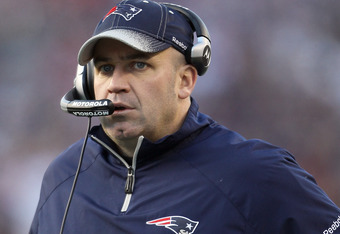 Elsa/Getty Images
Otherwise, it's practically dead even for these two offenses. There's less than 100 yards separating total rushing yards (1,849 in 2007, 1,764 in 2011). Three-hundred fifty-three yards is the difference in passing yards (5,084 in 2011, 4,731 in 2007), which is the equivalent of one great game by Brady.
Nothing illustrates how even these offenses were than yards per play. O'Brien has the edge in passing yards per attempt, 6.3 to McDaniels' 6.2, while McDaniels has the advantage on the ground, 4.1 yards per rush to 4.0. It's a difference of just .1 yard in each category.
In short, this is a fair comparison. Each coach has an advantage here and there, but it's a dead heat.
Where McDaniels beats O'Brien is in score by quarters.
As the offensive coordinator, McDaniels and O'Brien were responsible for calling the offensive plays. Both earned their autonomy from Belichick, who looked over their shoulders in their transitional year before earning the offensive coordinator title.
They had total control of the offense. How the offense performed reflected their preparation and decision-making. As good as O'Brien was in 2011, McDaniels was better in 2007.
One troubling problem in 2011 has been slow starts, especially recently. New England played from behind in the last three games of the season. Denver, Miami and Buffalo combined for 37 points in the first quarter to New England's seven.
Under O'Brien, the Patriots were shut out in the first quarter five times. It's understandable when playing Pittsburgh and the New York Giants but not against the Dolphins, Bills and Kansas City Chiefs.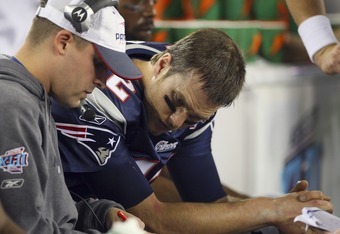 Donald Miralle/Getty Images
Twice they were shut out in the first half, as the Dolphins and Giants kept O'Brien's offense off the scoreboard.
In total, O'Brien's offense was shut out in a quarter 12 times. In comparison, defenses held McDaniels' offense scoreless just seven times.
This isn't about how much these teams scored, as McDaniels' advantage was already covered. What matters is the frequency these teams scored. Whether it's 14 points or just three, consistency is what matters here.
And under McDaniels, the offense's consistency is better. Slow starts were nearly non-existent as the 2007 Patriots were kept off the scoreboard only by the playoff-bound Indianapolis Colts.
O'Brien did well finishing strong, as they were shut out in the fourth just twice. But those occurrences came in seven-point wins against Indianapolis and Washington. One more score, be it a touchdown or a field goal, would have put those games out of reach instead of needing a recovered onside kick (Colts) or a last-minute interception (Redskins) to hold on to win.
The McDaniels-led offense, intent to pile it on as part of the Patriots' malicious fury to silence the Spygate accusations, was only shut out of the fourth just once, in a 28-7 win over the Dolphins. In fact, New England was shut out for the half—the only time it happened all year.
O'Brien has two scoreless halves on his record, a four-point loss to the Giants and a three-point win over the Dolphins. Both times, the Pats were shut out in the first half.
McDaniels has O'Brien beat in the second quarter as well. O'Brien was shut out twice while McDaniels always hung crooked numbers in the second quarte
The only quarter O'Brien has McDaniels beat is in the third. Three times O'Brien's offense failed to register a point to McDaniels being goose-egged five times.
Certainly, this isn't foolproof. Dozens of circumstances can play a role in an offense's production. Often, it comes down to execution by the players, which isn't the offensive coordinator's fault (Brady's fourth-quarter end zone interception against the 'Skins immediately comes to mind).
But with 15 minutes per quarter to score offensively, McDaniels did it better than O'Brien.
How much input McDaniels has with the game plan or with the play-calling is unknown. It probably will be limited because he isn't familiar with the players and what their strengths and weaknesses are. That's why he's just the offensive assistant.
Too many chefs can spoil the stew. But, having McDaniels supporting O'Brien is reassuring.
This is still O'Brien's offense, but McDaniels could contribute enough to improve the offense's consistency.
Question? Comments? Send to talktome@randolphc.com.