Analyzing What the Yankees-Mariners Michael Pineda Trade Means for Both Squads
January 14, 2012

Stephen Brashear/Getty Images
Despite laying quietly in the weeds for the entire offseason, the New York Yankees were extremely busy on Friday, making great strides in shoring up a starting rotation that had a lot of holes in 2011 and was a question mark heading into 2012.  
First, they traded their top prospect and potential stud catcher/DH Jesus Montero to Seattle for one of the majors' brightest young power arms in Michael Pineda.  Later, they signed veteran pitcher Hiroki Kuroda to a one-year contract worth a reported $10 million.  
In doing so, they were able to lure one of the free-agent market's best available starters away from the West Coast and rival Boston Red Sox, who had a reported interest in the Japanese hurler.  
While at first glance, today was a largely successful day for New York, as it begins its defense of the American League East, the Yankees' trade for Pineda is worth a further examination.  
Along with Felix Hernandez, Pineda was a part of a very dominant one-two punch out in Seattle.  His first season in the majors saw him reach the All-Star Game in Arizona and baffle major league-caliber hitters to the tune of 173 K's in 172 IP.  
He had a very impressive ERA of 3.74 in his rookie campaign, and he was seen as someone who could stabilize the Mariners rotation for many years to come.  Seattle felt differently, however, and moved him for one of the league's most promising young hitters in Jesus Montero, who the Yankees were reportedly rumored to be hesitant to include in packages for other young starlets like Gio Gonzalez, Matt Garza and Zach Greinke.  
Despite his stellar, All-Star rookie campaign, an argument could be made for either Seattle or the Yankees winning this deal.  As badly as Seattle needs young pitching help to set up victories for its up-and-coming closer Brandon League to seal, a makeover of the Mariners lineup is also crucial in a division that features two of the most vaunted offenses in all of the majors: Texas and Anaheim.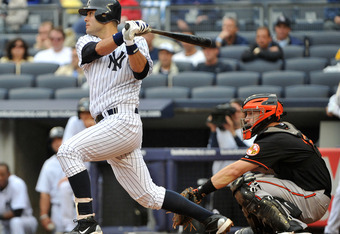 Christopher Pasatieri/Getty Images
As crucial as pitching is to thwarting these lineups, the M's also have no chance to compete without an offense of their own.  They hoped that acquiring Justin Smoak would be the anchor to do that with (and for a time, it looked like he would be), but as the season wore on, his numbers declined, and he finished 2011 with 15 homers, 55 RBI and a measly .234 batting average.  
This isn't good enough to be the team's anchor, and general manager Jack Zduriencik acquired Montero with every intention of the young Venezuelan being just that.
All accounts of Jesus Montero are that, by the time he fully develops, he will be one of the best power hitters in the league.  Seattle plays in a rather spacious park and desperately needs another power hitter to complement Smoak, who they need to rebound, and to help build their franchise around, with their other young star Dustin Ackley.  
Some scouting reports have compared Montero to Carlos Delgado, Miguel Cabrera, a Joe Mauer with more power and Carlos Lee, just to name a few.  If he reaches the level of any of those aforementioned players, Seattle will have received a very fair deal for one of its brightest young prospects.  
And if Montero can reach the stardom of some of those aforementioned players, the AL West will boast some of the scariest power hitters known to man.  
What made Michael Pineda expendable in order to get a young potential star like Montero is not only a desperate need for a quality bat but also some of the pitching pieces that the M's already have in place.  
There is nothing that needs to be expounded on about Felix Hernandez; it is quite clear that he makes up for a lot of shortcomings in the M's rotation.  But Seattle's minor league stock certainly isn't devoid of promising pitching.  
Four of Seattle's top five prospects for 2012 are arms, including two potential LHPs in Danny Hultzen and James Paxton, and righties Taijuan Walker and Jose Campos.  All of these young pitchers project as A-minus to B-level prospects, and if they are able to become successful major leaguers, they could very well soften the blow of losing Pineda to build an offense behind them.   
From New York's point of view, the Yankees have acquired a dominant young stud who will anchor the rotation along with CC Sabathia and Ivan Nova for years to come, and who will only improve as they await the arrivals of Dellin Betances and Manny Banuelos.  
However, Pineda's rookie season needs to go under the knife and be dissected before anybody can be labelled as a winner of this deal, especially after moving a player of Montero's magnitude.
Despite his year-ending 3.74 ERA, Pineda had a very average 4.40 road-ERA.  Certainly not bad for a rookie pitching in the American League, but not anything extremely special or noteworthy.
This wasn't helped by having to face Texas three times last season and the 4.74 ERA that resulted from those meetings (4.50 at Arlington), but it is a good barometer of what can be expected of Pineda now as a starter in the rugged AL East.  
In his new division, Pineda will be a member of a team that faces Boston, Tampa Bay and Toronto 54 times.  While it is only a small sample size, Pineda has an ERA of 14.54 at Fenway Park in his only appearance against Boston in 2011, an ERA of 5.30 in his one meeting against Toronto and a very impressive 2.19 ERA in two appearances against the Rays.
However, Boston and Toronto look to have stronger offenses than Tampa heading into 2012, and the Yanks will need Pineda to pitch better than he did against both squads in 2011.  While these one-start sample sizes are too small to make any affirmative decision on how he will do against his two new rivals, there are some other numbers available on Pineda that help to make some predictions.  
One thing that is interesting to note is that in his two appearances against teams who play on turf in 2011, Pineda had an ERA of 5.11.  Tampa and Toronto play on turf, so this number will need to be improved on.  
Another interesting number is Pineda's 5.12 ERA after the All-Star break,  This was a huge decline from his 3.03 pre-All-Star-break form, and the Yankees will need to hope that this does not become a trend as Pineda's career develops.  
A look ahead at the Yankees' 2012 schedule shows 16 games versus Toronto, 12 games versus Boston, five games against TB and a series each with the Angels and Texas.  The Yankees post-All-Star schedule will be huge for the Yanks' pursuit of reaching the postseason, and they will need Pineda to improve on his 5.11 post-All-Star-break ERA of his rookie year.
All in all, Pineda does have some small samples against the teams that he will be competing with in the AL East.  He did not reach the playoffs with Seattle last season, so there aren't any playoff numbers available, but he will definitely need to strengthen his mental fortitude playing on a much larger scale every night in the Bronx and being part of a squad that is a shoo-in to be playing ball in October again in 2012.  
If he can make all of these adjustments, he will combine with CC Sabathia to create a one-two punch similar to the one he was a part of with King Felix in Seattle, and he will improve a Yankees rotation that was one of the downfalls in their early playoff exit of 2011.  
Seattle didn't make out half-bad either; the Mariners only got one of the most promising hitters in recent memory.  I'd call this deal a win-win for both sides, but I'd give the edge to New York right now because Pineda has played a full year, had prolonged success during it and is still young enough to make the adjustments to clean up his game in a big market.  
If he can build on his success, keep his power arm as he develops his other plus pitches further and keep his head on straight, he could be a scary pitcher with that offense behind him.